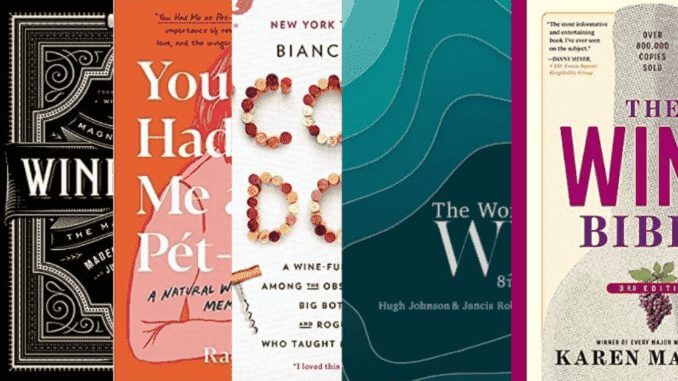 Learning about wine can be daunting. Pages-long wine lists, palpable elitism and foreign names can often throw off new wine drinkers, making them intimidated to learn more about the beverage. But at its core, wine is just an agricultural product like any other, and learning about wine can be as simple as learning about anything else you're interested in. Tasting, of course, is a good place to start—it's how you'll start to get a sense of which kinds of wines you enjoy the most. But if you want to go deeper, you might want to crack open a book.
There are a wealth of interesting, engaging and informative wine books on the market, but if you're new to the world of wine, it can be difficult to know which ones will be relevant to you as a beginner. The following books don't require a ton of specialized wine knowledge and can be used as a jumping-off point to learn more about grapes, winemaking and more (without the need for constant Googling).
---
Wine Folly: The Master Guide by Madeline Puckette and Justin Hammack
Wine Folly: The Master Guide was the very first wine book I ever picked up, and I found that it was perfectly suited for me as a beginner. The first section in the book is labeled, simply, "What Is Wine?" Although that may seem like a simple question, authors Madeline Puckette and Justin Hammack do a thorough job of breaking down all the nuances of the answer. It has an easy-to-understand (if perhaps overly simplified) guide to pairing wines, and it even includes detailed maps to help you better understand different wine regions. An entire list of common wine grapes and their tasting notes can function as a guide when you start sipping.
---
You Had Me at Pét-Nat by Rachel Signer
If you're not someone who generally enjoys digging into a reference book, you may want to start your wine literature journey with You Had Me at Pét-Nat by Rachel Signer. It's a memoir about a wine journalist-turned natural winemaker who builds a career in the wine industry and meets and marries another winemaker along the way. Although the book focuses on natural wine specifically, Signer breaks down basic winemaking processes in a way that's both engaging and detailed but not overly complicated. I walked away from this book with a deeper understanding of the world of natural wine (and jealous of all of Signer's adventures).
---
Cork Dork by Bianca Bosker
In her book Cork Dork, Bianca Bosker takes the reader on a journey through her own wine education while uncovering the silhouette of the industry as a whole. She was fascinated by sommeliers she met who could identify the grape, region, even producer of a wine from nothing more than a few sips and wanted to learn if she could develop the same skills. Cork Dork promises to expand your wine knowledge without making you feel like you're studying—it's an interesting, uncomplicated read, but one that you could return to again and again.
---
The World Atlas of Wine by Hugh Johnson and Jancis Robinson
There are few wine books more informative, more comprehensive, than Hugh Johnson's and Jancis Robinson's The World Atlas of Wine, now in its eighth edition. It was first published in 1971 and was groundbreaking in its geographic breakdown of the world's wine regions, from the most well-known vineyards in the world to lesser-understood grape-growing areas. This book remains the standard for readers who want to understand wine geography and terroir. It does contain some technical terms that may be foreign to new wine lovers, but the book's very detailed index allows for easy study.
---
The Wine Bible by Karen MacNeil
Opening bottles and trying them for yourself may be the best way to learn about wine tasting, but reading Karen MacNeil's The Wine Bible comes in at a close second. MacNeil does an excellent job of covering the fundamentals of tasting, grape-growing and winemaking while incorporating interesting facts and stories that make reading this book from cover to cover a treat. Now in its third edition, the book's wild popularity is a testament to its skill in making wine more accessible for everyone who wants to learn about it.
---
Samantha Maxwell is a food writer and editor based in Boston. Follow her on Twitter at @samseating.