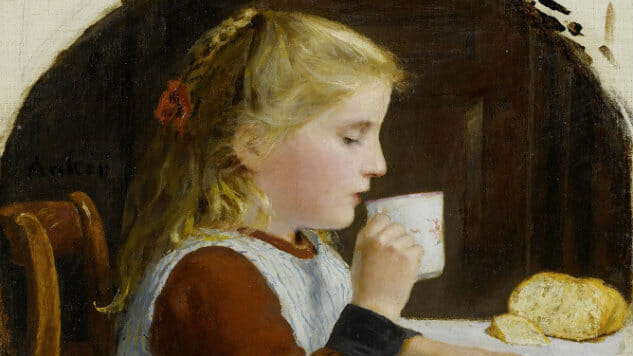 To celebrate National Coffee Day, we've curated fifteen paintings of coffee-drinkers by well-known artists in Europe during the years of the Age of Enlightenment through the end of the First World War. It just goes to show you – we're far from alone throughout time with our coffee love.
"Boy Brings His Father a Cup of Coffee"
Roelof Loets, Dutch
1654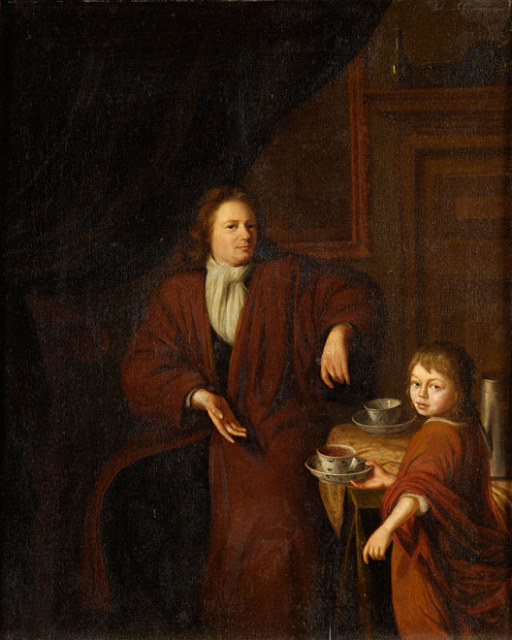 Roelof Koets (II) [Public domain], via Wikimedia Commons
"The Turks have a drink of black color … I will bring some with me … to the Italians," a Venetian merchant wrote in 1615, according to National Geographic. After the Venetian merchant brought coffee to Europe, the Dutch brought the first coffee plant to Europe in 1616. 1696 saw the creation of a European-owned coffee estate in Java, Indonesia. In this unexpected vignette of domestic life, Dutch painter Roelof Loets offers insight into the daily life of the time as a sleepy little boy demonstrates his filial devotion in carrying a cup of coffee to his proud father.
"Women Drinking Coffee"
Leonard Defrance, Flemish
1763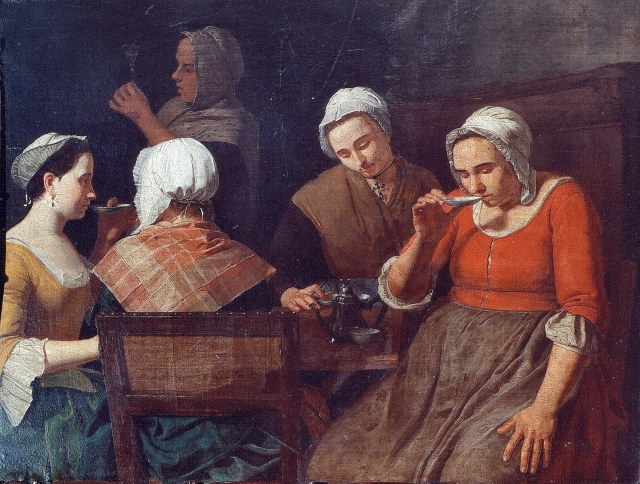 Léonard Defrance [Public domain], via Wikimedia Commons
The woman at the front of this painting is drinking coffee from a saucer, a method often used to cool freshly brewed hot beverages to a drinkable temperature.
"Farmhouse Activities"
Gottfried Mind, Swiss
1814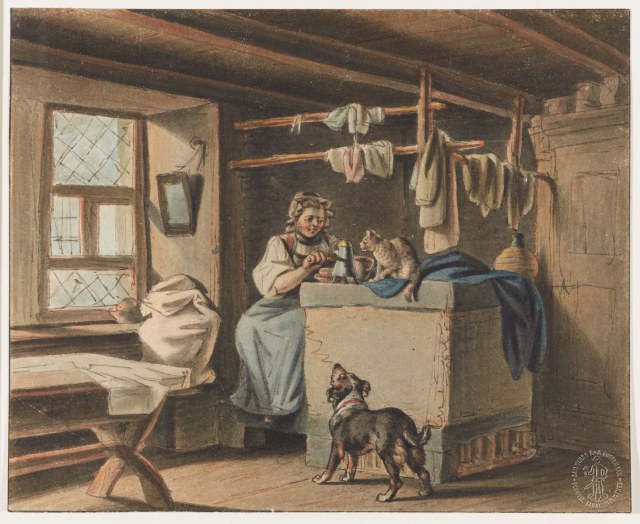 Gottfried Mind [Public domain], via Wikimedia Commons
Though coffee was first a drink for the wealthy, times have changed by 1814 as the cat and dog in this painting keep their mistress company as she enjoys her coffee in humble circumstances.
"Portrait of Nephew"
Maksymilian Antoni Piotrowski, Polish
1837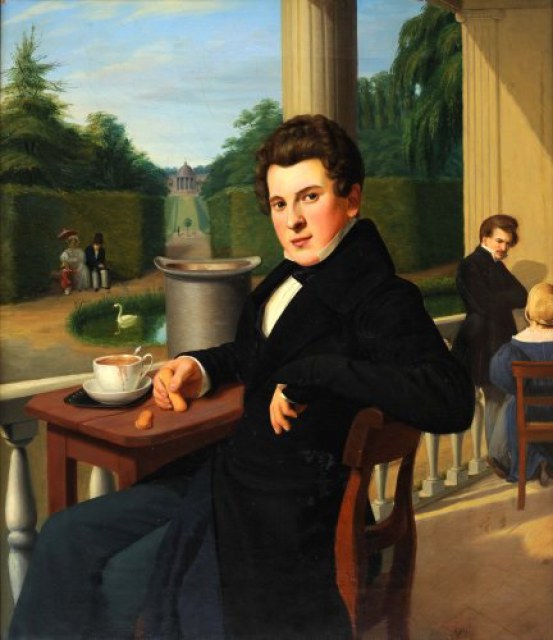 Maksymilian Antoni Piotrowski [Public domain], via Wikimedia Commons
The first coffee house had opened in Berlin in 1721, over a hundred years earlier than this personal portrait that provides the proof of the high status of a member of the artist's family as he poses quite elegantly with biscuit in hand.
"Girl with Breakfast Tray"
Marcin Jablonski, Polish
1876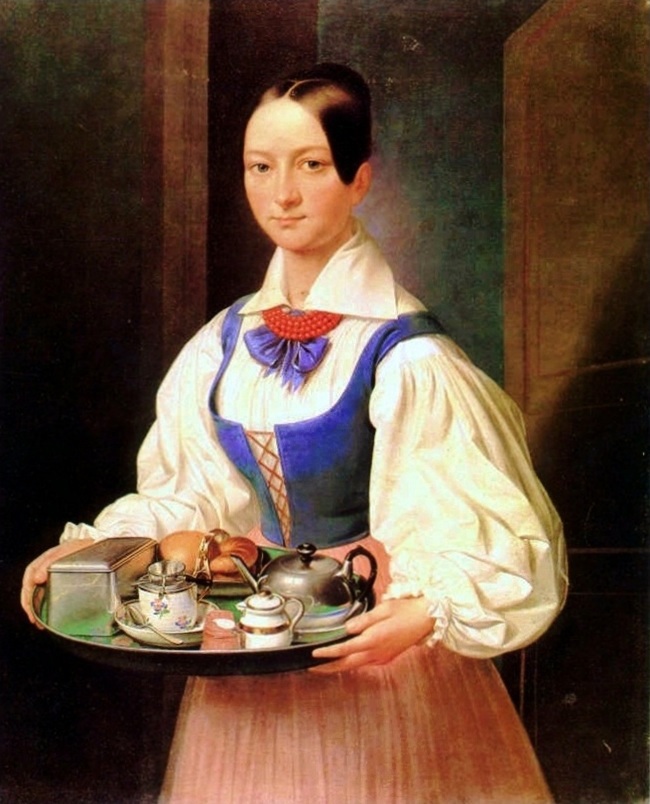 Marcin Jablonski [Public domain], via Wikimedia Commons
A early iteration of the now-ubiquitous "Continental Breakfast" has been arranged on this silver tray held by the well-dressed servant girl.
"Peasant Girl Drinking Her Coffee"
Camille Pisarro, Danish-French
1881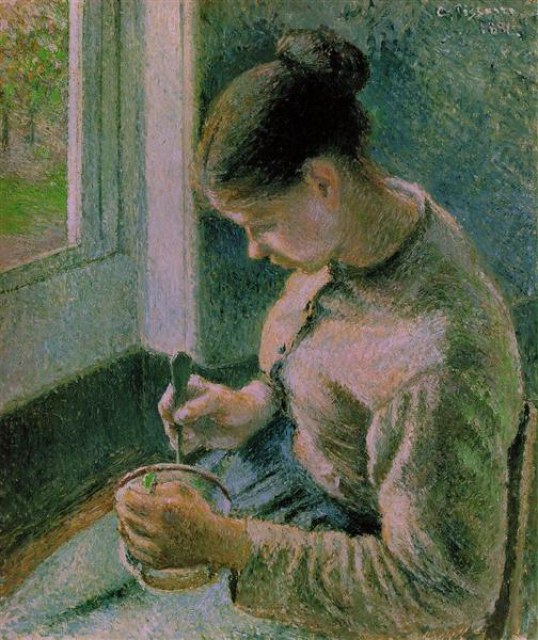 Camille Pisarro [Public domain], via Wiki Art
Though this painting may appear normal to our eyes today, when it was first seen by the public it was shocking because of the new technique Pisarro had employed. "Pointillism" was a term invented by art critics of the time who wanted to ridicule this new form of painting.
"Orphan Man with Top Hat Drinking Coffee"
Vincent Van Gogh, Dutch
1882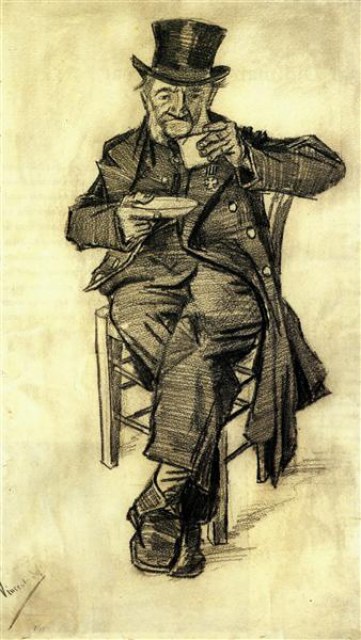 Vincent Van Gogh [Public domain], via Wiki Art
Van Gogh's man drinking a cup of coffee may or may not have known that the method used to brew his coffee was distinct from methods used in other cultures. The 'Dutch Coffee' method was developed in the Golden Ages and is brewed using cold water instead of warm water or steam for between three to six hours.
"Kofetaria"
Ivana Kobilca, Slovene
1888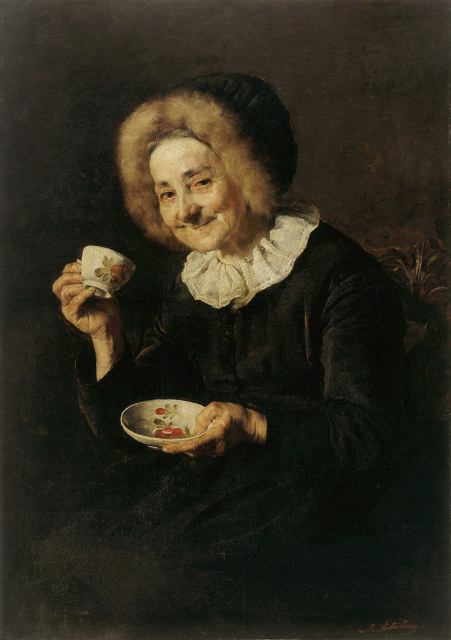 Ivana Kobilca [Public domain], via Wikimedia Commons
For some people in Slovenia at the time Kobilca painted this portrait, their beloved coffee was considered a freestanding breakfast all by itself, without anything else to eat.
"Families Can Make Coffee"
Hans Baluschef, German
1895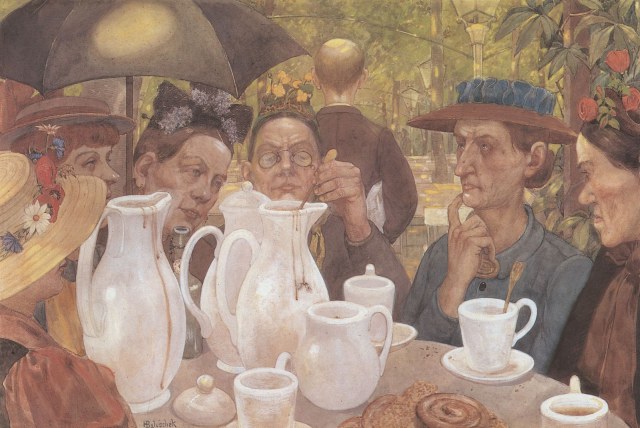 Hans Baluschef [Public domain], via Wikimedia Commons
"Women's rooms" were opened in cafes during the Belle Époque, where for the first time middle-class women could gather in public to drink coffee and possibly hatch plans to become feminists and world leaders.
"Woman With a Coffeepot"
Paul Cezanne
1895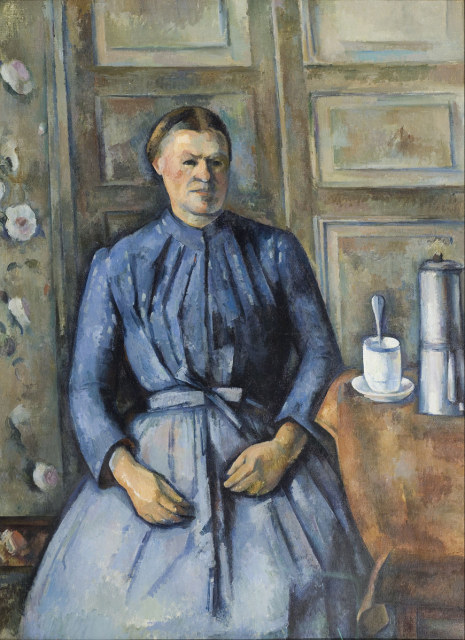 Paul Cezanne [Public domain], via Wikimedia Commons
Cezanne's use of color has not managed to brighten this woman's expression, but perhaps her cup of coffee will cheer her up.
"A Frisian Family Drinking Coffee"
CL Jessen, Frisian
1897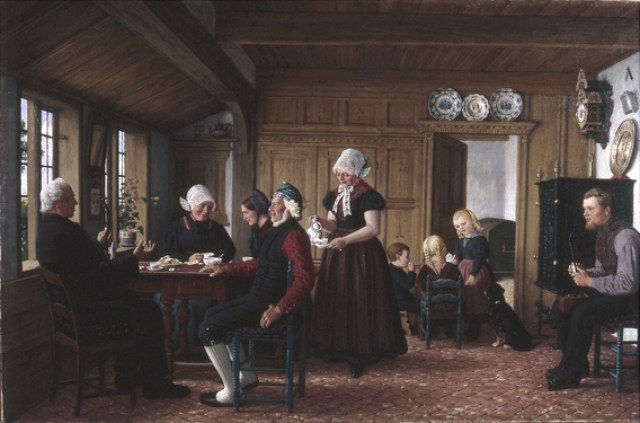 CL Jessen [Public domain], via Wikimedia Commons
Soon after this scene of family life was painted in 1897, industrial coffee moved onto the scene as large-scale roasters started companies, followed soon thereafter by the invention of instant coffee.
Three Girls at the Children's Coffee
Pietronella Peters, German
Turn of the 19th/20th century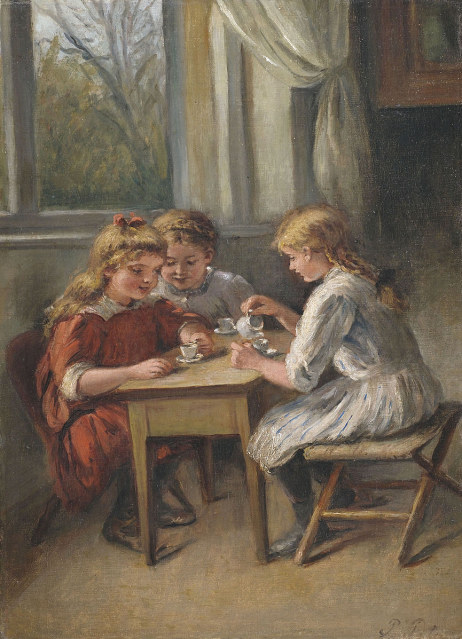 Pietronella Peters [Public domain], via Wikimedia Commons
Similar to our tea parties for children, here Peters shows us a "coffee party" for children.
"Coffee Drinking"
Albert Anker, Swiss
1910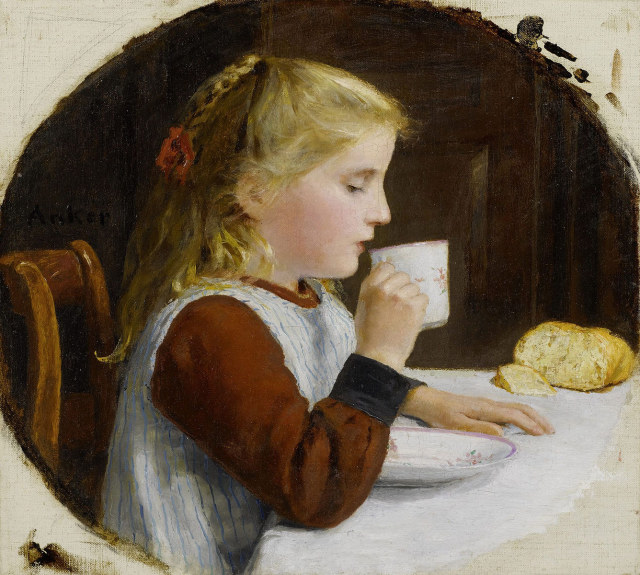 Albert Anker [Public domain], via Wikimedia Commons
Here, another child drinks coffee in a domestic scene. At the time, coffee didn't have the same reputation it has now in our culture as unhealthy for children.
"O.S. Useytlin with D.V. Vysotsky at Coffee"
Leonid Pasternak, Russian
1913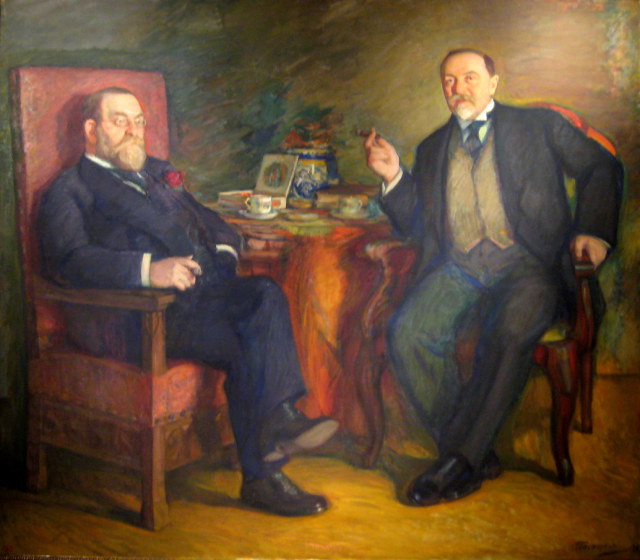 Leonid Pasternak [Public domain], via Wikimedia Commons
The solid businessmen portrayed by Pasternak have cemented their air of seriousness by drinking coffee – the scene would appear quite different if the coffee cups were replaced with steins of beer!
"Woman with Coffeecup"
Anders Montan, Swedish
By 1917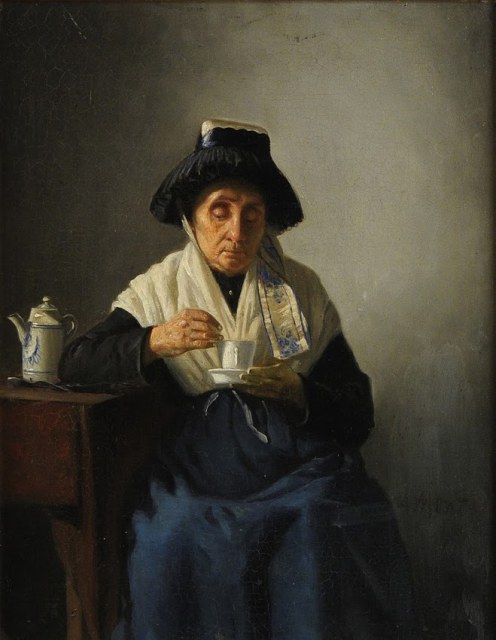 Anders Montan [Public domain], via Wikimedia Commons
Here we find solace in old age – as so often in the past – in what appears to be a lonely, yet comforting, cup of coffee.
Karen Resta is a writer, a food culturalist, and a sometimes-fashionista who mostly loves ice cream and Brooklyn.