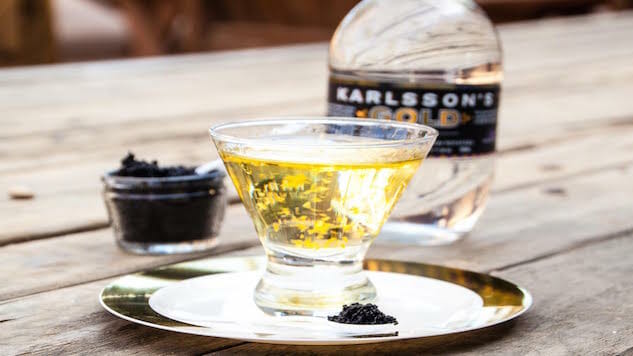 Five years ago, Donald Trump threatened the American people with a presidential bid when he headed a witch hunt over President Obama's birth certificate. We all laughed about it, made lots of "You're fired" jokes, and that was that. Now, however, it's not as funny anymore, and the chances of a Trump presidency later this year increase every day. But don't move to Canada or any other country your privilege allows just yet. There are still pretty good things about our country, like our food and our humor. Restaurants around the country (and one abroad) satirized the presumptive Republican nominee by creating food items inspired by his statements, character and looks. Which some, we assume, are good. So don't be a total loser and look at these Trump-themed foods you can stomach better than the actual person.
1. The Trump Footlong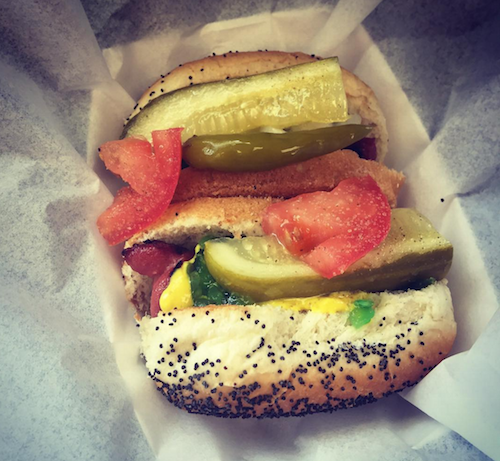 Photo: The Wiener's Circle
Following the bizarre is-this-real-life? feud between Donald Trump and then Republican
nominee hopeful Marco Rubio over the size of the former's hands, The Wiener's Circle in Chicago debuted the "Trump Footlong." Despite the name and Trump's reassurance of them not being directly proportional to the size of his manhood, the "Trump Footlong" is actually a 3-inch Chicago-style hotdog that promises "the best tasting, most flavorful beef you've ever had." And that's not all that the Republican nominee inspired at this Lincoln Park stand. The Wiener's Circle created a whole menu called "The Art of the Meal," where you can supersize your Trump Footlong from one to two with the "Trump Package" or get four dogs with the "Trump Superpack," both with fries and a drink. There's "no problem" with the Trump Footlong, indeed.
2. Chinga Tu Pelo Beer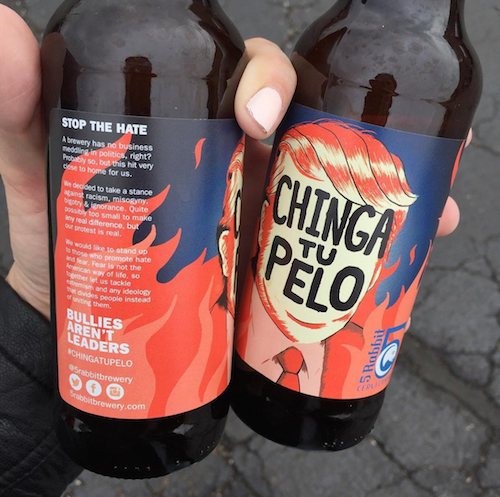 Photo: Laura Radcliffe
Without a doubt, one of the most ostracized groups by Donald Trump and his campaign has
been Mexicans. And after coming up with an easy-drinking blonde-ale exclusively for a bar at
Trump Tower, the Latino-owned Chicago brewery 5 Rabbit decided they would take their
business elsewhere and pulled the beer following the candidate's remarks on Mexican immigrants. But it didn't stop there. "… not only is it right, but it feels right to take a stance against racism, misogyny, bigotry, & ignorance. We know we're small but our protest is real," declared 5 Rabbit through Instagram when they relaunched the beer as "Chinga Tu Pelo." An obvious dig at Trump's notorious, meme-d hair, the name endearingly translates to "fuck your hair." Petty? Maybe. But clearly not as insulting as calling a whole group of immigrants "rapists."
3. The Donald Trump Taco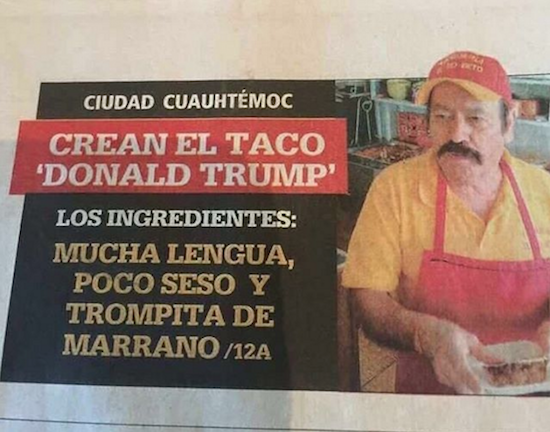 Photo: Javier Risco
As seen with the Donald Trump piñatas and the comments made by former and current
presidents, Mexicans on the other side of the border aren't too happy about the Donald's statements either. And just like "Chinga Tu Pelo," this Mexican taquero channeled his distaste for the Donald through food. Humberto Erives has been offering witty and quirky tacos in his taquero, Tacos Tío Beto, in the city of Cuauhtemoc, Chihuahua for 30 years, including his Politician taco, which has "a lot of tongue and a pinch of brains." However, in Donald Trump's dishonor, Erives created a spinoff of the Politician and added pig snout and mad cow brains — metaphorically, of course. The last two, he explained, are merely jokes about his persona and line of thinking, plus reckons that it wouldn't be as tasty. Other humorous staples include the Barack Obama taco, served on a blue tortilla, and the Mike Tyson, which has pig ears.
4. Trumptini Cocktail
This presidential election might have you feeling like you need a drink or five. And this farm-to-table restaurant/music venue/sports bar in Dallas can help you with that. The Rustic created drinks for every presidential hopeful for Super Tuesday back in March. But the winner was the Trumptini (pictured at top), trust us. In fact, "many people say it's the best drink they've ever had," as stated on The Rustic's Instagram. With a rich blend of Karlsson's Gold Vodka and vermouth, the Trumptini is dusted with gold flakes, served in a martini glass and accompanied by a golden spoon of caviar. And true to Trump's rhetoric, but not necessarily in practice (even the "Make America Great" caps were made in China), the drink contains no foreign ingredients
5. The Greatest, Most Delicious Burger in the History of the World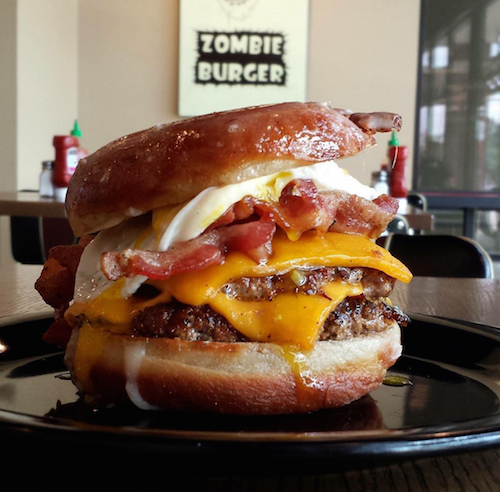 Photo: Zombie Burger
Leading up to the Iowa caucus, Zombie Burger periodically released burgers inspired by the then front-runners in the presidential race. The Trump one, of course, is yuuge and has braised short rib, demi, truffle mayo and a parmesan crisp — which symbolizes his hair. Hands down, there's nobody bigger or better at making Trump-inspired burgers than they are. Unfortunately and unlike his presidential race, the burger is no more, for it was only served during the caucus.
6. The Donald Trump Cookie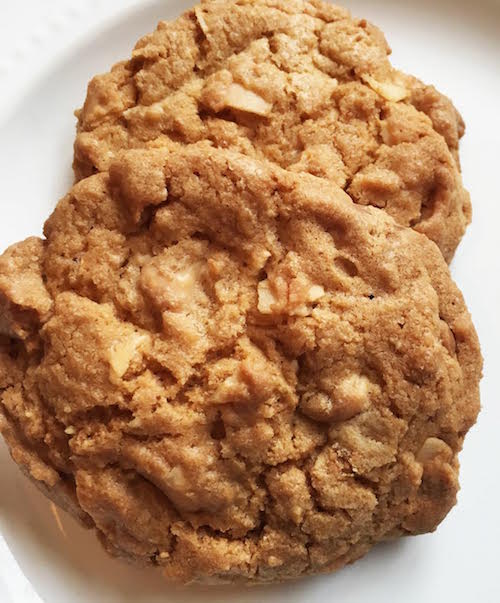 Photo: Sherlonya Turner
A Trump presidency will not be a sweet experience for everyone in America, but the cookies he inspired are definitely crowd pleasers. Obsessed with Presidents of the United States and baking, Sherlonya Turner mixed her two interests and opened Head of State Cakes, where she blogs about President-inspired baked goods. However, this election cycle, she's included a few of the contenders. To say the Trump cookies are inspired by the Republican candidate is an understatement, for they embody Donald Trump's personal story and statements in cookie form. Since the man is a billionaire, the cookies are made with ingredients you don't use every day, like saffron. The cashews, which come from a tree with a short and irregular trunk, make reference to the media claim he has short fingers. The white chocolate chips represent the, err, "nativist leanings" he displays, as Turner politely writes in the description. And like every other Trump-inspired food, the coconut flakes personify his hair. We humbly think that dyeing the cookies orange is a missed opportunity, but they're still legit.
Alexis Hodoyan-Gastelum typically writes about pop music, but likes to entertain the idea that she can tackle any subject. Her work has been published in Teen Vogue, Remezcla and MTV Iggy, to name a few. When not writing or hanging out with her shih tzu Alfie, you can find her in LA at a K-pop show.