You use your pots, pans, and plates every single day, so you want them to be something you feel good about having—especially if they're of a quality that will last your lifetime and beyond. American manufacturing of home goods has made a bit of a comeback in the past decade or so, and the brands listed below have been a big part of that. Some of them have roots tracing back over a century, while others are a new generation.
When you're shopping for goods made in America, know that some brands manufacture products both overseas and in the U.S., so if a U.S. factory is a selling point for you, it's never as bad idea to double-check on the box or label (or with a sales associate). Sometimes products are assembled in the U.S. with components made overseas; it's fairly impossible to produce, say, a toaster completely from locally-sourced materials.
So flexibility and homework are key. And yes, you'll be paying a bit more for a lot of these items than you would an imported counterpart from a discount store, but it's worth it from a consumer standpoint alone: when you invest in a quality product, it performs better, lasts longer, and gives you years of pleasure when you use it or give it as a gift.
Boos Blocks
There's just something about prepping on a substantial cutting board made of wood. It's got a warmth to it that other materials can't match, and with proper care, a good hardwood cutting board can be a family heirloom.
John Boos & Co. of Effingham, Ill. was established in 1887. They make custom butcher blocks, islands, and carts for both home and commercial kitchens, but the easiest way to bring a little Boos into your daily meal prep is a Boos Block cutting board. Made with kiln-dried American hardwood from sustainable sources, they are handsome and practical cutting surfaces, giving you the space you need to manipulate your knife with ease.
All-Clad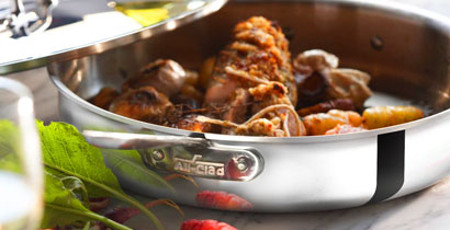 With its clean lines, aluminum-free interiors, and distinctive contoured handles, All-Clad bonded cookware is a fixture on wedding registries and birthday wish lists. The main feature of its popular tri-ply stainless line is its "sandwich" of a conductive core of aluminum bonded with exteriors of attractive, non-reactive stainless steel. Chefs and home cooks alike covet its performance and longevity. You can see footage of its Canonsburg, Pa. mill here.
GelPro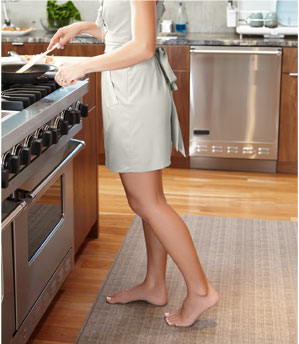 You can't fully really recognize the advantage of a GelPro mat until you're not using one—if you're used to standing on its cushioned comfort in your own kitchen and then you cook somewhere else, the difference is striking. Considering the dozens of accumulated hours we spend standing at the sink or counter every year, a GelPro mat hardly seems like a luxury, and it can be a lifesaver for those who already stand in the same spot for most of the day at work. It's no small wonder that mat's creator, engineer Robb McMahan, came up with the idea one Thanksgiving after his wife, Lisa, got fed up with the discomfort of standing on a hardwood floor during hours of prep. The company offers a discount for military personal and teachers, which is pretty cool.
Fiestaware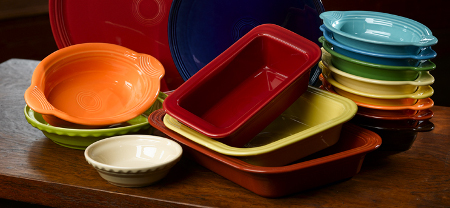 Introduced in 1936 and perennially popular since, Fiestaware's bold colors and Art Deco forms are hugely appealing, and their resilience means they can take a beating when you enjoy them as your everyday dishes. Made in Newell, W. Va., Fiestaware comes in an assortment of colors that's fun to mix and match—a friend of mine who collects both new and vintage pieces rotates her colors out, using the pastel ones in the spring and bringing out darker, warmer colors in the fall. You don' have to go crazy with a full collection of place settings, though: a single Fiestaware mug is a cheery way to start the day. (They also have adorable demitasse cups and rice bowls, which are newish to the line.) For a fun time-waster, you can use their online tablescape tool to mix and match Fiestaware pieces and colors.
You can even tour the factory in person, and if you're ever in West Virginia, I have two glorious words for you: factory outlet.
Lodge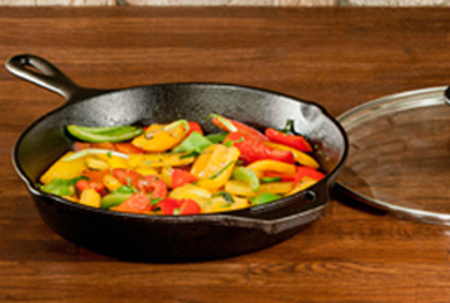 A kitchen isn't a kitchen without a cast-iron skillet, and the pre-seasoned beauties made by Lodge are budget-friendly workhorses ready to sear a steak, bake a pan of cornbread, or griddle up some pancakes.
In recent years, Lodge added carbon steel and enameled cast iron cookware to their family of products, but we're still smitten with the classics, like their Dutch ovens, which are made for hearth cooking just as early American settlers did back in the day. Lodge expanded their South Pittsburg, Tenn. plant in 2014 to accommodate the increasing demand for their products.
Tervis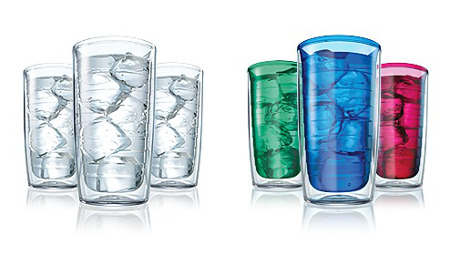 The look of a Tervis tumbler is contemporary, but the North Venice, Fla. company, which began in 1946, is hardly new. Their double-walled tumblers are made from BPA-free polymer that's safe for the dishwasher and the microwave. They come in a huge assortment of sizes and styles, but it's their durability—they're virtually unbreakable—and resistance to scratches that keeps them looking new for years and years.
Tervis specializes in custom branding (there's likely a Tervis tumbler for your favorite NFL team or movie franchise), but we like the plain and simple tumblers, like the candy-colored ones above. They come with a made for life guarantee, which Tervis proudly stands behind.
Nordic Ware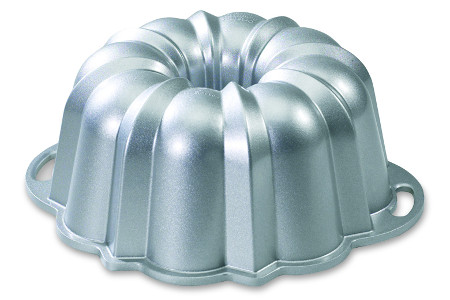 The Bundt pan, that most American of forms, was actually inspired by a German kugelhopf pan, and developed by Nordic Ware at the request of the women of Minneapolis' Hadassah Society.
Nordic Ware makes the majority of their products in America, at their Minneapolis-based facilities. And Nordic Ware offers products up the wazoo, from the aforementioned Bundt pan and its many variations to stovetop waffle irons. Check out this pleasing video of their products in the making.
Vitamix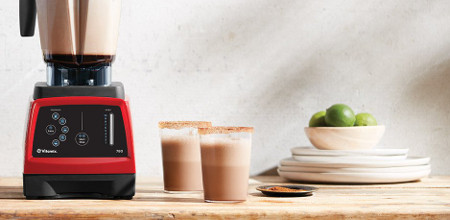 Made in Strongsville, Ohio, Vitamix blenders have a cult following that's spiked in the last decade or so, but the company's origins go back to 1921. In 1949, the company's founder, William Grover Barnard, demonstrated his powerful new blender in one of the first televised infomercials, and such demonstrations have been the clincher of Vitamix blender sales ever since.
The big selling point of a Vitamix is its oomph—these blenders can blitz and pulverize tough greens into particles too tiny to see with the naked eye and pulverize chunky ice with effortless grace. No small wonder they come from Strongsville.
KitchenAid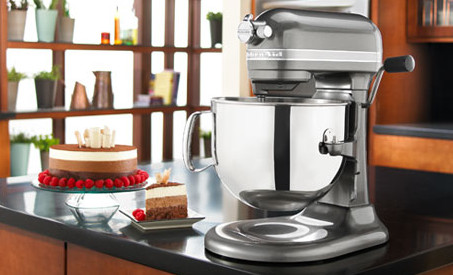 KitchenAid ranges are made in America, but we're focusing on their stand mixers (made in their Findlay, Ohio factory), which are iconic enough that the presence of one on a kitchen counter is an instant visual indication that a passionate baker (or poseur with excellent taste) lives in the house. With over ten colors available, the stand mixers look pretty great, but their performance is the selling point. There are few pleasures of cooking as satisfying as peering into the bowl of a stand mixer and witnessing a recipe's ingredients—be it bread dough, meringue, or an emulsified forcemeat—transform.
KitchenAid stand mixers—which date back to 1919—have an oft-underutilized feature called a "Power Hub," which is a portal at the machine's center front where accessories such as a grinder, grain mill, or pasta roller (all sold separately, natch) can be attached, thereby expanding the versatility of the machine.
If you're into burly baking and not just the occasional batch of cookie dough, it's a good idea to shell out the extra bucks and invest in the horsepower of a heavy-duty model (350 to 400 watts). I like Professional series.
Brooklyn Copper Cookware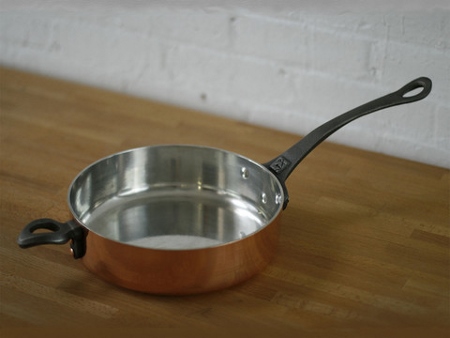 Some people have a shoe thing, or a purse thing, or a car thing. And then there are people with a copper ting. Cooking with copper just feels different. The metals responds to a cook's adjustments with a swiftness that makes the cook feel more in control, and more unified with the process. There's a tactile magic to it that no other cookware can match—plus, the pans just look really foxy. Though plenty of European manufacturers have made copper cooking vessels for centuries, there's an American upstart: Brooklyn Copper Cookware, which makes pans and pots in the old style, with tin lining and cast-iron handles. They're gorgeous in every sense of the word.
Sara Bir is Paste's food editor, and the author of The Pocket Pawpaw Cookbook .