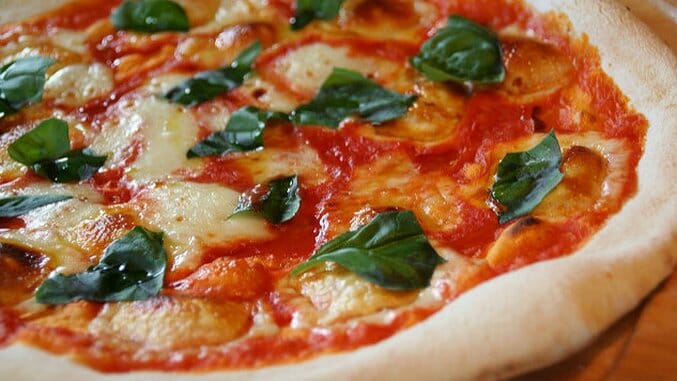 It's difficult to imagine a time when pizza was not a major American food group. Pizza is so ingrained into our consciousness as a nation that the hashtag tops one million Instagram posts. America's 75,000 pizza restaurants make up 17 percent of all national restaurants, creating a $37 billion dollar industry. USDA surveys from 2007 to 2008 and 2009 to 2010 reported that 12.5 percent of all Americans eat pizza every day.
The Italian dish came to the United States as recently as the late 19th century, the ingredients imported by Italian immigrants. The country's first pizzeria was born in New York's Little Italy neighborhood, where Neapolitan immigrant Gennaro Lombardi opened his eponymous spot. Lombardi adapted his simple Neapolitan-style pizza to America, transitioning from wood-fired ovens to coal-fired ones, substituting fior di latte for mozzarella di bufala.
Italians from southern Italy set up bakeries in large cities, making tasty flatbreads and pizza to support their families. Antonio "Totonno" Pero, a chef at Lombardi's, went on to establish his own restaurant, Totonno's, in Coney Island after the train lines were extended. The restaurant still uses its charcoal oven, which are no longer allowed in New York unless they are grandfathered into a restaurant like Totonno's.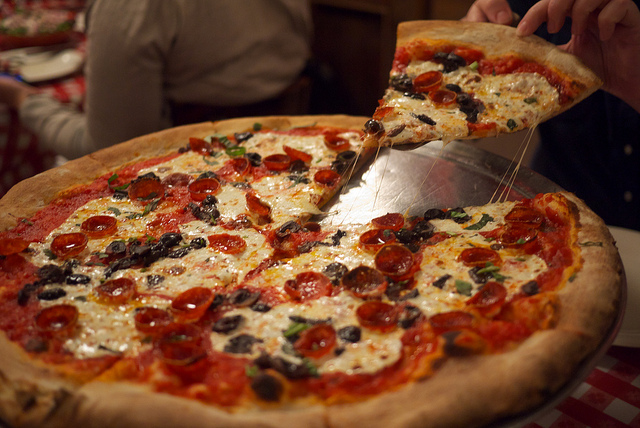 In 1905, a slice of pizza cost five cents. During the Depression, when families did not have much money, pizza became popular with everyone in the United States. Families were eating different types of pizza on the east and west coasts. A thick-crust pizza was called double-crust pizza or west coast pizza. When they had a large exhibit about pizza at the Texas State Fair, more people inquired about this food than any other.
The first recipe for pizza appeared in a fundraising cookbook published in Boston in 1936. The recipe, for Neapolitan pizza, was made by hand. Dough had to be hand-stretched by pizzaiolos and housewives until it was half an inch thick. The pizza had cheese, tomatoes, grated parmesan cheese, and olive oil. Surprisingly, the dough was not made by hand, but cooks were told to buy it at a good Italian bake shop.
However, pizza was mostly limited to Italian immigrant communities until after World War II, when American soldiers returning from Italy still wanted their pies. Popularity spread, and various American styles developed. Pizzeria Uno is credited with the invention of the Chicago deep dish pizza in 1943. This is known as tomato pie and was baked in rectangular pans in bakeries. Its crust was extra thick and it had seasoned tomato puree and was dusted with Romano cheese before it went into the oven. Some eventually had meat and thick cheese, and it was so thick, it often had to be eaten with a knife and fork.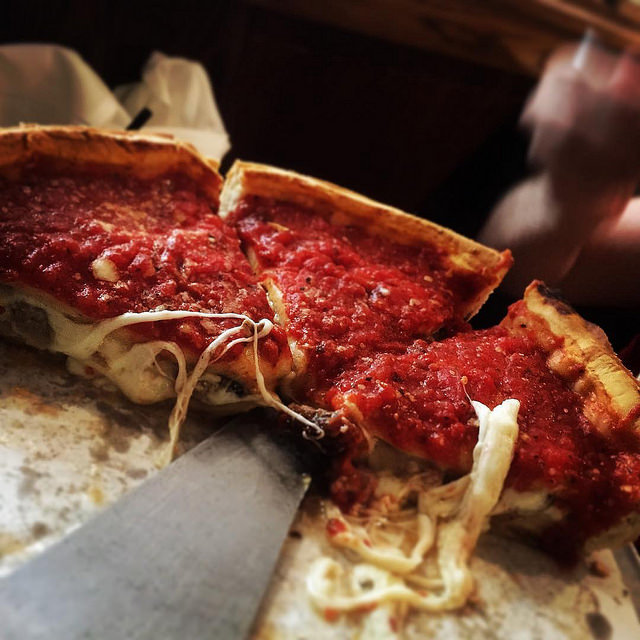 By 1950, pizza had become one of the most popular members of the American food family. It was the perfect meal to order, pick up and eat at home on nights parents were too tired to cook. It was easy to eat, great for groups, and very popular with teenagers and college kids. Pizza parlors sprang up in neighborhoods with brick ovens and large booths or tables that could fit eight to ten people.
Frozen pizza came on the market in August 1950. They were popular and competition for frozen dinners. Available in some stores for prices like 49 cents, they were easy meals for families to make. Emil De Salvi, a musician, opened up a company named Pizza Pro in Chicago that sold many frozen pies to restaurants and taverns. In 1975, Stouffer's French Bread Pizza was tested in four markets. It is still a popular frozen pizza found in many supermarkets and retail stores.
Joseph Bucci of Philadelphia received over 652 patents for making frozen pizza or tomato pie. One of the first small pizzas was the Little Bo's Pizza. It was small enough for one person and made with cheese, tomatoes, olives, and spices, and buyers were advised to heat them up for eight minutes in the oven.
In 2009, an inventor named Claudio Torghele combined two great American loves — pizza and vending machines. Torghele's machine did not just heat pizza, but mixed ingredients and made pizza in about three minutes. The machine was tested in Chicago and at a trade show in Orlando, Florida. It took Torghele ten years to design the machine, and the first one was installed in Atlanta in 2013. When your children someday think pies only come from vending machines, you can tell them you remember when pizza was something you had to wait a whole half an hour for a breathless pizza delivery boy to bring to your door.
Joan Russell has a B.A. in Journalism/Communications from the University of Bridgeport and an A.S. in Food Service Management from Naugatuck Valley Technical Community College. She writes about food and travel for E-How, Trails, Travels, Man Made, and The Examiner. I live in Waterbury, CT.
Photos by Yoshihide Nomura CC BY-ND, Simon Doggett CC BY, Mike Mozart CC BY and merri CC BY-SA