Are Food Delivery Services Like Blue Apron And Plated Worth the Hype?
Photos by Laurel Randolph
Food
Lists
Even if you love to cook, sometimes the idea of thinking up, shopping for, and preparing a nutritious, interesting, and tasty meal multiple nights a week can be headache inducing. Step one can be hard enough, without the inevitable multiple trips to the grocery store and the time spent making said meals (notice I'm not even mentioning the clean-up). Then there's the fact that Americans throw out an incredible amount of food every year. Sometimes even the best intentions can't save that half head of soupy lettuce, or the rest of that weird curry sauce you bought and never used again.
A potential solution to these problems are recipe and ingredient delivery services. Relatively new to the marketplace, services have been popping up like crazy, and they all offer basically the same thing—a few recipes with all of the ingredients portioned out. All of these companies boast the same advantages:
Convenience: The recipes and all of the ingredients are delivered right to your doorstep. If you're not home, they're packed in a cooler box, and will remain fresh all day just sitting there. They also do all of the thinking for you—no need to brainstorm menus and figure out what to buy and how much. You pick from a limited list of recipes each week and you're done with pre-meal prep. No visits to the grocery, no menu planning necessary. You can skip as many weeks of deliveries as you like using your online account, and won't be charged for those weeks. Plus, you may end up trying new things that you wouldn't have made on your own.
Quality: Each service points to the high quality of their ingredients, and many claim to source things locally. Chefs write and test the recipes, making them high quality as well. Everything is (hopefully) packed carefully in an insulated chill box with ice packs to keep everything fresh. The meals are supposed to be well-balanced, and within a reasonable calorie count.
Ease: With all of the prep work done, your life is already much easier. Once you have your box in hand, most ingredients are labeled to show which recipe they belong with, and the recipe cards show you exactly what belongs in each dish and how much. Typically, everything is portioned exactly, so there will be no leftover ingredients, and you won't end up with a bunch of something that you'll never use. The recipes are supposed to be easy to follow with illustrations, only use a few dishes/pans, and basic equipment. No recipes were written to take longer than 45 minutes start to finish, most are closer to 35 minutes.
Affordability: Meals range from just under $10 to about $13 per person for most services (delivery and tax included). It's certainly possible to make a meal that costs half that amount, but when you take the quality and lack of accessibility of some ingredients, the recipe provided, and the delivery, it becomes a better deal. Some of these dishes turn out to be white-linen-restaurant-quality, and that cost comparison is no comparison at all.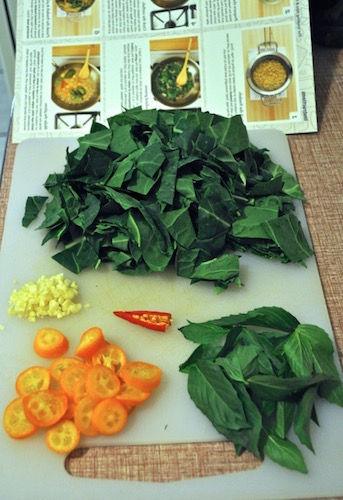 Now that we've covered the pros of using a recipe and ingredient delivery services, let's talk about cons. Many of the disadvantages also ring true across the different companies.
Waste: Every time I've unpacked my meals from any of these companies, I've felt pretty wasteful. This seems contrary to one of the basic ideas of the service, but it has more to do with packaging than food. Although I don't tend to waste food (often none at all) for these meals, which is great, I do end up throwing out a stupid amount of packaging. Each delivery comes in an insulated box.
The box is recyclable, but often much of the insulation is not. I only need so many ice packs, so some of these get wasted as well. And then many of the ingredients are individually packaged, sometimes ridiculously so. I once received a single celery rib in it's own zip-top bag. Sure, some of these things can be reused or recycled, but not all of them, and the sheer amount feels a little ridiculous. Plus the fact that your food is being overnighted to you, which can't help your carbon footprint.
Quality: You may have noticed this heading in the pro section, but there's another side to the quality aspect. Because these items are being packed and shipped to you, sometimes delicate items don't show up in the best condition. Even though most services claim their uncooked meals will last close to a week in the fridge, sometimes they don't. And sometimes the recipes aren't great, or the instructions aren't clear, or they just plain aren't right. This is all part of cooking—sometimes things just don't work out perfectly—but when you're paying for that guarantee, you want, well, a guarantee.
Creativity: One of my favorite things about cooking is how creative it can be. Once you learn some cooking basics, your reward is a bit of freedom to play around with ingredients and techniques, and really have fun in the kitchen. These services take the creative aspect completely out of the picture. In a sense, so does eating at a restaurant, but at least they made your food for you so that you can just enjoy it. This is cooking by the book at it's most strict. This very well may not bother many people, but for people who already love to cook, it could be a downer.
Affordability: None of the prices for the major services are exorbitant, but most meals or a comparable dish wouldn't cost upwards of $10 per person. It's relatively easy to prepare a nice meal for half that if you do your own shopping. And again, it's hard to compare these meals to eating out, since service is not included.
Flexibility: Or the lack thereof. Meals only come for two or four people, too bad if you're happily single or a family of three. You also have to use all three means within a week, many of them need to be cooked with a couple of days.
While there are tons of services available, I narrowed it down to three major contenders — Blue Apron, Plated and HelloFresh — and gave them a try. How did they stack up? We'll share the results next week.
Laurel Randolph is a food and lifestyle writer hailing from Tennessee and living in Los Angeles. She enjoys cooking, baking and candlestick making. Tweet at her face: @laurelrandy.