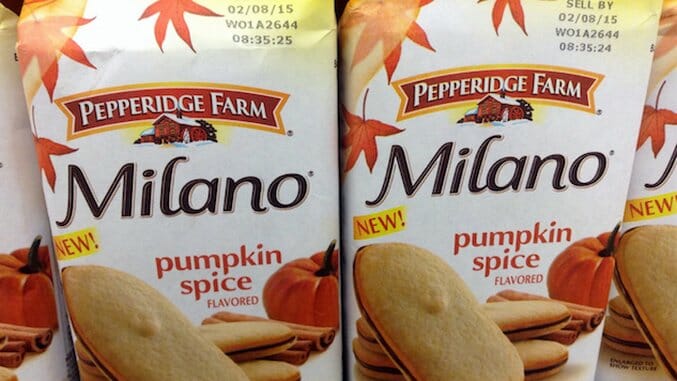 Pumpkin spice season is in full force. And while the autumnal flavor craze was once restricted to coffee chains and restaurants, corporate foodmakers have caught on to the trend and are creating all types of food products drenched in pumpkin spice goodness. While we have yet to see anything like pumpkin spice pickles on the market this year (September 2016, no, August 2017, hopefully) there are plenty of unique and legitimately delicious pumpkin spice groceries available this season. Pull on your Uggs, cozy up in an oversized flannel shirt and head to the supermarket to check these items off your pumpkin spice grocery list.
1. KIND Caramel Almond Pumpkin Spice Bars
Stock up on these limited-edition snack bars (or don't like I did, if you have no self control, because I ate them all) which is crisp with cashews, almonds and peanuts, a drizzle of sticky caramel and actual pumpkin! Pairs well with a Pumpkin Spice Frappuccino, the experts (me) say. And with only 5 grams of sugar, it's hard to believe this candy-like snack bar isn't horrendously unhealthy.
2. Whole Foods Pumpkin Spice Granola
Before you even get to Starbucks, start your morning with this limited-edition pumpkin spice granola goodness. Made primarily of sugary rolled oats tossed with pumpkin seeds, dried cranberries, dried apples and plenty of nutmeg, this cereal is fall in a box. May we suggest using a hollowed-out pumpkin as a bowl?
3. Noosa Pumpkin Yoghurt
Real pumpkin puree swirls in with this creamy Australian yogurt that's rich enough to be a dessert but healthy enough to be swapped in for a meal. Or three. A distinct tartness will appeal to those who find PSLs too sugary and those who are missing the spice can sprinkle some nutmeg and cinnamon on top to dress up this breakfast.
4. J.R. Watkins Pumpkin Spice Extract
Turn anything you touch into gold — Well, better than gold, pumpkin spice flavor! This liquid artificial flavoring should be in your hand at all times from September through November to enhance everything you eat into chemically flavored pumpkin spice goodness. You're about to become the most popular person in your squad.
5. Triscuit Pumpkin and Spice
Just when you thought the pumpkin spice craze had gone far enough, Triscuit had to step in with its new limited edition crackers. Flavored with pumpkin powder, salt, brown sugar and "spices," these seasonal crackers may be best enjoyed with a spread of plain cream cheese to pick up on all that pumpkin powder. Or, you know, with your hands straight out of the box.
6. Pumpkin Spice Milanos
Move aside mint, you'll get your time in the spotlight come December, but it's all about Pumpkin Spice Milanos while the leaves turn orange this year. A 2014 debut, these cookies have returned once again with seasonal vigor for all things sweet, nice and pumpkin spice, and you may just want to have a steamy chai latte on hand to dip these cookies in.
7. Sam Adams 20 Pounds of Pumpkin
Unlike many pumpkin spice beers that are merely flavored to taste like something that tastes like pumpkin, this new Sam Adams ale is brewed with real pumpkin, cinnamon, ginger, nutmeg and allspice for cool, comforting sips of 5.7% ABV beer that will make any tailgate a little more basic.
8. Talenti Pumpkin Pie Gelato
Storing an entire pumpkin pie in your freezer to dip a spoon into whenever serious pumpkin cravings hit is unreasonable, but a stash of pumpkin pie pints frozen alongside your cold weather stew ingredients? Brilliant. Made with real pumpkin, this creamy gelato is also studded with pie crust, which should be mandatory in any pint of ice cream, really.
9. Promised Land Pumpkin Spice Milk
Milked from the finest of pumpkins, erm, we mean New Jersey cows, this orange-tinted milk will turn any coffee into the pumpkin spice creation of your dreams. Alternatively, stick a straw in the bottle and slurp up all the pumpkin flavored goodness and you're well on your way to forgetting that strawberry milk was ever a thing.
10. Frontera Chipotle Pumpkin Salsa
Putting the literal spice in pumpkin spice is Top Chef Masters star and famed Chicago chef Rick Bayless, whose seasonal bottled salsa combines pumpkin tomatillo, chipotle chile and a seasonal blend of cinnamon, allspice and nutmeg to season this autumnal salsa.
11. Pumpkin Spice Twinkies
Hostess, this has gone too far. These pumpkin spice cream-filled cakes are giving the pumpkin spice phenomenon a bad rap, but get them for a scary Halloween prank, maybe?
Melissa Kravitz is a writer living in New York. Follow her at @melissabethk.
Photo: Mike Mozart