Autumn is an incredibly picturesque season, but for some reason it's less common in games than powder-white winter scenes or sun-soaked beaches. It's hard to say why the peaceful chill of fall is a little harder to come by—it's rare outside of the occasional red or gold tree standing static in the background—but that doesn't mean there aren't a few games that have depicted the season in all its glory. For some it's all about the foliage, while others capture the more intangible qualities of this time of year. Either way if you're looking for a taste of fall in your gaming this month, here are a few titles to get you started.
10. Beyond Eyes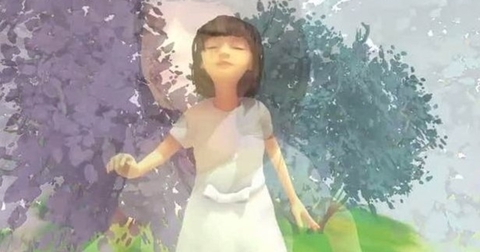 In a lot of games, autumn is an all-or-nothing aesthetic choice: either all the trees are changing or none of them are. But that's not how the season tends to work, and the early stages of September where the first few treetops are starting to tinge are some of the most pleasant days around this time of year. You get all the pleasing benefits of the colors with none of the endless raking. Released this past summer, Beyond Eyes is an utterly gorgeous game that captures the very earliest stages of fall in a way few games even attempt, blending serotinal greens with the slow incursion of rusty reds. It's still a rather summery-looking game, but depending on where you live in the world it may be a pretty darn accurate representation of your own experiences with fall.
9. Brothers: A Tale of Two Sons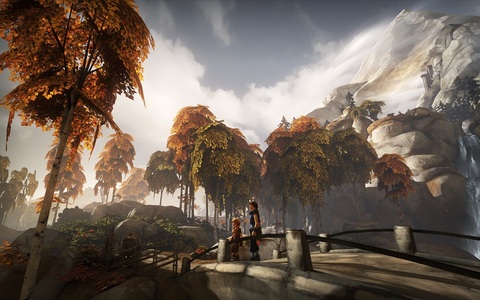 Brothers moves through the seasons as a sort of visual metaphor for the storyline, which is not a device exclusive to this thoughtful, steadily-paced game, but the autumn section occurring early on is absurdly beautiful. You can practically smell the freshly-picked apples and dry leaves underfoot as the two main characters set out on their adventure. It's one of the most memorable sections of the game, and let me tell you, that is a game with some very memorable sections.
8. Legend of Zelda: Oracle of Seasons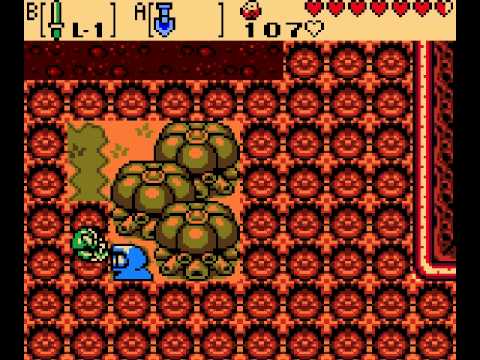 Just about every Legend of Zelda game has a cool little twist to it. In Oracle of Seasons that twist is the ability to manipulate the environment between four different seasonal states in order to access different areas of the map. Activating autumn, for example, fills dangerous pits will piles of fallen leaves… Which definitely makes the idea of walking over them (or jumping into them) a lot more appealing.
7. Life is Strange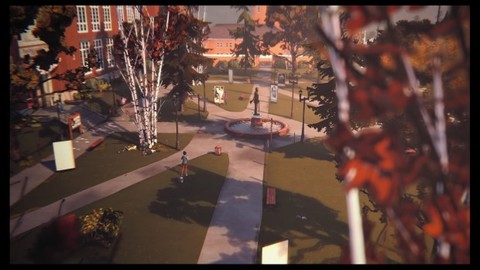 It's not just the color of the trees that contributes to the autumnal vibe in Life is Strange. It's also the feeling of fresh notebooks and new classes and pencil shavings and classmates you still haven't quite pinned down and teachers who still haven't quite pinned you down. You're breaking in school supplies and breaking down that nervous anticipation that comes with the start of a new semester, and that speaks to fall just as much as any leaves.
6. Bully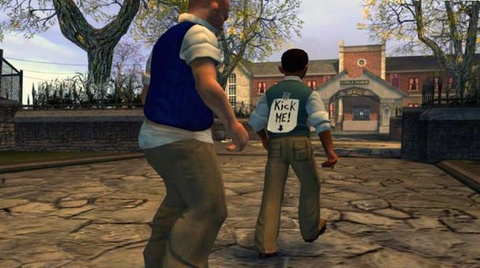 Where Life is Strange hits on some of the warm and fuzzy feelings of starting fresh in the fall semester, this game's brand of seasonal nostalgia is a little less comfortable. It calls to mind the crisp air and the rapidly baring trees, and people you still intend to avoid when your ten year reunion rolls around. Although Life is Strange is not necessarily a carefree story, it has a downright cozy edge compared to the dwindling warmth in the world of Bully.
5. The Sims 3 Seasons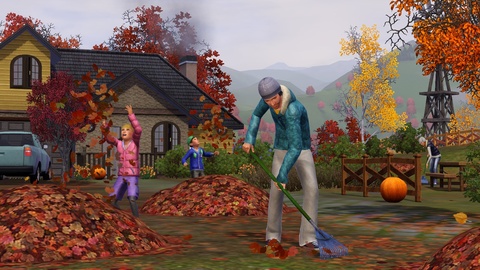 I hesitate to mention The Sims (or Animal Crossing for that matter) in a lot of my lists at this point because each game does so many different things that you could probably find a place for either on just about any list imaginable. I'm willing to make an exception for the Seasons expansion for The Sims 3, which added not only Winter, Spring, Summer and, you guessed it, Fall, but also included season-specific festivals. In the autumn months this means apple-bobbing, pumpkin carving and an array of costumes to help sims throw the perfect Halloween party—sorry, "Spooky Day" party.
4. The Whispered World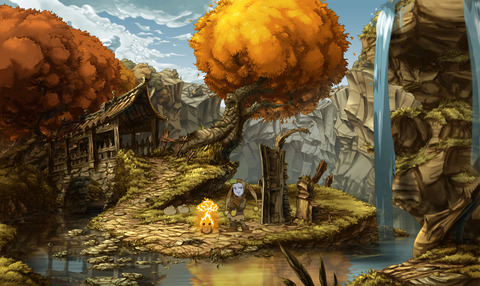 You can't really talk about the use of autumn environments in games without mentioning The Whispered World. Even the scenes without colorful trees and falling leaves often take advantage of a decidedly autumnal color palette, which makes the brighter, greener stages of the game stand out even more. While it might not be worth dipping into this game just for some virtual leaf peeping, its lush, illustrated scenery would at the very least make for a perfect October desktop.
3. The Vanishing of Ethan Carter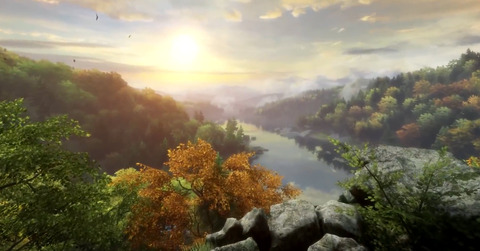 If The Vanishing of Ethan Carter was just a pleasant rural leaf-watching vacation simulator then that would be enough. That would be more than enough, because as players wander through the relatively open environment it's entirely too easy to forget that there's anything more to this game than that. If you've ever been tempted to take a fall trip to New England, consider saving yourself the expense (and the side-effects of an unavoidable maple candy binge) by taking a tour around this place instead.
2. The Crossing

I'm actually furious at myself for neglecting to mention Ferry Halim's Orisinal flash games in any of the seasonal gaming lists that I've done for Paste in the past year. The realization that I should have mentioned their work in every single one hit me over the head like a pumpkin hitting pavement as I was composing this. But oh well. The best Orisinal game to get in the fall spirit is probably The Crossing, a perfectly gentle and meditative little thing where you help prancing deer across a stream in a glittering copper-colored forest. It's as simple and straightforward as most of the Orisinal games are, but it's ridiculously easy to zone out with a glass of hot cider and play all afternoon.
1. Costume Quest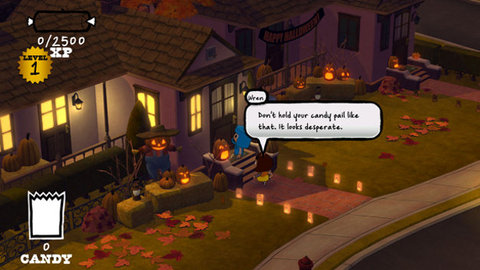 I bet you saw this one coming a mile away. Costume Quest and its recent sequel put players in the role of a group of trick-or-treating children who change costumes to change their combat abilities. Everyone knows that Halloween is the best holiday in the autumn months (maybe the best holiday, period) and few games have captured the spirit of Halloween better than this charming RPG. The only thing these games don't accurately portray is the week-long tummy ache and bad school lunch decisions that inevitably follow.
Janine Hawkins is a games writer based in sunny Canada. You can find her written and video work on HealerArcherMage.com or follow her on Twitter @bleatingheart.