Shaq Fu: A Legend Reborn Reveals a Secret, Barack Obama-Themed Bonus Game
Well, this is just plain weird
Images via Wired Productions
Games
News
Barack Obama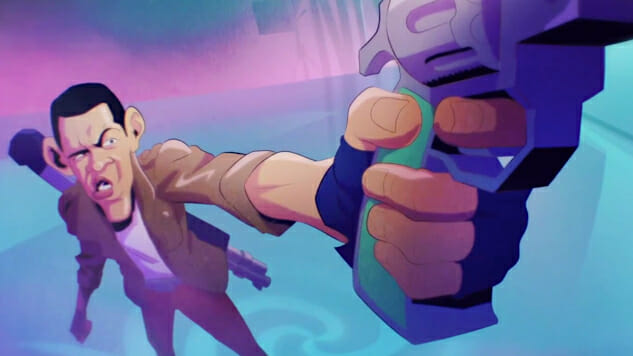 Friday, June 29, marks the release of the Kickstarted physical edition of the arcade beat-em-up Shaq Fu: A Legend Reborn and within the physical release lies a hidden, bizarre surprise. The physical copies of the game include a leaflet that outlines instructions as to how to unlock a hidden, secret bonus videogame called Barry Fu: The Adventures of Dirty Barry. Seriously, this is not a joke. The core Shaq Fu experience is a comical, simple arcade beat-em-up that pays homage to the truly abysmal 1995 fighting game of the same name. Barry Fu seems to follow, visually and tonally, in the same footsteps as Shaq Fu: A Legend Reborn.
In Barry Fu, the player controls a parody version of the former president of the United States—he has been deemed "ex-POTUS-on-notice." A number of celebrities have been killed and when the police can't seem to solve the case, Barry steps in to get the job done. His tools seem to be various forms of firearms and John Wick-like finishing moves. Overall, the trailer (and the game itself) has a very grindhouse feel that is both firmly tongue in cheek while also being surprisingly violent. It all feels and looks very Shaft-ish.
Seeing Barack Obama's likeness being used in a videogame where the player is tasked with using various firearms to solve (or dispose of) problems is as jarring as one may expect. It feels very tone-deaf, gross and, honestly, just downright weird. Given recent events in the politicization of (gun) violence, having a videogame where a former president with an anti-firearm agenda uses guns like Babe Ruth used a baseball bat is just downright baffling.
Barry Fu is available now on Xbox One, PlayStation 4 and Nintendo Switch to owners of the physical version of Shaq Fu: A Legend Reborn. Check out the gameplay trailer for the secret Barack Obama-themed videogame below.