I doubt anyone in the world hates ads in mobile games right now so much as Adam "B0aty" Lyne. The afternoon of December 2 found the popular British Twitch streamer on a stage in Las Vegas' Paris Hotel, battling against Vancouver's Ryan "Northernlion" Letourneau in a round of Pac-Man 256 on an Amazon Fire tablet. A grand prize of $30,000 awaited the eventual champion from a total pool of $100,000, but this was only the first elimination round. Twenty seconds into the three-minute match, his yellow gobbler died to a ghost, and in his haste to start over he accidentally hit the ad for Juice Jam on the free-to-play game's menu.
For 18 awful seconds a blue-haired schoolgirl and a sweatered fat cat told him and the audience how he could "fill orders" and make "juicy combos" in the match-three puzzler, all while Northernlion stoically pushed his own score ever higher. B0aty made a valiant second try, but the damage was done. Northernlion eventually won, and for hours poor B0aty had to watch other players perform better from the so-called "loser's lounge."
And so sometimes generally went with Amazon's first annual Champions of Fire Invitational tournament, which touted itself as "e-sports for all." The annoyances of mobile games aside, it's an attractive enough idea. Rather than focusing on usual e-sports staples like League of Legends and StarCraft II, which require some commitment to fully comprehend (and which pack stadiums with thousands of fans), Amazon's event champions the casual and mobile games available on most smartphones and Amazon's own Fire tablet in particular.
These, so the logic goes, are the games everyone knows. This, in theory, is the type of event my octogenarian aunt could cheer. You really didn't even have to know about the five games involved—Disney Crossy Road, Pac-Man 256, Bloons TD Battles, 8 Ball Pool, and Fruit Ninja: Tournament Edition—to "get" them. I myself hadn't played most of them until I downloaded four of them on my iPhone in the theater an hour before the event, and even then three minutes with each was enough to understand what the players faced. Some of the contestants weren't much different.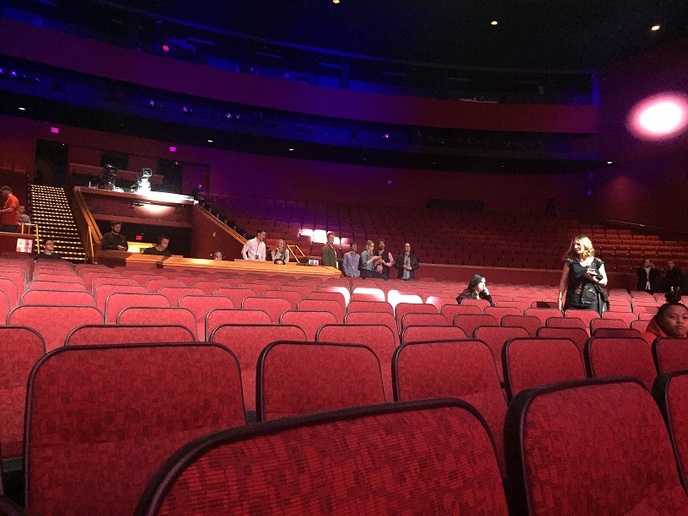 "I have less than five hours in all of these games, and I'm somehow now competing on a stage," B0aty had told me the day before. "Normal e-sports is dedicated to people who literally commit their lives to certain games. These games I can download and be instantly almost as good as anybody."
And so Amazon wisely went for stage presence over proven skill. The contestants weren't the unsung heroes of Crossy Road or Fruit Ninja who possibly command high scores on subway commutes and middle school buses. Instead, they were 16 popular Twitch and YouTube streamers, ranging from the effortlessly articulate John "Tangent Gaming" Korbey to the breathtakingly adept and painfully socially awkward Albert "BoxBox" Zheng, who'd consistently clap his hands over his ears whenever co-host Ali Nejad mentioned him. (It certainly didn't help that Nejad once suggested that Chinese-American Zheng was Korean on account of a misunderstanding surrounding his nickname.)
The ties between Amazon's 2014 acquisition of Twitch for $970 million and its mobile app store were obvious. Amazon called the participants "celebrities," but not without a degree of justice. Korbey's 152,000 Twitch followers counts as a modest number for this bunch. More than 200,000 people tune in for the World of Warcraft streams of Cinthya "CinCinBear" Alicea and Renée "LolRenaynay" Reynosa's adventures in Overwatch and Rocket League, and Sky Williams boasts almost 900,000 subscribers on YouTube. Marketing ploy or not, they seemed like likely draws.
And yet as the event started, I turned around from my second row perch and saw but eight other souls seated in the 1,200-seat Théâtre des Arts. This, despite Amazon's impressive, professional set, with its fancy game-show light displays and screens reaching the full height of the visible stage. Out of pity I added to the barely audible smattering of claps as each contestant jogged out on stage. I'd heard one of the technicians telling his buddy hours before to expect thousands of people like he'd seen at a League of Legends event he'd worked at Mandalay Bay (along with "hot costumed nerd babes"), but so much for that.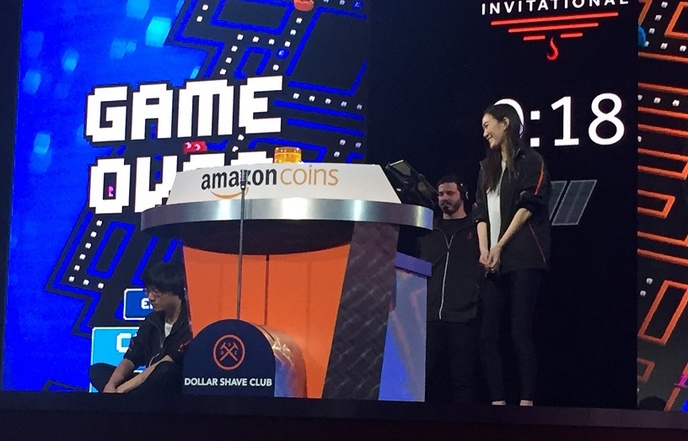 I told myself that maybe it wasn't really meant for a live audience, but I never saw more than 2,200 viewers on Twitch's main stream when I checked in on my phone. Based on chat, the vast majority of them seemed to be fans of Northernlion (whose personal mirror stream pulled in more viewers than Amazon's own), and the viewer count plummeted to around 1,300 in the wake of his elimination. By the time the event ended seven hours later, enough people had trickled into the theater to raise dozens of genuine cheers during close matches, but even then I probably could have chucked my legal pad behind me and not hit anyone.
I'm not convinced this was because the concept failed. No one had even heard of Champions of Fire until Amazon announced it in a press release just 11 days prior, and the poster outside on the casino floor could have been announcing a tractor manufacturer's convention for all any casual passerby would know.
That's a shame, because in all those hours I was never bored. Sure, I winced at plenty of Nejad's "jokes" and facepalmed when the e-sports-unfriendly tablets reported USB compatibility errors or (the horror) switched from portrait to landscape mode in several frantic sessions. Yet at least half the time I was on the edge of my seat, mouth agape. Amazon designed the event well for what it was, basing rounds on the best scores of two out of three different games, and then randomizing which three games contestants would play with the pull of a lever in a nifty nod to the slot machines outside.
The game variety allowed for drama and welcome shifts in pace. The whole audience held its breath as BoxBox and Michael "CobaltStreak" Nolte played down to 8 Ball Pool's final ball in the final championship match, and cheered wildly as CobaltStreak and LolRenaynay's scores matched almost neck-and-neck down to the very last second in a semifinals round of Fruit Ninja. Contestants laughed at how everyone played the "Aladdin" map of Crossy Road after seeing how well Sky Williams had done with it.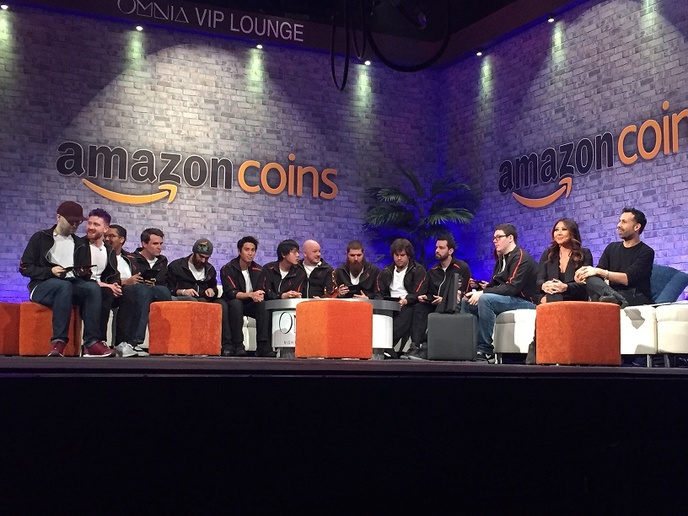 And above all we marveled at the unstoppable BoxBox, who once dejectedly sat down on stage because he didn't have enough time to Rumay "Hafu" Wang in Pac-Man 256 with an even larger score. His ultimate victory seemed all but inevitable, but the event capped off with a stellar finish when CobaltStreak at least made him sweat a bit on each game before BoxBox walked off with the grand prize following a godly showing in Fruit Ninja.
I'd gladly sit through it again. But would others? Champions of Fire's future success depends on the willingness of others to embrace its randomness and the sometimes surprising manifestations of unexpected skill that emerge. It's a game show, then, but not really e-sports.
I met second-place champion Cobalt the day before he won his $15,000, and found he felt much the same.
"It's not like I'm going to get crucified or something if I lose as I would in a Counter-Strike: Global Offensive tournament," he said. "For a lot of professional gamers, you lose two or three tournaments and you're gonna just fade into the wind. Just gone. But these games have a bit of an RNG element, so that's what kind of makes it fun for us and maybe exciting to watch. I think if we had more time to practice then that would kind of ruin that."
You can watch the tournament tonight on the CBS Sports Network from 10:00 PM to 12:00 AM ET.
---
Leif Johnson is a freelance writer who lives in the wilds of South Texas. You can chat him up on Twitter at @leifjohnson.