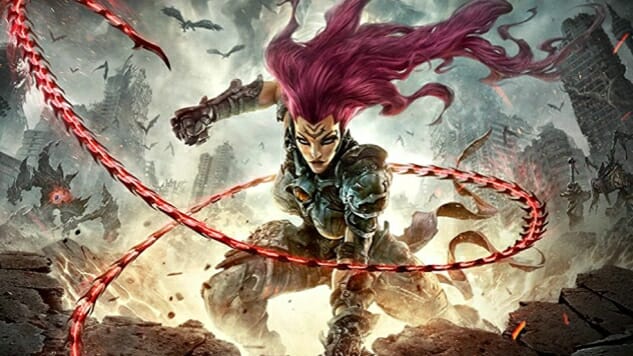 Get ready to ride again: Darksiders III information has been leaked by an early Amazon listing, and it's coming to PS4, Xbox One and PC likely next year.
After publisher THQ's dissolution in early 2013, the future of Darksiders became uncertain, though series creative director Joe Madureira said in 2014 that the IP's new owners, Nordic Games, "[seem] very committed to continuing the series."
Thanks to a new Amazon listing, we now know that Darksiders III stars Fury, the third horseman (or horsewoman, in this case) of the apocalypse, setting out to continue the work that her brothers, War and Death, started in the first two installments. Here's the official product description from the online retailer:
Return to an apocalyptic Earth in Darksiders III, a hack-n-slash action-adventure where players assume the role of Fury in her quest to hunt down and dispose of the Seven Deadly Sins. The most unpredictable and enigmatic of the Four Horsemen, Fury must succeed where many have failed—to bring balance to the forces that now ravage Earth. Darksiders III is the long-anticipated, third chapter in the critically-acclaimed Darksiders franchise.
Players will be pitted against embodiments of the Seven Deadly Sins and their "mystical" and/or "degenerated" servants, while being tasked with harnessing Fury's magic to "unleash her various forms—each granting her access to new weapons, moves, and traversal abilities." The page also makes sure to mention the game's "open-ended, living, free-form game world in which Fury moves back and forth between environments to uncover secrets while advancing the story," which mostly fits the Zelda-esque gameplay we've come to know from the series.
With an obvious placeholder date of Dec. 31, 2018, you can likely expect to see the game come out sometime next year. Until then, you'll have plenty of time to check out the recent remasters of both original titles, as well as our review of 2012's Darksiders II here. Find out more about Darksiders III in the Amazon listing here.