Bungie Releases Destiny 2 Trailer and Details, Announces PC Release
Images via Bungie/YouTube
Games
Video
Destiny 2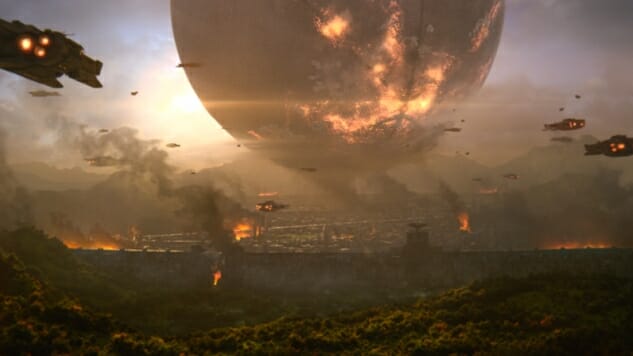 Following up Tuesday's teaser, Bungie and Activision officially released the first details for Destiny 2 today, leading with a brand new cinematic trailer.
The sci-fi shooter is not only launching for the expected PS4 and Xbox One on Sept. 8, but it'll be hitting PC on that date, as well. According to the above trailer, Bungie's site and various retailer sites, players who pre-order the title will gain early access to the beta (along with whatever other pre-order incentives each seller offers).
Purchasers of the game's deluxe edition will also be buying access to the first two expansion packs, which offer "brand new story missions, cooperative activities, competitive multiplayer, and a wealth of new weapons, armor and gear." They'll also be getting a "legendary sword," a "legendary player emote" and a Cabal Empire-themed emblem.
Here's Bungie's official description of the game:
Humanity's last safe city has fallen to an overwhelming invasion force, led by Ghaul, the imposing commander of the brutal Red Legion. He has stripped the city's Guardians of their power, and forced the survivors to flee. You will venture to mysterious, unexplored worlds of our solar system to discover an arsenal of weapons and devastating new combat abilities. To defeat the Red Legion and confront Ghaul, you must reunite humanity's scattered heroes, stand together, and fight back to reclaim our home.
The trailer jokingly confirmed rumors of Bungie making Destiny 2 a completely fresh start for players, as Nathan Fillion's Cayde-6 and Lance Reddick's Zavala recounted the destruction of everything in The Last City; every Guardian's guns, gear and all else is gone.
The studio made sure to leave fans with yet another tease, announcing a gameplay premiere livestream for May 18. For now, you can check out today's trailer above, or Tuesday's teaser below, if you hadn't had a chance to catch that yet.