Toy Story Land Brings New Life to Disney's Hollywood Studios
Photos by Matt Stroshane, courtesy of Disney
Games
Features
disney world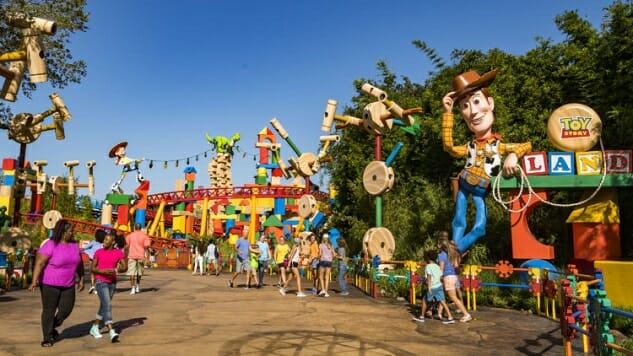 The first thing you see when you enter Disney's new Toy Story Land is the sign. It's probably 20 feet tall, and it's made of giant blocks of various shapes and a yo-yo that could comfortably seat six. Beneath the yo-yo, which has the Toy Story logo facing outward on its side, four alphabet blocks spell out the word "land." Leaning against this seemingly makeshift tower, with the yo-yo's string coiled in one hand like a lasso and his other hand tipping the brim of his cowboy hat, is Woody, the courageous cowboy from Pixar's hit movies. If this towering Woody statue came to life it could probably punt me halfway across Hollywood Studios.
Everything is huge in Toy Story Land. The idea behind Disney's newest theme park addition, which opens at Hollywood Studios at Disney World on June 30, is that we've all been shrunk down to the size of a toy and journeyed into the backyard of Andy, the boy who owns Woody, Buzz Lightyear and all their friends in the movies. Andy's backyard is littered with signs of play, from the looming Tinkertoys that line the walkways, to the life-sized green army men that march throughout the park. Two new rides and a new entrance to the preexisting Toy Story Mania ride further that sense of playfulness, and the quick service restaurant Woody's Lunch Box (which looks like an oversized lunch box, and serves novel takes on such childhood classics as grilled cheese and the turkey sandwich) ties a bow on the whole package.
Both of the new rides should become favorites for guests of all ages. Alien Swirling Saucers, a cute spinner based on the three-eyed aliens from the crane game at Pizza Planet, is a fun, if minor, diversion that'll help fill out your time at Hollywood Studios. Similar to the Mater's Junkyard Jamboree ride at Disney's California Adventure, you sit in an open-air pod that's attached to a saucer being "flown" by one of the Toy Story aliens. The saucers are hooked up to large spinning plates, and at certain points your saucer will move from one plate to another. The whole time your pod will be slung back and forth by the spinning motion, as your entire vehicle spins with the plates in large circles. Don't worry too much if you get motion sick on rides like the Mad Tea Party spinning tea cups—these vehicles don't spin like a top, but like a coin placed on the outside edge of a turntable. I get motion sick from the fast, tight spinning of the tea cups, but I rode Swirling Saucers three times in a row without getting even slightly queasy.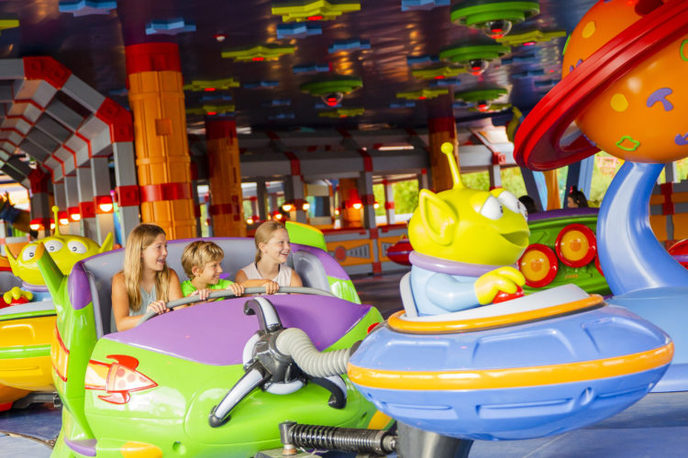 Swirling Saucers is a modest attraction. It's adorably designed to fit the alien theme, with a claw hanging above the vehicles and pizza-themed planets and space stations at the center of each circle, but it still feels like a fairly standard carnival ride. Thankfully there's another ride at Toy Story Land that's destined to be one of the most popular attractions at all of Disney World.
Slinky Dog Dash is the centerpiece of Toy Story Land, a family-friendly roller coaster with a vehicle that looks like the movie's Slinky Dog character and whose track crosses over a large swath of Toy Story Land's property. Don't let the family-friendly tag or the ride's playful appearance fool you, though. It offers more thrills and excitement than something like The Barnstormer, the Goofy-themed junior coaster at Magic Kingdom, with noticeable G-force, two launches, and a section of small, rapid bumps that recreate the distinctive motion of a Slinky (and which is also the only moment that brought me anywhere close to motion sickness). It shouldn't be too intense to drive away younger children, although with a minimum height of 38 inches the toddlers will have to stay off this dog. Think of it as a step between The Barnstormer and Big Thunder Mountain Railroad, a fine intermediary coaster that adults will still enjoy, roughly comparable to the Seven Dwarfs Mine Train in stature. And like the Mine Train, the best thing about Slinky Dog Dash isn't necessarily the ride itself but the design elements that evoke the movie it's based on. The second half of the queue looks like boxes from various toys, decorated with different characters from the movies along with a variety of jokes. There's also a surprise cameo at the very end of the ride, stamping a big, adorable exclamation point on the whole thing.
Here's an on-board dash-cam video of my first trip on Slinky Dog Dash.
Both rides are extremely welcome at Disney's Hollywood Studios, whose attraction list has been getting smaller and smaller over the last few years. Toy Story Land doesn't just inject some much-needed attractions into the park, but it also expands on what families can do together here—two of the four attractions that were running before Toy Story Land opened, Tower of Terror and the Rock 'n' Roller Coaster Starring Aerosmith, are among the least child-friendly rides at any Disney park. It might move the park even further away from its original movie business theme, but that ship sailed years ago. You'd have to be a serious curmudgeon to not enjoy Toy Story Land, as it currently exists, on any level.
This particular version of Toy Story Land may not have been the best use of Disney's resources, though. Even with the two new rides, Hollywood Studios is still short on things to do. The waits for both new rides will almost definitely stretch on for hours for months to come, and even though they're both enjoyable experiences, they might seem underwhelming after too long of a wait. An extra attraction, or attractions with higher capacity to help keep the wait shorter, would've made this a smarter investment.
Creatively, Toy Story Land achieves something that the other Toy Story Lands found at Disney's international parks don't. It creates the sense of immersion you hope to feel at a theme park. There are design issues that can be picked at—there's not a consistent sense of scale, Andy's backyard isn't a major location from the movies, the queues for the two new rides aren't shaded enough—and the whole central conceit of being shrunk down to toy size is a little too labored. It's still a bright, colorful, charming space, though, one filled with playful details, and which smartly capitalizes on the nostalgia of several generations.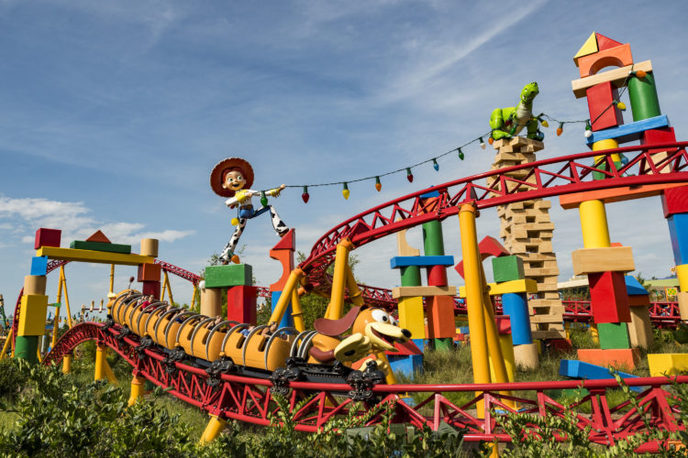 Disney's theme parks used to be built around broad concepts instead of specific properties. Fantasyland gathers together all of the fairy tales and fantasy settings from Disney animated films, creating a world where Snow White, Peter Pan and the Little Mermaid all coexist. Tomorrowland looks to the future, from technological progress to space travel. Epcot is a permanent World's Fair, with exhibits focusing on science, tech, history and the cultures of the world. Sunset Boulevard, at Disney's Hollywood Studios, recreates the faded glory of Hollywood's golden years, building up to the decaying exterior of the Tower of Terror at the end of the street. These environments all immerse us in different times and places, but none of them are based entirely on a single movie or property. They combine a variety of influences and ideas into a diverse but unified thematic whole familiar enough to be instantly recognizable, but original enough to inspire us as much as any popular movie or TV show.
The theme park industry has largely moved past that model. The Wizarding World of Harry Potter at Universal's Islands of Adventure showed how successful an elaborately detailed, large-scale recreation of one specific property could be—and then Universal outdid itself a few years later, with the Potter expansion Diagon Alley at Universal Studios Florida. Since then Disney's opened Pandora at Animal Kingdom, which is based on James Cameron's 2010 blockbuster, and is deep in construction on Star Wars: Galaxy's Edge at Disneyland and Hollywood Studios. Pandora looks and feels like an unknown alien planet, and Galaxy's Edge is expected to be Disney's no-expenses-spared response to the state-of-the-art Wizarding World, and potentially the next huge game-changer in theme park design. (Marvel-themed lands will also be coming to California Adventure and other parks around the world, which might wind up cross-pollinating the current theme park trends with something like Fantasyland, as the idea of a shared universe is one of the primary selling points for the Marvel universe.)
Somewhere beneath all those plans falls Toy Story Land. For Disney it's both a major new investment but also a humble expansion compared to what's happening elsewhere, both at Disney and within the industry at large. It's fun and charming enough to please those who'll actually be able to experience it (again, expect long lines), but modest enough in its design to probably not impress those who expect every new land to be on the level of Harry Potter or Pandora. It's actually a lot like Woody, who smiles down on everybody who enters Toy Story Land: it might not be as flashy and exciting as the space adventures of Buzz Lightyear (or Star Wars: Galaxy's Edge), but it gets the job done in its own unassuming, quietly confident way.
---
Senior editor Garrett Martin writes about videogames, comedy, travel, theme parks, wrestling, and anything else that gets in his way. He shares stories and photos from his Disney journeys on Instagram at @garrett_goes_to_disney. He's also on Twitter @grmartin.