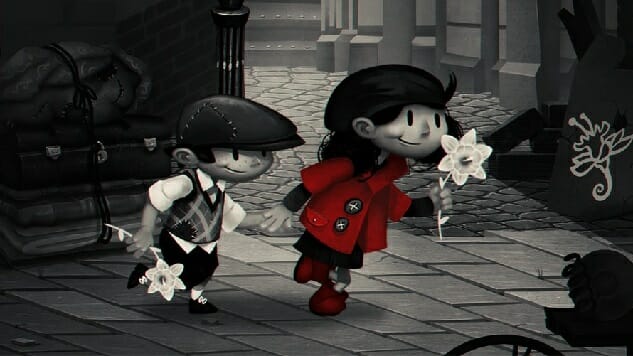 E3, the annual trade show for the videogame industry, features dozens upon dozens of games every year, and there's only so much time for journalists to play them. (Assuming they're even playable—many games are only shown as unplayable trailers and hands-off demos.) This year, Paste intern Aiden Strawhun and I took our best stab at playing as many E3 games as possible, packing in as much as we could and sorting out the best of the best afterwards. This year's list is a mixture of everything, from shooters to narrative-driven virtual experiences, and everything in between. Here are our favorite games from the show, in alphabetical order. (And if you're wondering about Super Mario Odyssey, although we loved what we played, we feel like we just didn't have enough time with it for it to make this list.)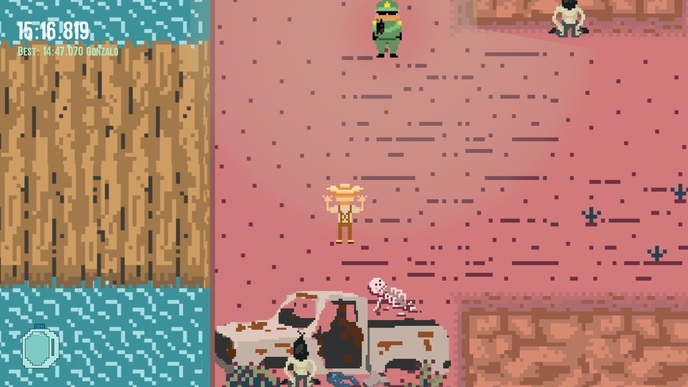 Borders
Borders strikes me as one of the best games of the show because it translates a culturally significant experience into a set of game mechanics that reinforces it's social message and emotional impact. Created by game designer Gonzalo Alvarez, Borders is a 2D pixel side scroller that takes place on the Mexican-U.S. border. Players try to get across while dodging border guards and collecting water to survive the journey. On screen, the path is littered with the skeletons from every failed passage, a visual based on memories relayed to Alvarez by his own parents of their crossing. At such a time as now, evoking empathy and understanding for the undocumented migrants of our country is of the utmost importance. For that, I deeply admire this game.—Holly Green
---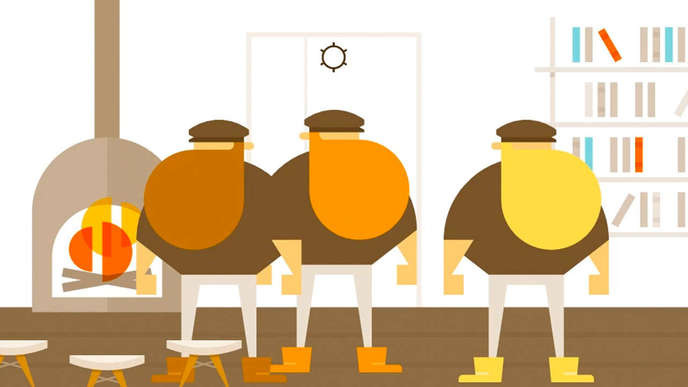 Burly Men at Sea
Not only did it play to my inner design-nerd with its minimalist art style and beautiful typography, it really played to my love of everything absolutely adorable.
Burly Men at Sea is a mix between a point-and-click and a visual novel, but it's a narrative adventure for sure. You play as the storyteller following three brothers, and together you traverse the world to find the legends of Scandinavian folklore. Each story can be played in one sitting, but each can also be told in a number of different ways.
The real gem here is the style of the game; it's all done by one woman, Brooke Condolora, drawn from modern Scandinavian illustration. The design itself is uniquely characteristic of this independent developer, and it stands out in the best of ways. It's whimsical and charming; a real breath of fresh air.—Aiden Strawhun
---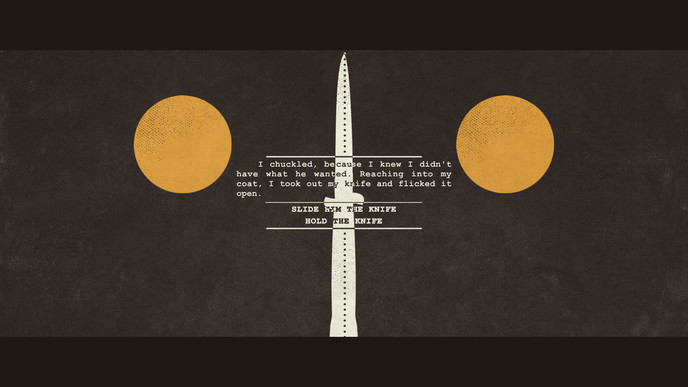 A Case of Distrust
When I call the developer of A Case of Distrust a "renaissance man" I'm not kidding—almost the entire game, except for the audio, is the work of Ben Wanders, a former Bioware and Visceral employee who left the company two years ago to begin work on A Case of Distrust. It centers on the adventures of San Francisco's first policewoman (turned detective), set in 1924 during the first wave of the women's movement. While it's a mystery game with elements of point and click, it reminds me of an interactive novel, with charming formatting flourishes that keep the player visually engaged even as they're reading large sections of text. The art impeccably mimics the noir style, with Wanders citing the work of Saul Bass (specifically, his work on the poster for the theatrical release of Vertigo), as an influence. I look forward to its release this summer.—Holly Green
---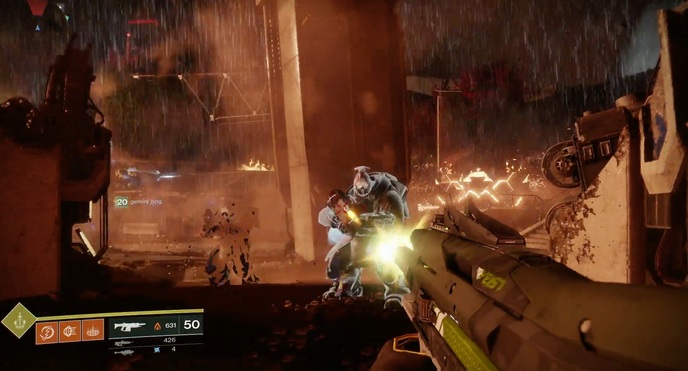 Destiny 2
I didn't play the original Destiny, but boy I sure did enjoy Destiny 2. Typically I'm the type of player that prefers a deep narrative experience, something almost impossible to achieve in a short demo. But as far as shooters ago, Destiny 2 seems so far to be everything I like about the genre: extremely fluid, and fast paced, with enough explosions and high tension moments to get your blood racing. I can't speak as to the improvements Bungie has made since the first game but I can say that from where I'm sittin', Destiny 2 looks pretty good.—Holly Green
---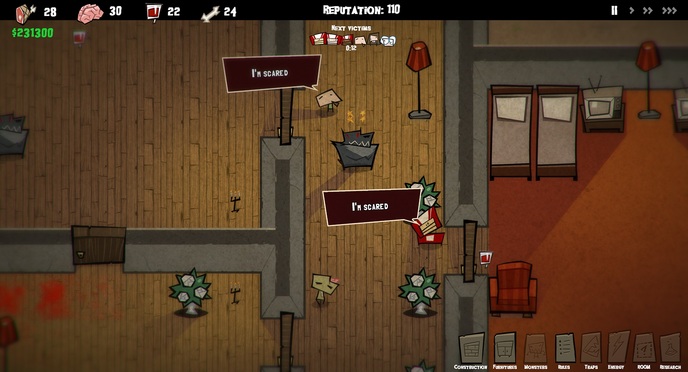 Machiavillian
This one is just chock-full of dark humor. It's a simulator unabashedly inspired by Cabin in the Woods. You're the overseer to a group of monsters, and you have to find ways to lure people into your home base to devour them in a grotesquely adorable way.
It starts slow and and takes time to get used to, but it's also one of those that will just suck you in, hook, line and sinker.—Aiden Strawhun
---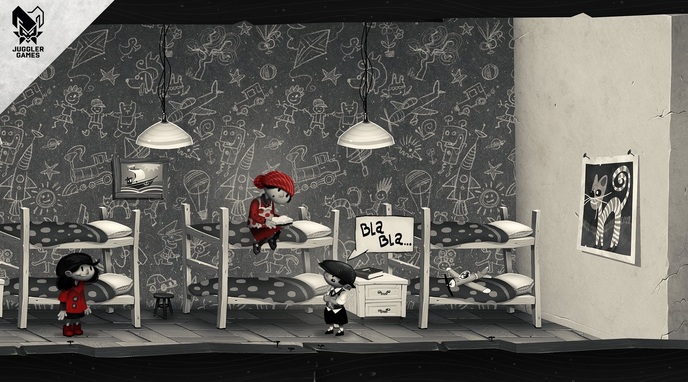 My Memory of Us
I generally hate platformers. They're just not my cup of tea. There are a handful that have impressed me over the years, like Child of Light, but it takes a lot for me to really want to love and appreciate the genre. To my surprise, My Memory of Us blew me out of the water.
Its art is very reminiscent of OG Disney, almost Steamboat Willie style, and is set in a steampunk universe where evil robots have taken over the world and the two children you play as must find a way to escape. It's very simple. Both kids have different skills and together they must solve puzzles to continue moving forward.
What impressed me is the metaphor. This game's world is entirely in black and white with splashes of red. The only people the robots imprison are those in bright red—and the girl you play is one of them. In the opening scene of the demo, you see her family being taken away, and later on, you must free these red-clothed people in a series of puzzles.
Without spoiling too much of the magic of said metaphor, it presents it all in a nonviolent way while focusing on the bond between the two characters. It tackles this in such a way that anyone can play it an appreciate it for how it plays, or for its much darker, and much more complex, underlying message.—Aiden Strawhun
---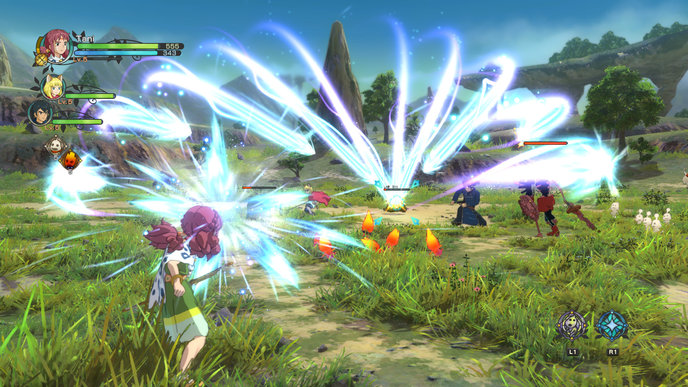 Ni No Kuni II: Revenant Kingdom
You can't go into Ni No Kuni solely as a Studio Ghibli fan because that's not what it's going to give you. Ni No Kuni II: Revenant Kingdom is no different in that regard. Through and through, it takes that classic animated world that literally everyone and their mother adores, and makes it into a videogame.
This game is completely different from its predecessor Ni No Kuni: Wrath of the White Witch. It's not a continuation whatsoever as it follows a totally different story. This time, you'll play as a young boy named Evan who inherited a kingdom far before he was ready for it and just had it usurped. It's his journey to become the rightful king once again.
Visually, Bandai Namco's really upped their game and it actually does feel and move like an animated feature. It's simply gorgeous. The supporting characters are very reminiscent of characters like Calcifer and the Kodama, but also have their own unique twist to make them different, but still familiar. Also, if the name "higgledie" doesn't give you some sort of warm-fuzzy giggle, you don't have a soul.—Aiden Strawhun
---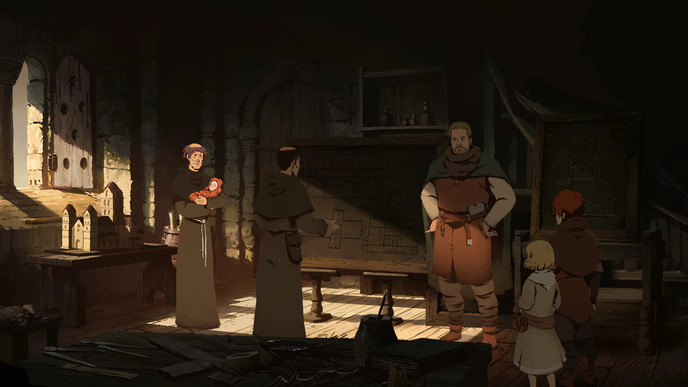 The Pillars of the Earth
This one sucked me right in, and it did it fast. I appreciate a good point-and-click because of my obnoxious love of Nancy Drew back in the day, and now that I'm beyond solving mysteries as my favorite teenage detective, (not really, no shame), this one swooped in and scooped me off of my now Game of Thrones obsessed feet.
Based on Ken Follett's internationally beloved novel, The Pillars of the Earth follows a pretty wide cast of characters. It's a little too complicated to explain in just a blurb, but like Game of Thrones, every character is connected in some way. The game is only loosely based on the book, but it seems to have captured the vast and almost overwhelming historical fiction world of Follett's novel.
Biggest take away— this historical fiction is so detailed in its recreation of medieval society that it should appeal to fantasy fans, despite its lack of fantasy trappings. You're going to lose yourself in it.—Aiden Strawhun
---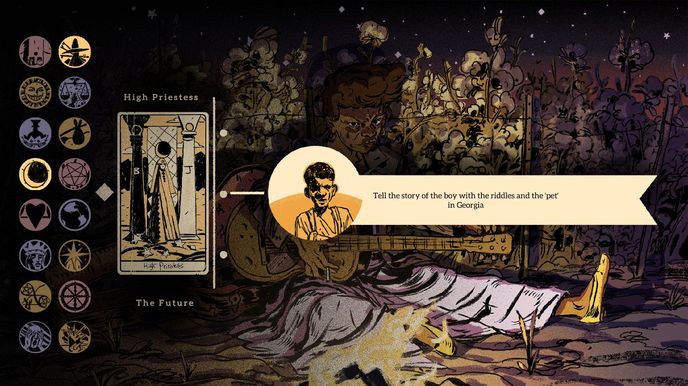 Where The Water Tastes Like Wine
Note: A few Paste Games contributors, including a former assistant editor, were writers on this game.
This wasn't just my favorite game of the show, I have a feeling it will be one of my favorite games of all time. Where The Water Tastes Like Wine is a literal narrative-driven experience, one that's a bit difficult to explain without having played it. The game is about stories and how they are formed, gathered and reshaped as they spread from person to person. The player roams a rural field, collecting vignettes and memories through their travels, then shares them with the storytellers they meet, learning new information about them as new details and variations are exchanged. The storytellers can be encountered many times, and as they talk they request certain stories from the player's travels that will spur on memories of their own.
The mechanism is not unlike the word-of-mouth behind the spread of local legends, tall tales, and folklore. For example at one point I played out a scenario where I chose to purchase a violin from a starving family, upsetting their youngest daughter, who issues a dire warning about the instrument before they drive off. As I traveled the overworld later, I came across a campfire tale of a violin that "can only be played by the person who owns it," a retelling shaped by the natural narrative drift induced by third-party, hand-me-down information.
While developer Johnnemann Nordhagen hasn't played the self-described "myth-weaving RPG" Moon Hunters, somehow Where The Water Tastes Like Wine reminds me of it anyway. In both, the player is regaled by a campfire storyteller, with new details emerging as they encounter different scenarios and have new information to offer. But frankly Moon Hunters seems superficial compared to the rich experience of Where the Whiskey Tastes Like Wine, which draws upon the storytelling traditions of classic American folklore to deliver something I've never quite seen before. Add to that a chilling and amazingly well written blues soundtrack and a rich, deeply hued watercolor art style (again, not unlike Moon Hunters) and I'm mystified, in awe, and inspired. I hope one day I get to make a game as compelling as Where The Water Tastes Like Wine.—Holly Green
---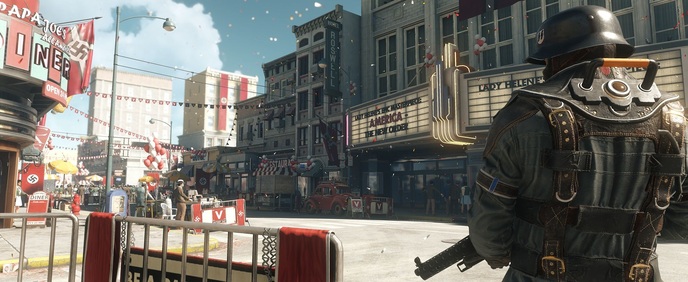 Wolfenstein II: The New Colossus
I have my misgivings about assigning a "best of" label on shooters that I've only been able to experience briefly in demos, especially sequels to games I haven't played. But basically that's all of E3, so whatever. Like my experience with Destiny 2, I enjoyed Wolfenstein II for its fluidity but also the quality of its environments and level design. The tight, intricate corridors and corners make great cover but the limited visibility also keeps the players on their toes. And best of all, and I can't stress this enough, you get to kill Nazis. Game of the year for the next five years.—Holly Green
---
Holly Green is the assistant editor of Paste Games and a reporter and semiprofessional photographer. She is also the author of Fry Scores: An Unofficial Guide To Video Game Grub. You can find her work at Gamasutra, Polygon, Unwinnable, and other videogame news publications.
Aiden Strawhun is an intern with Paste Games and a weekend editor at Gamespot. She's on Twitter @AStraww.