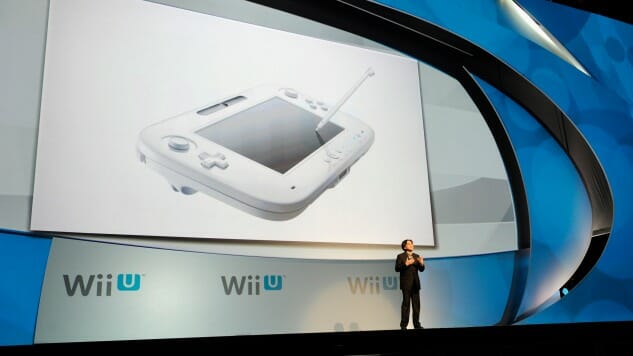 In the first line of "Five Years," the first track off his landmark album Ziggy Stardust and the Spiders From Mars, David Bowie accidentally describes the experience of attending the annual videogame-gasm called the Electronic Entertainment Expo.
"Pushing through the market square…"
What many see as a festival of game announcements, reveal trailers, and so much hype and circumstance is really, at best, just a giant crowded warehouse filled with product: at worst, the pre-emptive echo of an ideal marketplace, smoke obscuring promised goods yet to be sold.
But E3 is changing. The number of publishers renting space and showing their wares has more than halved over the last decade. Yet, given our present state of social media affairs, the amount of attention paid has never seemed louder. The doors to the L.A. Convention Center open this week; once inside, we'll get our first glimpse at the future as outlined by public relations professionals. Whether these experiences are a bellwether of what's to come or a soon-to-expire blip cannot be known for some time.
What we can do is look back for clues. What was the future five years ago? And where have we arrived? With the onslaught of E3 2016 looming on the horizon, let's consider where the industry was during E3 2011, where it has gone since, and what is promised in the near-future.
"I saw boys, toys, electric irons and T.V.'s…"
At a glance, little has changed. A new Uncharted game was on the horizon. A refresh of Star Fox 64 was being touted. A major publisher held its own off-site event. Microsoft talked about Gears of War. Nintendo celebrated a major anniversary for The Legend of Zelda. This all sounds strikingly familiar.
For as quickly as technology evolves, the gaming industry likes to pump the brakes; wait long enough and Drake's Deception turns to A Thief's End while Star Fox 64 3D makes way for Star Fox Zero. Gears of War 3 begets Gears of War 4. Squint your eyes and a pattern slowly reveals itself.
But make no mistake: Deep change has occurred. Whereas Konami held a press conference in the days leading up to E3 2011, they now float in the wake of their former self; these past five years have seen one of the great early console publishers and creators of luminaries such as Castlevania and Metal Gear crumble under the weight of expectation. They'll be at the show but tucked away in Permanent Meeting Rooms 511B and C. THQ had a major booth in '11. Now: Gone. Disney Interactive Studios announced Disney Universe in 2011. Now: The spiritual follow-up, Disney Infinity, has been canceled and the company will no longer be publishing its own games.
"I never thought I'd need so many people…"
Platform-holders are no less immune. In 2011, Nintendo kicked off their showing with an orchestra playing your favorite Hyrulian tracks live in celebration of The Legend of Zelda's twenty-fifth anniversary, a preview of the live Zelda-themed symphony that still tours the world. But that was only a jumping-off point for the main attraction: the reveal of a new console, named Wii U, and a showcase of its strange controller with a screen along with a dozen new games for its 3DS handheld. This year, Zelda is purportedly the sole focus for the Kyoto-based company, who have announced the still-unnamed "Zelda for Wii U" will be the only playable title in their booth.
The last half-decade has been unkind to the House of Mario: its first unprofitable years in the gaming business ever, drastically low sales for its home console, all leading to the untimely and tragic death of its president last summer. 2016 feels like the end of something for Nintendo. But also the beginning of what comes next. Unlike five years earlier, they're keeping their cards close, not choosing to reveal their next system, code-named NX, to the E3 showgoers. What used to be the biggest stage is now one stubbornly made of wood and concrete.
Smiling and waving and looking so fine…
Five years ago, Microsoft was all-in on its just-released Kinect camera peripheral. Attendees encased in giant plastic bubbles flailed their arms to play motion-enabled games based on Disneyland and Star Wars. Sequels to Dance Central and Kinect Sports stood side-by-side with the next entries in Halo and Forza. Stickers on the bathroom mirrors asked you, "Have you washed your controllers?" In 2016, if Kinect is mentioned I'll eat my Chromebook.
In 2011, Minecraft was still but a fledgling PC oddity growing in prominence. A year later it would come to Xbox 360. Now it is arguably Microsoft's largest franchise, the Redmond-based computer company having bought the behemoth from Mojang and used the blocky creation tool as a way to spotlight their latest hardware magic wand, HoloLens. But the augmented reality touted by this $3000 experiment seems undercooked, the first in a prototype which may change how we view the world one day but right now is a neat thing to read about in WIRED.
"My brain hurts a lot…"
If at times the industry feels stuck on a track driving in a circle, there also exist off-ramps that leave the past irrevocably behind. Yesterday's full-body experience is today's reality-enhancing visor. Whereas 2011 was all about motion and 3D, 2016 will continue to be the year of VR. Sony is ramping up to launch their PlayStation VR headset this October; expect plenty of talk about "presence" and "immersion." Just remember: in 2011, then-CEO of Sony Computer Entertainment America Jack Tretton said, "Our commitment to 3D is unwavering." The conference was broadcast in 3D. They announced PlayStation-branded TVs with game-specific dual-3D display for two concurrent players. At the time, 3D was the future. Their newly-announced handheld, the PlayStation Vita, was the future. But they wavered. Tretton is now on the advisory board for an artificial intelligence start-up. VR is the new future. For how long is anybody's guess.

Five years after 1972's Ziggy dropped, Bowie had cast aside the Kabuki makeup and reinvented himself multiple times: 1977 saw both Low and 'Heroes' release, the first two in a triptych of albums made with producer Brian Eno known as the Berlin Trilogy, further cementing Bowie's ability to evolve over time and remain not only relevant but prescient.
We lost Bowie this year, forty years after he made heroes of us all. Videogames like to try and do the same. Will E3 last another four decades? That's unlikely. What will continue to evolve are the games and platforms themselves. Will 2021 look as different or as similar to today? Will we look back at the Oculus Rift (who has a large presence on the show floor) and shake our heads, the way we reminisce (or don't) about OnLive, the game-streaming service primed for success in 2011 that never came? Will the just-revealed Watch_Dogs 2 be a harbinger of future iterations, or a one-off sequel like 2011's Starhawk? Will Crash Bandicoot's rumored rebirth inspire a return to mascot-heavy platforming action as gaming's default in lieu of first-person shooters, or will our new MOBA overlords laugh and scoff, flicking Crash with their heroic pinky finger into oblivion?
E3 2016 unofficially starts today, with press conferences from EA and Bethesda. Reports from the show floor will take over social media and game sites starting on Tuesday. Enjoy the glitz and glam. But I'd hesitate to anoint any "winners" or "losers," as the results of such complex machinations take time to fully understand. For such conclusions, you'll have to wait. We'll see you in another five years.
"…that's all we've got."
---
Since 2003, Jon Irwin has been paid to write about film, techno, ice cream, wine, golf, drag-racing, French children and videogames. His first book, Super Mario Bros. 2, was published last year by Boss Fight Books. Follow along: @WinWinIrwin.