Tactical RPG Element: Space Debuts Courtesy of Latin American Publisher Inca Games
Images via Inca Games
Games
News
Element: Space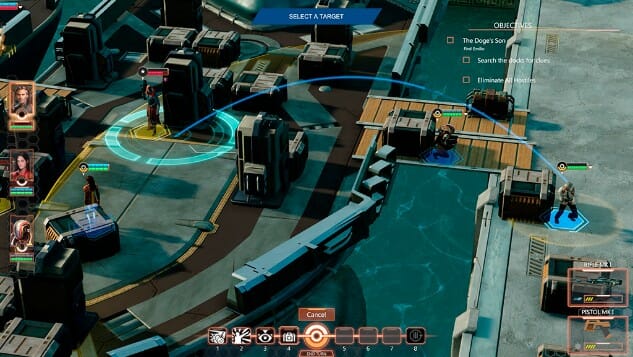 Big things are brewing in Latin America as publisher Inca Games and developer Sixth Vowel announced the debut of their game Element: Space, a turn-based tactical RPG coming to PC on Steam in late 2018.
In Element: Spaceplayers take on the role of spacecraft Captain Christopher Pietham, leading his squadron of various companions into intergalactic conflict and dealing with the consequences of their choices throughout a deep story and combat which are altered by the player's choices and actions.
Every action the player takes matters. Although most choice-based games usually just affect the narrative, Element: Space wants to blend how your choices affect the gameplay as well. Your actions affect everything from which missions you will encounter to the very companions you will meet along the way. In fact, the publisher suggests that multiple playthroughs are necessary to experience the full game.
Element: Space will be the first of three games to be released in 2018/early 2019 under Inca Games. Party fighting game Shadow Brawlers and Tango: The Adventure Game are also being published by the company. Inca Games is making it their mission to bring games developed solely in Latin America out to the world, hoping to put a spotlight on Latin America's growing gaming community, as well as the kind of games the country is capable of creating.
"Building a good game is hard but finishing it and getting it published are colossal tasks," said Javier Entelman, CEO of Inca Games. "Latin American developers typically encounter an additional set of difficulties that block their path towards launching a game such as access to dev kits, production and go-to-market experience, funding and more. Working on Element: Space we gained an understanding of how to overcome these challenges, and now want to share that knowledge with other indies by incubating and publishing their projects."
The publisher also put together an all-star team of former PlayStation, Electronic Arts, and Game Informer employees to help them grow the gaming market and overcome the many hurdles Latin American developers usually face. Inca Games also hopes to not just help developers but players in Spanish-speaking regions by implementing "plans to create a portal on its site that will enable more flexible payment options—important in a region where credit cards are not yet ubiquitous."
Watch the teaser trailer to sci-fi tactical adventure Element: Space below. You can also catch a better look at the gameplay by watching the feature reel trailer.