Bethesda Welcomes Players to West Virginia in New Fallout 76 Gameplay Trailer
Welcome to the Mountain State
Images via Bethesda
Games
News
Fallout 76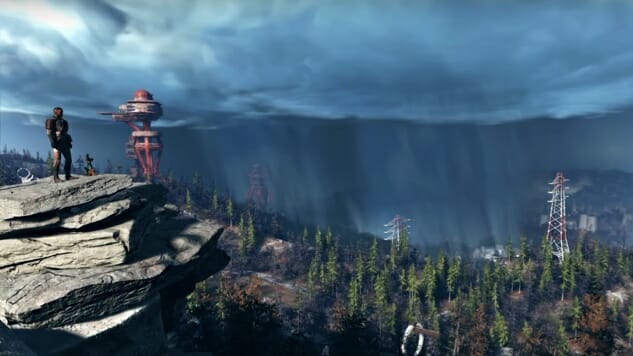 Hot off the heels of the videogame's E3 showing, Fallout 76 is back in a new trailer that is more travelogue than gameplay—that is not a bad thing. The video itself opens with the player character waking up in Vault 76 as a robotic voice carries through the dwelling's loudspeakers, urging the player to leave, to explore, but to never remember their mission—or where they came from. Those who live (or lived) in Vault 76 are (or were) a multi-racial group of the nation's best and brightest, and The Overseer highlights this, as well as one ominous fact"but more importantly, you will always be my family"and, just like that, the vault door opens to the blinding sight of sunlight.
Eyes adjust to the glare and it is here where the core conceit of the trailer, quite literally, comes into view: Vast and beautiful, the hills of West Virginia roll and tumble as far as the eye can see. From there, operatic music fades as the voice of Todd Howard, executive producer and director at Bethesda Softworks, says, "We always start with a world … " and, from there on out, the video is dedicated to showcasing Fallout 76's version of West Virginia.
The world of Fallout 76 has been crafted using new lighting, rendering and landscape technology where detail is paramount, and dynamic weather can be seen and experience across the entirety of the playable space. Fallout 76's West Virginia is split into six distinct regions that operate as their biomes with differentiated styles. Numerous of real and imaginary landmarks are featured in the game—as shown in the sweeping shot of the videogame's map in the trailer—and Bethesda has fully leaned into the folklore and myths of West Virginia, from the Beast of Grafton to the most famous West Virginian myth of them all, the Mothman, his yellow, dome-like eyes piercing the blackness of night towards the end of the trailer.
Fallout 76 is Bethesda Softwork's first foray into multiplayer, and their rendition of West Virginia will be populated with both AI creatures and real players alike. Fallout 76 is irradiating its way onto PC, PlayStation 4 and Xbox One on Nov. 14.