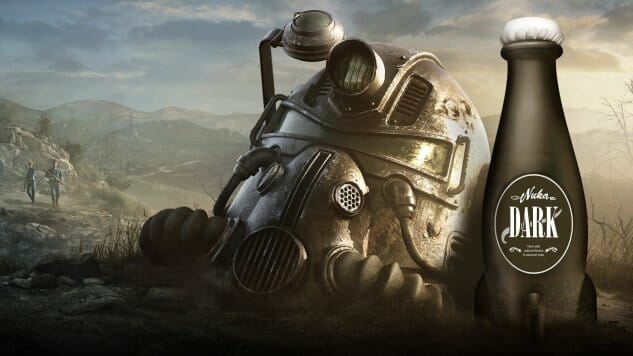 After a long delay and several follow-up emails from the bottling company, my Nuka Dark Rum has finally arrived. Or rather, two bottles of Nuka Dark Rum, only one of which I ordered but both of which I received, arrived on Christmas Eve, about six weeks after the expected launch date. Meant to release in mid-November to mark the release of Fallout 76, Nuka Dark Rum is just one more item in a long line of promotional materials that Bethesda has pumped out in recent years. Since the release of Fallout 4, the series has been subjected to countless novelties, from weekly t-shirts to Bobbleheads to full recreations of the Pip-boy. This venture into alcohol, however, is new territory, requiring a level of quality and finesse not seen in almost any Bethesda product, and the recent canvas bag debacle does not inspire confidence. Can a company that can't accurately project production costs on their own merchandise be trusted to produce a decent quality rum?
The short answer, of course, is no: alcohol, at least good alcohol, takes time, often a lot more time than it likely took to develop Fallout 76. There is very little chance that Bethesda had the foresight to approach a distiller with enough lead-in time to properly formulate a quality blend and still debut the rum within the same release window as the game. It just doesn't work that way. And a cursory glance at Silver Screen Bottling also suggests the company solely produces alcohols and liqueurs for geek brands, a priority that sends a clear message about what to expect. After all, if you want a good whiskey or vodka, your criteria probably doesn't include "served in a Star Trek themed bottle." Why bother putting in the effort to make a high quality spirit for folks who are just buying it for the bottle anyway?
Which brings us to my feelings on Nuka Dark Rum. My first impression is that it is very cheap. I was told that the shipment was delayed because the company was refining the packaging, but I find it hard to believe anything could have been worse than what I received. It's chunky and enormous, coming down with an inelegant thud after each pour, and yet the plastic bottle is extremely light—so light, in fact, that I couldn't believe it's actually lined with glass on the inside. Taste wise, if you're a rum fan, you will probably not be impressed. Its spice is pleasantly mellow but peters out into a weak coconut-caramel flavor that leaves a film on the lips when drank straight. In terms of mixers, it also doesn't play well with others. The artificiality is so bad it made my regular Coke taste like Diet, and when I put together an improvised Mai Tai in hopes that fresh juice would disguise the quality, the pineapple and grenadine refused to let it hide. If there's a good cocktail or drink to be made with this rum, it won't be the two that are the most popular.
To be honest, I'm not sure what I was thinking when I pre-ordered Nuka Dark Rum. Maybe I was drawn by the mock-up of the bottle design, or just morbidly curious about the rum itself. Whatever the case, even purchasing it felt a bit ominous, as if it were the last Fallout merchandise product I'd ever buy. My enjoyment of the series has been in freefall since Bethesda started cutting corners, to the point that I (gasp) didn't even get a special edition version of Fallout 76. Did I really think those cut corners wouldn't show up elsewhere? If they're not willing to do put in the polish to make the game right, would they really do the merchandising somehow better?
Ultimately, I think I could have ignored the shameless money grab of this gimmick if the booze were actually good, but Nuka Dark Rum tastes like a bottle of Hawaiian Tropic fished out of a kiddie pool. And as a Fallout novelty collector, I'm disappointed with the manufacturing quality, which is shameless given the hefty price tag. If you're a fan of the series or of rum, save your money.
After all, with $80, you can afford, like, four whole outfits in Fallout 76.
---
Holly Green is the assistant editor of Paste Games and a reporter and semiprofessional photographer. She is also the author of Fry Scores: An Unofficial Guide To Video Game Grub. You can find her work at Gamasutra, Polygon, Unwinnable, and other videogame news publications.