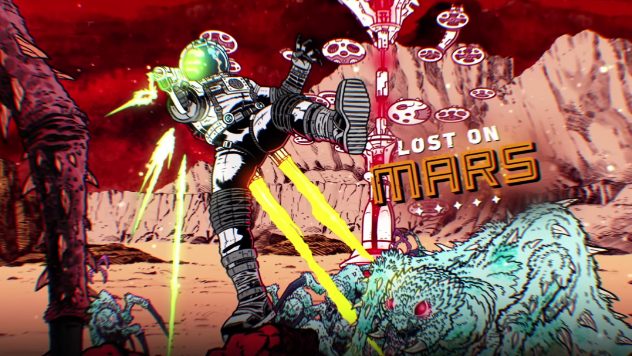 The Far Cry series has a bit of a history when it comes to wacky and weird post-game content. Just go look at the Blood Dragon or Valley of the Yetis DLC to see how off the rails the series can get. Far Cry 5 will continue the tradition of taking the series to unconventional places with its Lost on Mars expansion, which Ubisoft has announced will arrive next week on July 17.
The Lost on Mars DLC will put players in the role of Nick Rye for this adventure as he somehow makes his way to space from Hope County in order to help out series mainstay Hurk Drubman. The new DLC will see players fighting against aliens, taking up arms with new high-tech weaponry and finding new ways to explore the Martian environment.
According to Ubisoft, "This adventure gives players a new arsenal of alien weaponry, including the Blaster of Disaster, Hellfire and Morphinator, while also introducing a new transversal tool with Space Jets. Humankind's future is in the hands of the game's most notorious guns-for-hire. Time to squash some bugs!" Sounds like some good old-fashioned alien invasion fun.
A new campaign isn't the only thing that players have to look forward to. The Lost on Mars expansion also comes with new assets for Far Cry 5's Arcade Mode, which allows players to create their own solo and multiplayer maps.
Those assets include:
– Robot factory structures and pieces.
– Exterior Martian base walls.
– Interior laboratory setups and pieces.
– Martian rocks & terrain textures.
– Towers and platforms setups and pieces.
– Arachnid destructable pillars and eggs.
– Sci-fi particles (holograms, lasers, etc).
"Map builders will be able to integrate these assets into their existing maps or create new sci-fi-themed maps. Future content will also include thematic assets that will be added to Far Cry Arcade for free," Ubisoft explains. New weapons from Lost on Mars will also be available to use in Hope County, such as:
The Obliteratorrrr
– This here's a pistol sized rocket launcher that packs some serious punch.
Taser Phazer Annihilazer
– Like the Lazer Blazer, plus a few more AZERS.
Nerve Reaper
– It's the Punches In Bunches PLUS a whole lotta stun power. Unleash the cross-eyed goof face.
Grape Popper
– Has a scope. Can probably pop actual grapes from a distance, but in this context, grapes are heads.
Hellfire
– Fires one massively powerful round. At close range, nothing survives.
Like Far Cry 5's first expansion, Hours of Darkness, Lost on Mars will be available to season pass holders and those who bought the Gold Edition. Players can also buy the expansion as a standalone game. The last downloadable expansion for Far Cry 5, Dead Living Zombies, will arrive in August, adding a new campaign and arcade assets of its own.
Watch the alien invasion action by taking a look at the Far Cry 5: Lost on Mars trailer below.