New Far Cry 5 Story Trailer Inspires Resistance to Eden's Gate Ahead of Game's Release
Images via Ubisoft/YouTube
Games
Video
Far Cry 5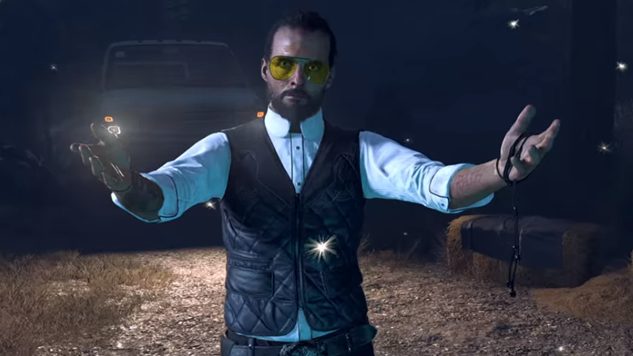 Far Cry 5's tale of one small Montana town's battle against the radical religious cult Eden's Gate is poised to be one of the top titles of the spring, and the latest trailer does well to hook interested eyes.
Ubisoft released a new trailer on Friday outlining the story and tone the game will put forth. The plot of the title has been known for some time, but the portrayal of Eden's Gate in the trailer evokes the hyperbolic nature of the series while also rooting itself in the all-too-real history of religious cults in the U.S. and the extreme measures of which those with enough zeal are capable.
Father Joseph Seed, the leader of Eden's Gate, appears to have every characteristic expected of a Far Cry villain. Previous games have set a very high bar, and one look from those eyes peering maliciously through his Jim Jones-esque tinted glasses nearly pushes him over that bar already.
It's questionable how the more serious tone of the story will feel when compared to the irreverent nature of the gameplay in previous titles, but the trailer does not disappoint in its effort to stoke players' desire to liberate the oppressed population of Fall's End, Montana. It also seems that the more wacky elements of the game might be saved for its DLC.
Far Cry 5 launches on March 27, 2018. Check out the new trailer above.