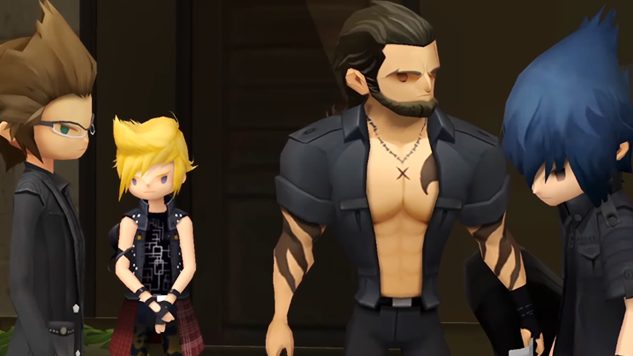 Square Enix has announced that Final Fantasy XV Pocket Edition HD has been released on PlayStation 4 and Xbox One, and will be released on Nintendo Switch at a later date.
Final Fantasy XV Pocket Edition was originally released on Feb. 8 for Android and iOS devices. It's a re-telling of the story of Final Fantasy XV, which was released worldwide in 2015.
Despite the time since its release, Final Fantasy XV has gotten (and is still getting) a massive amount of side material, ranging from transmedia storytelling through a prequel CGI movie, an anime and an MMO, to gradually released DLC episodes dedicated to expanding upon the game's individual characters. Overall, all the material can seem overwhelming because you need to take plenty of time to get to know Final Fantasy XV's universe.
Final Fantasy XV Pocket Edition exists to make it a little easier on you. It's completely faithful to the game's main story, depicting all of its key events while also heavily decreasing the time you need to spend on the average JRPG. Battles take a few taps instead of several minutes, and side-quests are still present but take much less time. It's an incredibly friendly version of Final Fantasy XV that allows room for even a constantly busy adult to feel like they know Final Fantasy XV and its story well. And, most importantly, it does so with an art style that is ridiculously adorable. Maybe you'll feel less sad while experiencing the story, considering that the characters look so cute. One can only hope.
The Nintendo Switch version will release at an unspecified later date. Presumably, it would've been announced during the Nintendo Direct that was scheduled for Thursday, but ultimately delayed due to the recent earthquake in Japan.
Watch the trailer for the HD version of Final Fantasy XV Pocket Edition below.