Google Reveals Stadia Pricing, Release Date, Launch Titles
Photos courtesy of Getty Images
Games
News
Google Stadia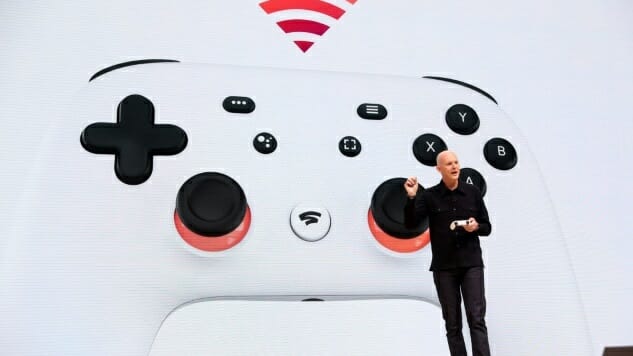 Google decided to pre-empt next week's E3, and unveil the pricing details, release date, and launch titles of their debut into the world of videogames: the Google Stadia.
The much-hyped Stadia has been called the "Netflix of videogames," because the service allows you to stream videogames much as you would stream a movie or TV series. You can stream games pretty much anywhere—on TV, desktop, laptop, tablet, or Pixel 3 and 3A smartphones. Unlike Netflix, however, the main selling point isn't convenience. It's that now you can play a game in the highest quality available without burning a hole in your wallet on hardware. Plus, no massive download times.
Of course, we already knew all that months ago. So what's new?
Well, for one, Google detailed the pricing structure, and it's not quite what you may expect. First off, if you want access to Stadia on the launch date, you can't just download an app. Instead, Stadia access is packaged as part of a "Founder's Edition" bundle that will include a limited-edition controller, Chromecast Ultra and three months of a premium service called "Stadia Pro." The bundle will be priced at $129, and the Pro subscription will be $9.99 a month.
Secondly, Stadia Pro doesn't function like a typical streaming service. At launch, Pro users will only have one game available to stream: Bungie's 2017 title Destiny 2. If you want to stream another game, they can be purchased separately, much like a traditional online storefront. Google promises that additional free games will be released regularly, but hasn't revealed any other titles in the pipeline.
Finally, the Stadia service will have a free tier that is set to launch in 2020. The free tier guarantees the same frame rate as a Pro subscription, but has lower quality streaming and audio, and doesn't have access to Stadia's free-to-stream titles like Destiny 2.
Some games announced to be available for purchase on Stadia include Bethesda's The Elder Scrolls Online, Larian Studios' Baldur's Gate 3, Square Enix's Final Fantasy XV, Warner Bros's Mortal Kombat 11 and Ubisoft's Assassin's Creed Odyssey.
In addition, Google revealed two Stadia exclusives: Coatsink's goofy party game Get Packed and Tequila Works' spooky puzzle game Gylt.
Google Stadia is set to launch in November, with at least 31 games available. Watch the full reveal livestream below.