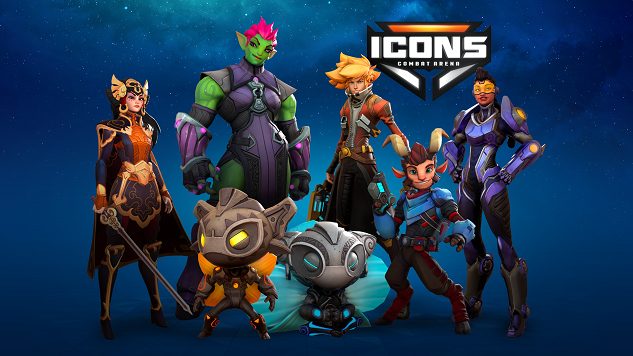 Another contender in the platform fighting game genre has arrived. Developer Wavedash Games reveals that their flagship title, Icons: Combat Arena, is coming to Steam Early Access on July 12. The game was revealed back in July 2017, and for fans ready to get their hands on the game sooner, they're in luck: A few select players will get the chance to join the closed beta test that's coming up this weekend, May 26-27. All you have to do is sign up for a chance to enter on the game's website.
"As a fan of platform fighting games, and having been involved in the competitive side of them for over a decade, we designed Icons: Combat Arena for all those who love online competition," said Matt Fairchild, CEO and co-founder of Wavedash Studios, in a statement. "This closed beta is a major milestone, as we take the best elements of the genre and make them accessible to anyone who owns a PC."
Icons: Combat Arena is the newest platform fighter to hit the scene. The platform fighting game genre was popularized by the ubiquitous Super Smash Bros. series. Lately, we have seen a lot of these games show up from indie developers, including games like Brawlout and Knight Club.
Hopefully, these indie fighters are not overshadowed by the latest entry in the aforementioned Smash Bros. series, set to arrive later this year for the Nintendo Switch. Honestly, the genre needs some competition and considering that developer Wavedash Games is made up of former Riot, Blizzard, Bioware and Sony developers, we'd say its chances of winning over fans are pretty good. Keep them coming.
You can check out the latest characters to join the games' roster by watching the reveal trailer below.