EA to Remove CPR Celebration from Madden 23 after Damar Hamlin's Cardiac Arrest
Damar Hamlin photo from Getty Images
Games
News
Madden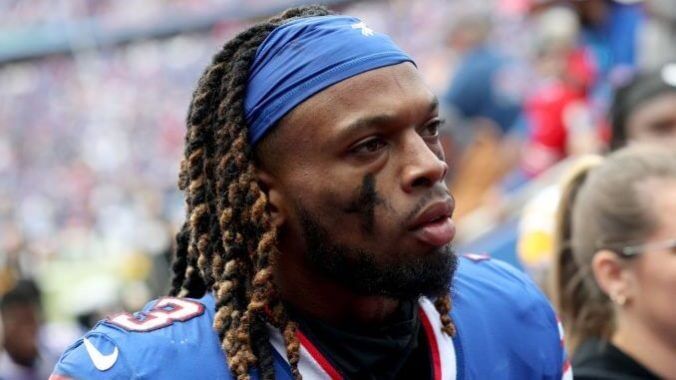 In light of the recent life-threatening injury of Buffalo Bills safety Damar Hamlin, EA Sports' has elected to remove the CPR touchdown celebration from Madden 23 in a future patch. A spokesperson for the company confirmed with TMZ Sports that the celebration would be removed from the game "in the coming days."
The touchdown celebration, which can be viewed here, depicts two players performing CPR on another downed player who mimes being unconscious on the ground. This seemingly innocuous act took on a more serious connotation when Hamlin required emergency CPR after a freak accident resulted in him going into cardiac arrest after being tackled during the Bengals vs. Bills game on Jan. 2.
Since then, he has recovered significantly and has been discharged from the hospital, as he took to Twitter to thank his supporters. His injury, and the NFL's noncommittal initial response, which led some to believe that they would continue the game, reignited the eternal debate of players' health vs. their careers with a vengeance.
Some feel that EA is being overly cautious. "It's not that serious," says a commenter on the linked video depicting the in-game celebration. "People need to stop being offended," says another.
However, it's not like EA is wrong to fear potential blowback for the CPR celebration despite it being in the Madden franchise for at least two years. Pittsburgh Steelers player Alex Highman came under fire for doing a CPR celebration after a sack just under a week after Hamlin was injured, with multiple users on Twitter declaring that it was "too soon." Highman apologized in an interview with The Post Gazette and quickly clarified that there was no disrespect intended toward Hamlin.
"I just want people to know that there was nothing intentional about that," Highsmith said. "It was never planned. None of that."
It is currently unknown when the CPR celebration will be removed from Madden 23.