Charles Martinet Will No Longer Be the Voice of Mario in Nintendo Games
Photo courtesy of Getty
Games
News
Mario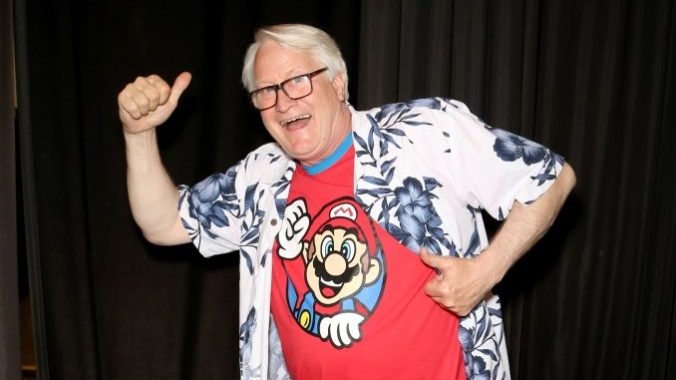 Charles Martinet, the voice of Mario since 1991 is "stepping back" from voicing Nintendo games, the company announced today on Twitter. Although Martinet's first major in-game appearance came in 1996's Super Mario 64, he started performing as Mario's voice at live appearances in 1991, and made his in-game debut in the 1994 educational game Mario Teaches Typing, which was released for computers and not available on Nintendo consoles. Mr. It's-a-Me himself will still be a part of the Nintendo family, though, serving as the world's first official Mario Ambassador, where he'll "travel the world sharing the joy of Mario" with the plumber's many fans. The tweet also promises additional information soon in a video featuring Martinet and Mario's creator, game designer Shigeru Miyamoto.
We have a message for fans of the Mushroom Kingdom. Please take a look. pic.twitter.com/U1ASicOuTO

— Nintendo of America (@NintendoAmerica) August 21, 2023
This surprising news comes just a few months after Chris Pratt redefined Mario's voice in the absurdly popular Super Mario Bros. Movie, which made a billion or so in theaters and is one of what seems to be only three or four movies that haven't underperformed at the box office so far in 2023. Is Pratt's less, uh, ethnic take on the most famous Italian man in games going to be the reference guide for future Mario voice actors? Is Pratt himself going to start popping up in Mario games with the same, um, understated performance that proved so controversial for the movie? We've got no idea, folks. We're just speculating irresponsibly to pad out a news post based on a single tweet. You know, some serious internet journalism.
…
Oh wait, there's a second tweet?
Martinet retweeted Nintendo's official announcement with a short statement of his own. Turns out we're all number one in his heart. Woo hoo indeed, old friend.
My new Adventure begins! You are all Numba One in my heart! #woohoo !!!!!!! https://t.co/3YWYewlnXt

— Charles Martinet (@CharlesMartinet) August 21, 2023
Obviously the internet is doing what it does, and some are speculating there's more to this than an almost 68-year-old man retiring. And perhaps there is: that Mario movie was legitimately massive, and companies tend to want their intellectual property to all be recognizably on brand. So maybe when you next head to Super Nintendo World at Universal or crank up the newest Mario game in a year or two you'll hear something closer to Pratt's subdued performance than the exuberant cartoon-style voice of Martinet's Mario. We'll find out when we find out. In the meantime, Charles Martinet has more than earned a relaxing retirement after three decades of Mario.
Update: Nintendo confirmed later this morning in a statement to numerous publications that Charles Martinet's voice will not be featured in the upcoming Super Mario Bros. Wonder, making it the first major Mario game with his unknown successor.
"While Charles is not involved in the game, we're excited to honor his legacy and contributions, including looking ahead to what he'll be doing as a Mario Ambassador," the statement reads. "Character voice actors will be credited in the game credits, so please wait for the game to be released."
Some fans had previously speculated about Martinet's potential replacement for that game, so this seems to confirm those suspicions.