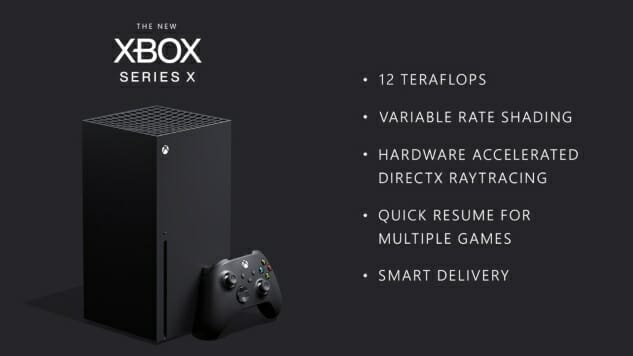 Monday morning, Microsoft released an official announcement containing the specs for their next gen console, the Xbox Series X. As per usual, Microsoft is introducing technological improvements to expand memory, expedite loading screens and improve graphics. The new console will also be backwards-compatible with Xbox One, Xbox 360 and original Xbox games.
Power compatibility = Xbox Series X

12 teraflops and so much more. Discover what the next generation of gaming means to Xbox: https://t.co/WWFJ6YkHzT#PowerYourDreamspic.twitter.com/RDlWXwVF8f

— Xbox (@Xbox) February 24, 2020
Most notably, the Xbox One X will sport a whopping 12 teraflops for speed, include quick resume for multiple games, support 120 FPS and employ variable rate shading for smoother visuals.
If you're caught between a PS5 or an Xbox Series X, the general rule in this console rivalry is that Xbox generally has more RAM, and therefore performs better, but Playstation releases crowd-pleasing exclusives (like God of War, The Last of Us and Uncharted) and supports VR. Despite Playstation's long list of exclusives, Halo remains an integral part of Xbox's identity, with Halo Infinite launching with the new console.
Most console players are excited about the processing power for their console, but there's always a few cynics who refuse to take pleasure in good news. The videogame community is so special because of its ability to flame the developers who create the worlds players spend most of their time in:
Yeah, but will it have games pic.twitter.com/zE4BlBIdUb

— AerospaceCowboy (@baggyscraggy) February 24, 2020
Total waste. Enjoy all that power gone to roblox and 4K Minecraft

— [___] (@MMBN3_BUG) February 24, 2020
Microsoft's upgrades to the Xbox seem sure to create more visually astounding and immediately immersive worlds to feed the masses' cravings for a lifelike experience. We don't have a hard date for release yet, but there are still more announcements to come as we approach E3 in June.
Read Microsoft's full description of their new console here.