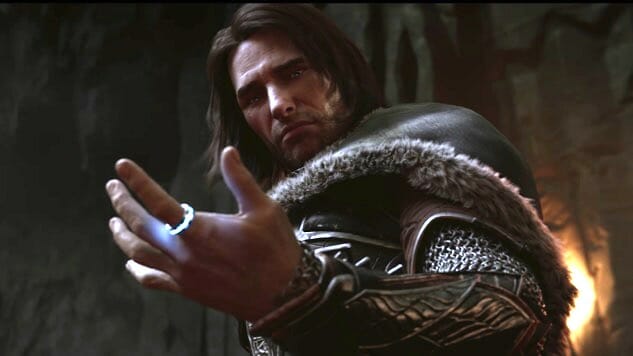 Warner Bros. Interactive Entertainment announced the highly anticipated sequel to their acclaimed game, Middle-Earth: Shadow of Mordor. Middle-Earth: Shadow of War puts the player back in the badass shoes of Gondorian Ranger Talion and Celebrimbor, the elven spirit that is bound to him. Wielding a new Ring of Power, players will confront new deadly enemies, even Sauron and his Nazgul. (We'll assume, since The Lord of the Rings has yet to happen, things don't end well for him.) Set between the events of The Hobbit and The Lord of the Rings, players will be thrust back into Middle-Earth with a richer and more expansive world that will further build upon Shadow of Mordor's narrative and the overall Tolkien narrative. Because, honestly, that guy needs some help in world-building, right?
In a press release, Michael De Plater, Vice President and Creative of Monolith Productions, said this about the game:
Following the amazing reception to Middle-Earth: Shadow of Mordor, we massively expanded every dimension of the game, including the world, the story, the RPG systems, the core gameplay and of course the personal player stories of the Nemesis System. As lifelong fans of Middle-Earth, we are so grateful to have the privilege to bring to life the most incredible fantasy world ever created in a new way, for a new generation. With Middle-Earth: Shadow of War, we can't wait to see the amazing stories players are going to create and share.
The Nemesis System is what truly set Shadow of Mordor apart from other games of this ilk, providing an exceptional story-creating system wherein enemies are unique and diverse, creating personal stories from enemies who remember previous encounters and change the way they approach the next fight. In Shadow of War, this is expanded with the introduction of Followers, "who bring about entirely new stories of loyalty, betrayal and revenge." The system is also expanded through Nemesis Fortresses, which allows you to conquer complex fortresses through different strategies, which then allows you to amass a more personalized and unique Orc army. It's all sounding decidedly badass.
Middle-Earth: Shadow of War will be available for Xbox One, Project Scorpio, Windows 10 PC and Playstation 4 on Aug. 22, and is available for preorder here. Be on the lookout for a more detailed in-game footage reveal on March 8, check out the epic announcement trailer above, find the new game's key art below and read Paste's review of Middle-Earth: Shadow of Mordor here.