We don't normally keep you up-to-date with every cool bit of retro gaming news here at Paste, but last night a story broke that lands squarely within two different passions of mine. I'm talking, of course, about 1980s Southern wrestling, and particularly that weird window of time after Ted Turner bought Jim Crockett Promotions but before the term World Championship Wrestling (WCW) had come to replace the National Wrestling Alliance (NWA) as the name the company was largely known as; and the Nintendo Entertainment System, aka the NES, Nintendo's 8-bit console that almost single-handedly revived the videogame industry in America in the second half of the '80s.
Last night game collector and YouTuber Stephan "Archon 1981" Reese posted a video about a previously unknown NES game that he bought from a former Nintendo employee who tested the game as part of its certification process in 1989. The game didn't just go unreleased—it was never even announced. It was simply unheard of, even by the most serious game historians and archivists, until Reese bought the test cartridge from that employee.
This would be a fascinating footnote regardless of what was on the cartridge, but it gets a lot more interesting for fans of NWA/WCW and wrestling games. On the title screen (which you can see in the video below, along with footage of the game in action) the game is called UWC, with a 1989 copyright and the logo of its developer, the now-shuttered Japanese company SETA. After the player picks between a single-player or two-player game, and decides which of three match types to play (singles, tag team or "elimination series"), they find a character select screen with eight of the top late '80s stars from Jim Crockett Promotions / WCW.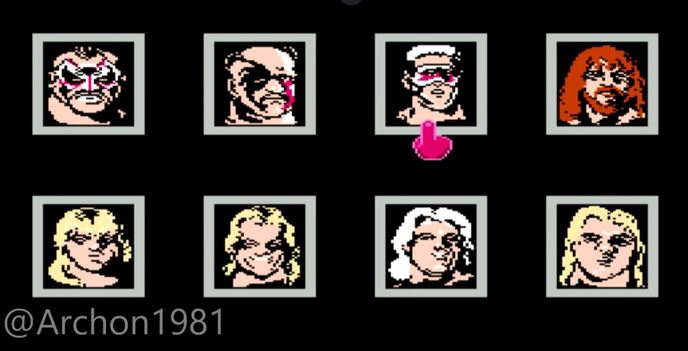 A handful of them should be immediately recognizable to any wrestling fan. In the top row you can see the Road Warriors—the tag team of Animal and Hawk—as well as Sting, who was quickly becoming the promotion's top face the year this game was copyrighted. The bottom row is a little harder to figure out, as three of them are just a bunch of grimacing or grinning blond guys, but that's unmistakably Ric Flair second from right.
Reese's footage helps identify some of the other wrestlers. The bottom left corner is none other than Beautiful Bobby Eaton, one-half of the Midnight Express, perhaps the greatest tag team of all time. The top right slot looks a lot like Jimmy Garvin, and that's because it is, as we see in the very first in-game footage from Reese's video. Garvin's wrestling Barry Windham in that footage, so we can scratch another one of those bottom row guys off.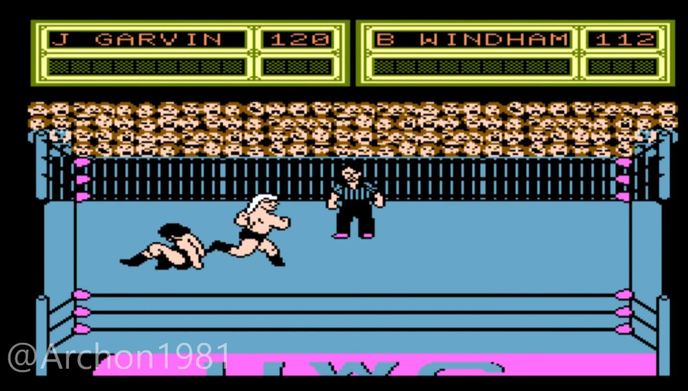 That leaves one unidentified wrestler. It wouldn't be Dusty Rhodes, as he was fired by the company at the end of 1988. Based on the promotion and time period, it makes sense for Lex Luger to be in this game—he was one of the biggest stars in the company at the time, and other than a disastrous few years in WWF, spent almost all of his career as a top guy in JCP/WCW. But then it'd be really weird to have Bobby Eaton in this game in 1989 and not his tag team partner, Sweet Stan Lane. At this time Eaton was two years away from his only notable singles run in the company, and it would make sense to put a top heel tag team in the game as a counterpart to the Road Warriors. That makes me believe Stan Lane has to be the eighth character, no matter how weird it might be for Lex Luger to not make the cut. Perhaps Luger appeared in the game as the champion you had to defeat, like The Great Puma in Nintendo's own Pro Wrestling, although in the real world Luger never held the World title until 1991.
As he says in the video, Reese has no idea why the game was never released. A WCW game was released for the NES in 1990 under the name WCW Wrestling; it was developed by Nichibitsu and published in America by FCI, Inc. As Reese speculates, perhaps SETA lost the license before UWC could be approved or published. We don't know. When Turner bought Jim Crockett Promotions in Oct. 1988, the plan was to rename it the Universal Wrestling Corporation, but it was quickly altered to World Championship Wrestling; that probably dates the genesis of the SETA deal to October of 1988, which allows for enough time for Turner to part ways with SETA and hook up with FCI for the 1990 game. FCI's WCW game featured a few of the same wrestlers—Sting, Flair, the Road Warriors—but otherwise had a vastly different lineup, one that definitely included Lex Luger. That game was also notable at the time for letting players pick a wrestler's moveset from a small list of available moves, which at the time was a novelty for a NES wrestling game.
Hopefully UWC will become playable for the public at some point. Reese says the ROM will be released for public consumption, and Frank Cifaldi of the Video Game History Foundation has already been in touch with him about how to go about doing so. Any fan of '80s wrestling or NES wrestling games must be excited about eventually getting to play this one.
Here's Reese's video, featuring a short intro and two full matches.
---
Garrett Martin edits Paste's games and comedy sections. He also writes about music, travel, food, theme parks and more. He's on Twitter at @grmartin.