Nintendo: Breath of the Wild Second Expansion Coming Soon, GameCube Controller Support For Switch Was Unintentional
Images via Nintendo, Neilson Barnard/Getty
Games
News
nintendo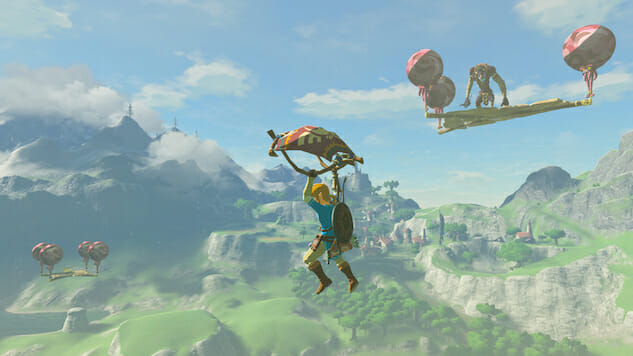 As Nintendo celebrated the launch of Super Mario Odyssey in midtown Manhattan, Kotaku attempted to wring out some details from Nintendo of America President, ass-kicker and taker of names Reggie Fils-Aime. The Nintendo executive confirmed that the second downloadable expansion for The Legend of Zelda: Breath of the Wild, which will include a new story campaign called the Champion's Ballad, will come out later this year, but he did not provide an exact date.
Other topics included the recent Nintendo Switch update, which surprised Switch owners by stealthily adding the ability to use the Wii U's GameCube controller USB adapter. But according to Fils-Aime, Nintendo themselves were also surprised by this. "In our latest system software update, it enables third-party peripherals to work on Nintendo Switch. As a result, the peripheral for Wii U that allows it to attach GameCube controllers also works." When asked if this meant a forthcoming Smash Bros., Fils-Aime responded, "Of course, there's nothing to announce on this. I think it's fair to say … that [the controller adapter] working was as much a surprise to us as it was to consumers." Nothing to see here, folks.
Kotaku also asked Fils-Aime to clarify on the decision to end the social network Miiverse for Wii U and Nintendo 3DS. "Unfortunately the Wii U didn't scale the way we hoped it would, which makes continuing [services like Miiverse] financially challenging," he said. When asked why not to simply continue the service on the 3DS, Fils-Aime added that as the service is linked, ending it for the Wii U also meant ending the service for 3DS and desktop. Nintendo will allow users to download their old Miiverse posts, in case you'd like to save your absurd Mario memes.
Classic games and video services such as Netflix are often-requested features, but unsurprisingly, Fils-Aime had nothing new to announce on that front. While Nintendo is "gratified" that fans would like to play classic Nintendo games on their console-handheld hybrid, the company has nothing to announce other than their offering of select NES and SNES titles when Nintendo's paid online Switch service launches next year. Regarding Netflix, Fils-Aime shifted the responsibility to those streaming companies. "You'd have to ask the folks at Netflix," said Fils-Aime. "I have [Netflix CEO] Reed [Hasting]'s number."
It's a busy time for Nintendo these days, and their hit game The Legend of Zelda: Breath of the Wild is joined by another Game of the Year contender in Super Mario Odyssey, which finally launched today.