Nintendo Announces Price, Details of Forthcoming Switch Online Service
Images via Nintendo
Games
News
nintendo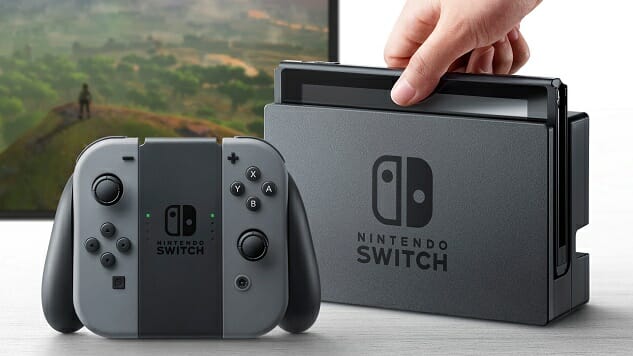 The long-awaited online service for the Nintendo Switch is finally arriving this September, and the company released the price and details regarding the forthcoming service's offerings late Monday.
Dubbed "Nintendo Switch Online," the service will include similar components of online programs offered by other consoles, such as access to online gameplay and the ability to save data to the cloud. The addition of cloud saves is a very welcome addition, as all Switch save data is tied to the console, prohibiting owners from transferring their data between consoles even in cases where their console breaks. Now players will be able to "retrieve their data if they lose, break or purchase an additional Nintendo Switch system," though Nintendo's statement does state that the cloud save feature will only be compatible with "most Nintendo Switch games," without giving any indication as to which titles are incompatible.
The service will also include a library of classic NES titles. At launch, players will have access to 20 NES games, including Dr. Mario, The Legend of Zelda and Super Mario Bros. 3, with co-op and competitive multiplayer modes available "depending on the game." Nintendo will add additional titles to the library "on a regular basis" and all of the games will be available to play offline for subscribers.
Nintendo Switch Online will also include future special offers for subscribers, though Nintendo gave no details as to what those might be, and access to game-enhancing features for specific titles through its Nintendo Switch Online mobile app. Currently, the only title utilizing this service is Splatoon 2.
Of course, all of these services are gated behind a paywall, but Nintendo Switch Online's cost is substantially less than those of Xbox Live or PlayStation Plus. An individual year-long subscription costs $19.99, with one month and three months of access costing $3.99 and $7.99, respectively. Nintendo is also offering what they call a Family Membership, which will allow up to eight Nintendo Account holders to access the online service through one subscription for $34.99 a year. While the Family Membership does allow access across different systems, it is needed for those who want to utilize the online service and have multiple Nintendo Accounts on a single console.
There are some notable exceptions from the Nintendo Switch Online service that still boggle the mind, such as the continued reliance on the Switch mobile app for voice chat, but the service is shaping up to be a good showing for Nintendo's first substantial foray into the online sphere.
That doesn't mean that it won't generate some ill will from players when it launches in September, though. Switch owners have enjoyed free access to online multiplayer since the console's launch last March, but that access will be taken away upon the launch of Nintendo Switch Online. At least it won't cost too much to jump right back into the action.
Nintendo will announce further details about Nintendo Switch Online in the lead up to the service's launch in September.