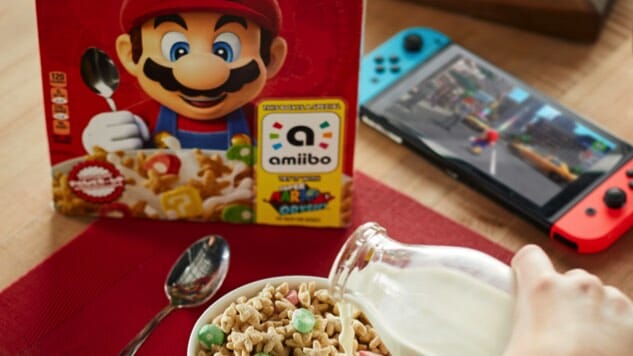 Yesterday, rumors swirled that there was a Super Mario Cereal on the way from Nintendo and Kellogg's, planned to promote Nintendo's wildly popular Switch title Super Mario Odyssey. Today, Nintendo made it official, confirming the tie-in treat in a press release and letting us all know when to expect it Stateside.
Super Mario Cereal, a mixed berry cereal with marshmallows, will start hitting store shelves across the U.S. as early as Dec. 11, and the limited-edition box will indeed function as an Amiibo—the box's Amiibo functionality will even allow players to unlock in-game rewards. As Nintendo's press release explains:
Those playing the Super Mario Odyssey game can tap the cereal box on the Nintendo Switch system, like you would an amiibo, to receive gold coins or a heart in the game. Even the cereal itself has a Super Mario twist, with colorful power-up marshmallows and a blast of mixed berry flavor in every box.
"This powered-up partnership with Kellogg's is another exciting way for us to expand the Nintendo brand in unique and creative ways," said Tom Prata, Nintendo of America's Senior Vice President of Strategic Initiatives, in a statement. "We are always looking for new opportunities to bring smiles to people of all ages, and this is a fun way to kick off the day."
Get a closer look at Super Mario Cereal below, revisit our Super Mario Odyssey review here and read our thoughts on how Nintendo has mastered the art of soothing anxiety right here.