Explore the Underwater Depths of No Man's Sky with Free Update, "The Abyss"
Images via Hello Games
Games
News
No Man's Sky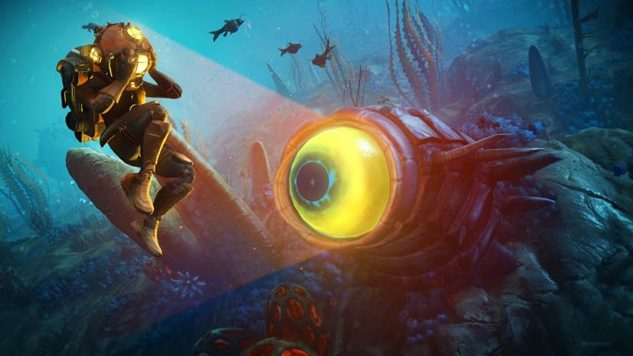 A new free update called "The Abyss" coming to No Man's Sky this week will take you down to the depths of the sea, allowing you to explore it in a variety of new, creative ways.
While the Hello Games team has been busy adding new free content, community missions and improvements to the game every week, it has also been hard at work on major updates that will release over time, starting with "The Abyss."
Hello Games' founder Sean Murray states on the official PlayStation blog that the update "introduces aquatic environments with over five times more variety, varied creature behaviors, improved underwater visuals and much more."
The update includes new story titled "The Dreams of the Deep" that will bring a dark narrative to the world of No Man's Sky. While the narrative will have you "discover the fate of a troubled crew stranded from a freighter crash by the rising tides," you'll be able to "explore underwater ruins to uncover the tale of a lost soul trapped deep beneath the waves."
The update will add a new Exocraft, the Nautilon. The submarine will be essential in your traversal of the mysterious secrets that lie in the ocean. It is able to be summoned to any ocean on the planet and docked at underwater buildings.
"The Abyss" also contains the addition of terrain manipulator to dig up hidden treasures, a dozen new base parts that will help you unlock more underwater possibilities, the ability to construct the new Marine Shelter and more.
Watch the trailer for "The Abyss" below.