No Man's Sky's New Update, "Visions," Enhances an Already-Beautiful World
Images via Hello Games
Games
News
No Man's Sky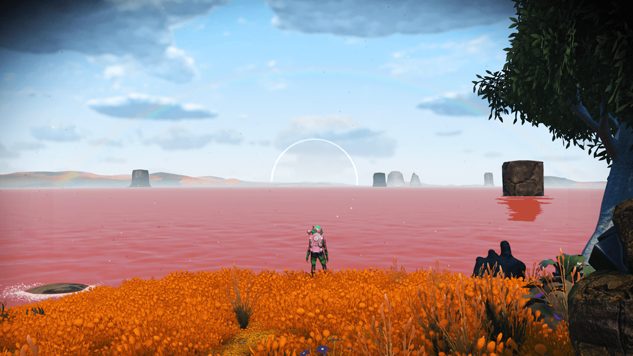 Following the release of a significant free update titled "The Abyss" last month, Hello Games is releasing another large (and still free!) update for No Man's Sky. While "The Abyss" made you want to dive back into the depths of the waters, "Visions" will make you look forward to when you rise out of the waters and onto the surface.
"Visions" will bring new anomalous flora, a greater palette variety to make already-beautiful worlds even more vibrant, collectible rare exploration trophies of alien worlds, procedural crash sites you can raid from, new and bizarre lifeforms, salvageable scrap you can sell, more planetary biomes, corrupted sentinel drones, rare lucrative skeletons, new base parts, increased anomalous planets, rainbows and new emotes… in other words, a whole lot of new things, to say the least.
The UI has been improved as a result of player feedback. Additionally, the progress you make in community missions will now be shared globally. Surviving extreme climates will reward you with precious new materials, such as storm-activated crystals. And lastly, you'll now be able to launch fireworks to celebrate events with friends.
It's quite an update, particularly seeing as how it's being released for free to players. It's no secret that the launch of No Man's Sky was a rocky one; however, the team seem to be working hard on fleshing out the depth of the game's enormous world.
Find more information and plenty of new screenshots for "Visions" here.
"Visions" will be released on Thursday, Nov. 22, for PC, Xbox One and PlayStation 4.
Watch the trailer below.