Kim "Geguri" Se-yeon Joins Shanghai Dragons, Officially Becoming First Woman Signed to Overwatch League
Photo by Yong Woo Kim/PRNewswire
Games
News
Overwatch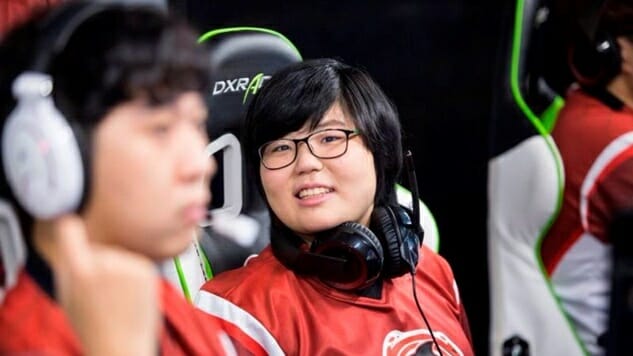 Overwatch League's Shanghai Dragons have officially signed Kim "Geguri" Se-yeon, making her the first woman to sign with an OWL franchise. Reports of the signing surfaced last week, but the Dragons confirmed Geguri's signing on Wednesday via Twitter.
We're excited to welcome He "Sky" Junjian, Kim "Geguri" Seyeon, Lee "Fearless" Euiseok and Chon "Ado" Gihyeon to our #OverwatchLeague roster. #FightingForGlory#OWL2018pic.twitter.com/ErP88CmDS6

— Shanghai Dragons (@ShanghaiDragons) February 14, 2018
Geguri is one of four players signed by Shanghai to revamp their lineup ahead of the second stage of the OWL season. The Dragons are currently ranked at the bottom of the OWL standings with a 6-36 map record and an 0-10 match record. Joining Geguri will be support specialist He "Sky" Junjian, tank player Lee "Fearless" Eui-Seok, and DPS and assault specialist Chon "Ado" Gi-Hyeon.
Geguri's skills as a world-class tank should make her a welcome addition to the team. She is known as one of the best Zarya players in the world, and has also developed strong skill sets with D.Va and Roadhog recently.
Geguri and the other additions to the squad will be eligible to compete when the Dragons open the second stage of the OWL season against the Dallas Fuel on Feb. 21.