The Best New Pinball Machines of 2019 (So Far)
Photo courtesy of American Pinball
Games
Lists
pinball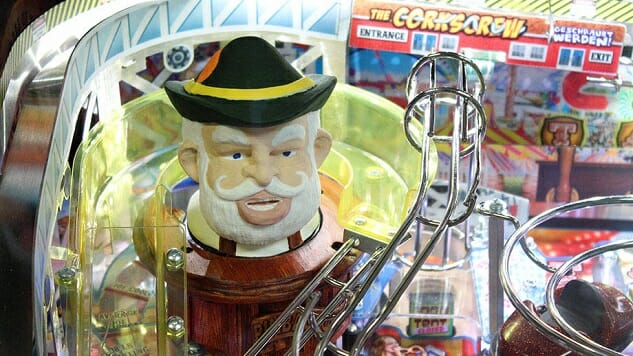 The pinball people have won. There are now more companies making more new pinball machines than at any point this century, and the result is a steady stream of fun new games for casual players and hardened veterans alike. So far 2019 has seen the release of at least five new pins, two by pinball giants Stern and one each by three other companies. There are more to come throughout the rest of 2019, too. Some of the games below aren't officially released yet, but they're all already on sale, and I've played all of them numerous times either at pinball arcades or at shows like Atlanta's Southern-Fried Gaming Expo. They're all worth playing but they can't all be classics; read on to find out which machines have the best chance to be remembered for years to come.
5. The Munsters
I like The Munsters. It doesn't seem like the most desirable license for a game released in 2019, though. Its existence can be chalked up to two things: pinball manufacturers constantly chasing the nostalgia of middle-aged men, and the fact that 1992's Addams Family is the best-selling pinball machine of all time. If you can't get the license for one of the 1960s goofy horror sitcoms, maybe the other one will do almost as well—at least that seems to be Stern's thinking with this one. It's actually a fun game, even if you're oblivious of The Munsters; once again, though, Stern's Premium and Limited Edition models have a significant advantage over the Pro due to the presence of a lower playfield themed to Grandpa's laboratory. So the most affordable and accessible machine, the one you'll most likely encounter on location, is notably inferior to the more expensive options. The standard version feels like another Stern-by-numbers, with a layout, shots and rules that will be familiar to anybody who's played a recent Stern machine. The lower playfield in the Premium and Limited Editions adds something unique to the package, and is a much better game.
---
4. Cosmic Carnival
Cosmic Carnival is the first machine from Florida-based startup Suncoast Pinball, and it's a solid enough debut. It coats a carnival theme with a sinister, cartoony sci-fi veneer, resulting in a theme that feels like it could've come from the '80s. The layout would feel older than that if it wasn't for the ramps—the center of the playfield is a little sparse, with three pop bumpers in the upper playfield as the main targets down the middle lane. Most shots are concentrated on the edges, with a ramp on both the right and left; you have to hit a shot through the mouth of a toy to launch up either ramp, with a creepy alien clown on the right and a robot carnival barker on the left. There is one notable shot right up the middle of the playfield that reminds me of the Spook House shot in 1988's similarly themed Cyclone; if you hit it, it triggers a random perk displayed on the backglass screen after cycling through a variety of options. Instead of Cyclone's spinning wheel, though, it's simply a poorly designed graphic with a font that's hard to read. Cosmic Carnival isn't particularly deep, and it gets a little old almost exclusively aiming for shots on the far right and left edges of the playfield. It's a a fun game to play at a show or on location, but it's a little too limited and repetitive to be considered great.
---
3. Black Knight: Sword of Rage
Maybe the most shocking thing about Black Knight: Sword of Rage is that it's a Stern machine that isn't based on a movie, comic book or classic rock band. It's not entirely new, though—it's the third Black Knight game by legendary pinball designer Steve Ritchie, whose first two for Williams (1980's Black Knight and 1989's Black Knight 2000) were both hugely popular. Sword of Rage has some issues—it's a little too heavy on right flipper shots, and the cool knight toy at the center of the playfield is too close to the flippers (which means too many shots immediately rebound straight down the center)—but the biggest one, once again, is that the Pro edition lacks what should be a mandatory feature. The hallmark of the first two Black Knight games was an upper playfield, and only the Premium and Limited Editions of Sword of Rage have one of those. That playfield doesn't turn Sword of Rage into a great game, or anything, but it does improve noticeably on the Pro model, offering not just a core feature expected from the series but adding variety to a game that otherwise needs it. The Premium and Limited Editions feel like complete, finished games. With its quick speed, cramped midfield and sudden rebounds, Sword of Rage isn't a game that you can really lose yourself in amid epic sessions, but that speed, the detailed knight toy and the propulsive score from Athrax's Scott Ian combine into a uniquely formidable game. Skip the Pro model, though—it's simply incomplete without that upper playfield.
---
2. Oktoberfest: Pinball on Tap
American Pinball's second machine builds on its fun German beer festival theme with whimsical art, two impressive toys that are smartly integrated into the action, and a variety of objectives styled after carnival games and rides. There's also a stein collection mechanic, where each stein offers two slight perks, like increasing the time of an objective and raising the point value of a specific shot. It's a deep rule set with stacking bonuses (you can collect the same stein multiple times) and a multitude of diverse modes, and if that's not challenging enough, it also has a number of genuinely tough shots that are satisfying to pull off. I'm not entirely sold on the artwork—I would've preferred more cartoonish figures, and the weirdly scrunched face of the bearded man is off-putting—but outside of the human characters it's a charming looking machine.
---
1. Willy Wonka & The Chocolate Factory
Don't worry: this is based on the classic Gene Wilder movie, not the one with Johnny Depp. I am as burned out on licensed pinball machines as anybody else, but Jersey Jack once again shows how good they can be with the right license and the right amount of love. Willy Wonka & The Chocolate Factory might be better than The Wizard of Oz, the beautiful game that Jersey Jack debuted with back in 2012. Like that machine, it turns a timeless and beloved family movie into a bright, colorful, gorgeous game with a number of state-of-the-art features. From the Oompa Loompa camera toy, which takes photos of the player at certain points, to the Wonkavision LCD screen, which turns Mike Teavee's fate into a dual target, Willy Wonka is full of high-tech toys and gimmicks. Its game design has objectives tied into each of the kids from the movie, and the HD screen on the backglass plays a stream of film scenes that complement your progress. Jersey Jack wasn't content to coast on a big license, and unlike other companies they didn't reuse a playfield layout or rule set from another game; instead they distilled the atmosphere and essence of a classic film into one of the best pinball games of the last 20 years.
---
Senior editor Garrett Martin writes about videogames, comedy, travel, theme parks, wrestling, and anything else that gets in his way. He's on Twitter @grmartin.