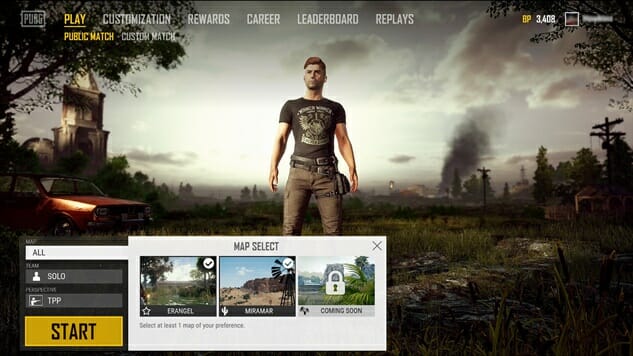 PlayerUnknown's Battlegrounds continues to build upon its foundation, looking to offer its player base further evolutions of the game while combating the popularity of Fortnite. That evolution will now include a map selection option that the game's community had been clamoring for since last year's release of the Miramar desert map.
In an announcement on their Steam page, PUBG Corp. confirmed that "work on the feature is almost complete" and that the company will implement it on the game's PC test server soon, with its adoption by the game proper coming shortly afterward.
The new feature will allow players to select which maps they want to play from a menu. If players have more than one of the three maps selected, the game will choose one of the selected maps at random at the start of each match, similarly to how the game has previously operated.
PUBG Corp. also outlined why it took so long for the option to be implemented, noting the care taken to make sure the new feature wouldn't overly impact matchmaking. 'We analyzed tens of millions of matches and sorted the data by server, mode, and time to make sure map selection wouldn't break the game for anyone," read the statement. "We wanted to make sure that we could create a solution that worked for every region's players, even the ones with a naturally low server population."
Even though the company feels they've worked out a system that won't detract from matchmaking performance, they are reassuring its community that it will monitor any issues that arise. "We'll still have to keep a close eye on it, since it could become problematic as new maps continue to be added," said the company.
The announcement didn't state when the feature would be added to the Xbox One version of the game, though that isn't surprising, considering that version won't have access to the Miramar map until May.