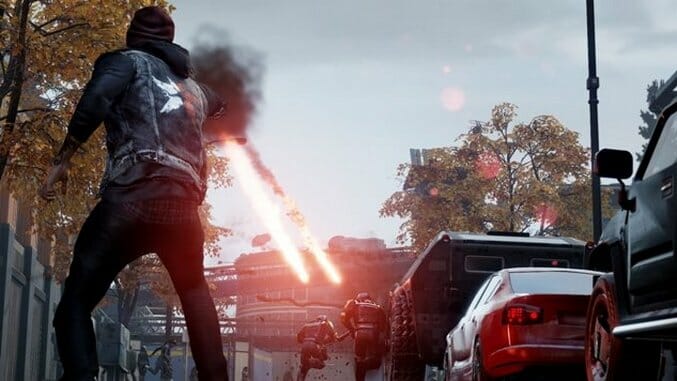 September's free PlayStation Plus line-up is a diverse offering of small-scale action, oddball curiosities and one major Sony tentpole. Infamous: Second Son is the big name here, and although it's a fine game, don't overlook the lesser-known fellow travelers sidling up alongside it this month. Here's a quick rundown of how we'd prioritize the six games that'll be available free for subscribers in September.
Note: Sony's also offering a special promotion starting in September where the PSVR game RIGS: Mechanized Combat League will be available for free download for PlayStation Plus subscribers for two months. Since it's a separate promotion than the regular monthly downloads, we haven't considered it for this ranking.
Unranked: Truck Racer
PlayStation 3
Truck Racer puts on no airs. This is a game where trucks race each other. It is not like Ridge Racer, where the title refers to that which you race upon; no, these trucks are the vehicles through which these races are contested, and not the field upon which they happen. Honestly we haven't, uh, played Truck Racer yet, if only because we've never even heard of it until today. It doesn't have a particularly auspicious online presence—its single Metacritic review is from a user who gives the 360 version a 2 (out of 10). We're not cynics, though, or pessimists here at Paste. Where some might see a game worthy of being ignored, we see the possibility of a pleasant surprise. Perhaps Truck Racer is one of the great lost games of the 21st century, a classic waiting to be discovered that escaped the public eye not because of a lack of quality but because of a small budget or an inadequate marketing campaign. Perhaps, in the years and decades to come, its reputation will grow with each generation, inspiring designers and players and lovers of truck racing to come. Perhaps this is the In the Aeroplane Over the Sea of truck racing games. If you're a PlayStation Plus subscriber, you can be in the vanguard of Truck Racer revisionists, one of the first to hold this potential cult favorite up as an emblem of your wisdom and discerning taste. Or maybe we've never heard of it because it's just not that good. Maybe we'll find out, if we can ever find where we put our PlayStation 3.
---
Unranked: Handball 16
PlayStation 3
Handball is a real sport. Handball 16 is a real sports game. We assume—here's another one we haven't actually played yet. We'll give it a look soon, we promise. Speaking of promises, the game's trailer hypes that it has all the best teams in the world, including from the big European leagues like Spain's Liga Asobal. It has the "technical moves" and "tactical systems" you expect from a game about hand soccer. Okay, we'll drop the tone: games based on more obscure sports like handball are often pretty fascinating. As a fan of games and sports in general Handball 16 presents an intriguing learning opportunity.
---
4. We Are Doomed
PlayStation 4 / Vita
Hey, it's a game we've played before. We Are Doomed takes the venerable twin-stick shooter set-up and wraps it up inside a kaleidoscopic light show. It's less like the rave aesthetic of Geometry Wars than a minimalist abstract painting, with a relatively limited color palette constantly blasting off in jets and rings around your ship. There's been a surplus of this kind of game over the last decade or so, and although We Are Doomed isn't the best in class, it's still worth tracking down, especially for free.
---
3. Strike Vector EX
PlayStation 4
Strike Vector EX is the game equivalent of a B movie, but a well-made one. It's a high concept mech shooter that sticks to the thing it does and does it well enough to make it a fine way to pass the time. You might not remember it too much afterward, or ever feel the need to celebrate or recommend it, but you won't feel like you've wasted any time by playing it. In a way it's an ideal PlayStation Plus game: it's something you probably wouldn't seek out, but will probably enjoy.
---
2. Infamous: Second Son
PlayStation 4
Sony's superhero open-world series has a formula, and 2014's Second Son pushes it about as far as it can go before it becomes too familiar and lifeless. Its moral choices might be a little too obvious, a little too straight-forward, but the sheer thrill of moving around this ersatz Seattle with your increasingly powerful abilities rarely gets old. The real strength of the first PS4 adventure in the series is its writing, surprisingly; as Luke Winkie wrote in Paste's review, it's the lead character's "journey, not the game that surrounds it, that makes Infamous's current-gen debut feel like something new."
---
1. Hatoful Boyfriend
PlayStation 4 / Vita
Yeah, it's the pigeon dating game. Yeah, it's ridiculous, and intentionally so. This tribute to / parody of dating sims and anime is far more than just a joke-riddled pastiche, though, slowly pulling back the curtain on an audacious apocalypse story with real-world relevance. Hatoful Boyfriend reminds us that satire can be more than just a series of tweaked reference points, and that a game about dating birds with human intelligence can be its own form of art.
---
Garrett Martin edits Paste's games and comedy sections. He's on Twitter @grmartin.