Rihanna's Super Bowl Halftime Show Looked Like a Super Smash Bros. Level
Photo courtesy of Getty Images
Games
News
Rihanna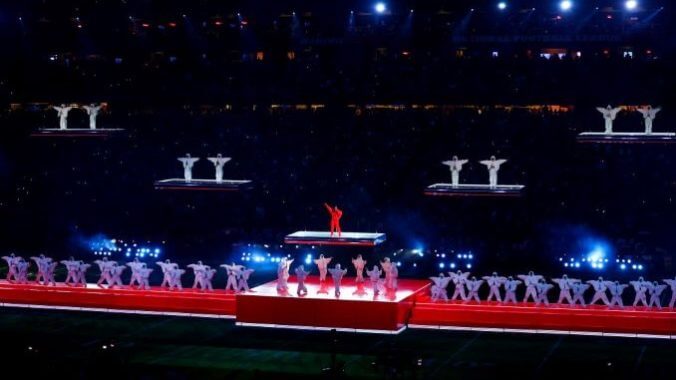 Last night, Rihanna took to the skies for her Super Bowl halftime show performance on a stage of floating platforms. These platforms were set up in a way that reminded several viewers of a certain Super Smash Bros stage.
The resemblance is closest to the series-wide fan-favorite Battlefield, especially with the camera angle that features the view of three overhanging platforms with Rihanna in the center. Battlefield is one of the more famous stages in the series; it's often seen as the quintessential Smash Bros. level and has seen heavy use in competitive play ever since its introduction in Melee.
Within moments, there were memes aplenty all over Twitter.
The Rihanna x Super Smash Bros DLC goes hard #SuperBowlLVII#HalftimeShowpic.twitter.com/9FXcc4mcWd

— SLUURP (@sluurptv) February 13, 2023
Rihanna debuted a new Smash Bros. Level pic.twitter.com/s3wr9VSkfs

— Gaming While Black (@gwbshow) February 13, 2023
Rihanna's Super Bowl stage be like pic.twitter.com/gGVaIBOXlQ

— d a u l t o n (@falcosdownair) February 13, 2023
the stage rihanna performing on pic.twitter.com/jRR7LCiwoD

— Y2J (@_futurejames) February 13, 2023
This is Rihanna's first public performance in years following an extended break from music where she turned her attention to her makeup and lingerie brands. Fans were treated to a greatest hits medley of songs such as "We Found Love," "Work," "Where Have You Been" and more. It was also revealed that she is expecting her second child with rapper A$AP Rocky.
Memes aside, Super Smash Bros. fans and Rihanna stans alike can check out her halftime performance here.