Yoshimitsu Confirmed for Soulcalibur VI in New Gameplay Trailer
Yojimbo wouldn't stand a chance
Images via Bandai Namco
Games
News
Soulcalibur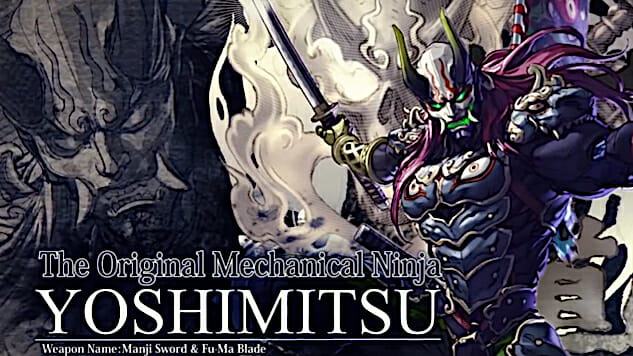 Bandai Namco, since Soulcalibur VI's initial announcement, has slowly been fleshing out the game's playable roster via character-based trailers, and today's trailer tosses the mechanical ninja Yoshimitsu into the fray. His Manji Ninjutsu fighting style and Manji/Fu-Ma blades are on full display as he slices, counters and grapples his opponents into defeat. Like all Soulcalibur characters, his weapons define him, and his move set seems unique in that his quickness plays directly into his swordplay, which resounds in an acrobatic flurry of sword and small-blade alike. His ability to juggle and keep opponents in mid-air combos is pretty prominent in the trailer, as well as a pretty awesome-looking grab move that allows the hilt of his sword to find a home in the face of his opponent.
Yoshimitsu hasn't appeared in a Soulcalibur game since the third entry and his presence in this one is genuinely surprising. Yoshimitsu was first revealed in the original Tekken and it is learned in Tekken 2 that Yoshimitsu's famous sword is passed down through members of the Manji Clan's leaders. Yoshimitsu first appeared in an Soulcalibur game as a member of the original game's roster in the form of an ancestral member of the Manji clan, seeing that Soulcalibur's setting is quasi-historical. Thus, the lineage of Yoshimitsu and the Manji clan is canonically connected between the Tekken and Soulcalibur series of games. Lore, lots of it!
By the time Soulcalibur V rolled around, Yoshimitsu was presumed dead—executed by a younger and strangely similar protégé. This hints towards a secretive, cult-like succession of Yoshimitsus that more or less makes the fighter look as if he is immortal. His new look in the Soulcalibur VI trailer seems to merge his feudalistic look with that of the futuristic look that he is presented with in the Tekken series.
See Yoshimitsu in action in the trailer below.