The Latest Spider-Man PS4 DLC Comes with a Suit from Into the Spider-Verse
Image via Insomniac
Games
News
spider-man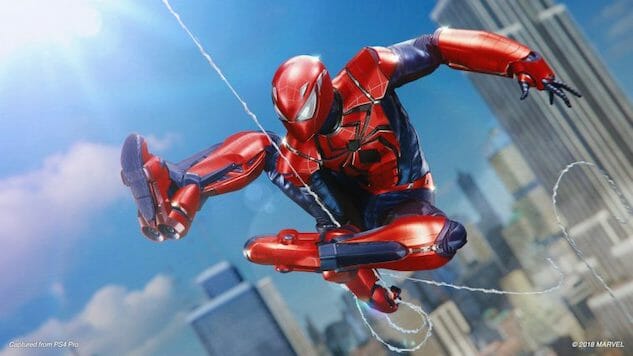 In a blog post on Thursday morning, Spider-Man director Ryan Smith shared details on Silver Lining, the final chapter of The City That Never Sleeps DLC. Featuring new missions, new and upgraded enemy and crime types, upgraded Hammerhead bases and storyline quests, Silver Lining focuses on Silver Sable's return as she tracks down her stolen Sable International tech. To keep the city safe, Spider-Man is going to be looking for allies in unexpected places with Police Chief Yuri Watanabe on administrative leave.
Most importantly, of course, is the suit reveal, because who wants to keep swinging around NYC in the same old rags? Silver Lining, like its predecessors, adds three more outfits. The Cyborg Spider-Man suit and the Aaron Aikman Spider-Armor, two slick futuristic designs that first appeared during the Spider-Verse event, will be unlockable for players. The third suit is a new one that's coming straight off the silver screen: Peter Parker's outfit from Spider-Man: Into the Spider-Verse, in theaters Dec. 14, is the third suit included in this DLC pack. It's a classic but sleek design for those who want something simple.
That's not the end of Insomniac's team-up with Sony Pictures on the film. They're also launching a special promo offer: Anyone who preorders Spider-Man: Into the Spider-Verse on the PlayStation Store will also "receive a voucher for Marvel's Spider-Man: Silver Lining, a dynamic theme and avatars," per Playstation's blog post.
Silver Lining is available Dec. 21 for $9.99 on its own, or bundled with the other two chapters for $24.99. Until then, check out the teaser trailer and costume images below.