Splatoon 2 Splatfest Begins Next Week, More Details on Online Multiplayer Revealed
Images via Nintendo of America
Games
News
Splatoon 2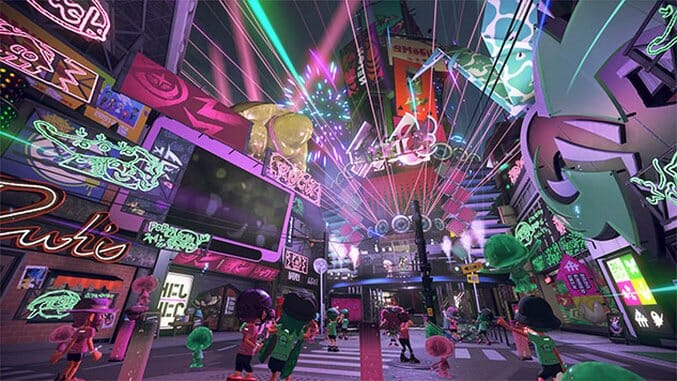 In a direct broadcast today, Nintendo revealed more details about Splatoon 2's Splatfest schedule and just how online multiplayer is planned to work—and both are coming way sooner than you think.
Splatoon 2's Splatfests are kicking off before the game even launches. Catch the very first Splatfest next Saturday from 6 p.m. EDT to 10 p.m. EDT. You can join in by downloading the title's free demo in the eShop. This event's theme: cake versus ice cream.
Splatfest, a periodic event established in Splatoon, is an epic four-on-four battle. Done Turf War-style, players pick a side of the event's theme and duke it out to see which opinion will reign supreme. This time around, fans can look forward to two years' worth of Splatfest events, on top of the year of free updates.
To make the deal even sweeter, Splatoon 2 players will be able to play with their friends in Splatfests thanks to Nintendo's forthcoming online multiplayer app. Today's Direct only gave us a brief look at how it will work, but we know right now that it's going to be completely operated by smart devices.
Launching alongside Splatoon 2, the multiplayer application Nintendo Switch Online will control everything you need to do in your multiplayer games in the palm of your hand. Instead of being part of the Nintendo Switch itself, this app is how you'll set up parties and talk to your friends, as well as get a few extra bits of fun with your games.
Splatoon 2 will have its own dedicated part of this application, SplatNet2. This section will keep you updated on stage schedules for ranked matches, allow you to set up matches with your friends, communicate, check out your stats for your last 50 matches and watch your lifetime inkage. This little feature tallies up just how much turf you've inked and compares that to real life locations. You'll also be able to send sweet in-game gear from the app to your game. The broadcast was not clear on if this will be done with in-game currency or through microtransactions.
Nintendo's online services will be free until 2018; Nintendo has not yet announced its plans for how the subscription to this service will work, or what other games will be available on the companion app at the time of launch.
But there's a lot more to Splatoon 2 than just online multiplayer. There's ranked mode, league play, Salmon Run, a single-player campaign and plenty of extras and mini-games in Inkopolis. Did we mention the new idols, too?
For even more details about the game and what other fresh extras it offers, check out the Direct broadcast below. Splatoon 2 is due out on the Nintendo Switch July 21.