All Three Star Wars Eras Come to Life in This Battlefront II Launch Trailer
Images via EA
Games
Video
Star Wars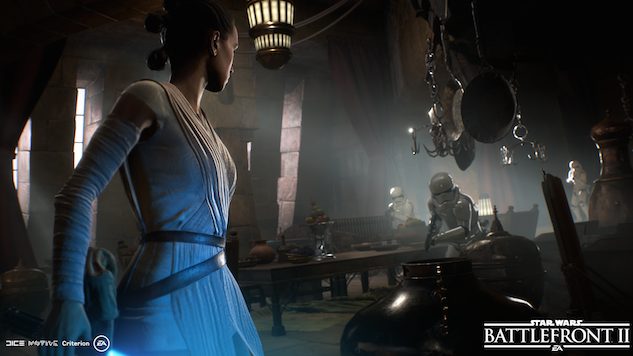 EA unveiled a Star Wars: Battlefront II launch trailer during Sony's Paris Games Week showcase, and the videogame's visuals look better than ever. While the original shooter from DICE focused solely on the original Star Wars trilogy, we see more elements from the prequels and sequels in this minute-long video.
With Rey, Kylo Ren and Poe (in his X-Wing fighter) featuring prominently, these new characters are taking their place next to legendary figures like Yoda and (we guess) Darth Maul. If you missed the high-pitched robotic utterances of "ROGER ROGER" from the Battle Droids, you will surely smile at their presence here. The trailer is epic and dramatic, as one would expect from a Star Wars game, including pounding drums underlying John Williams' classic score. And once again, we get a quick look at single-player protagonist Commander Iden Versio at the very end.
And what the hell was that giant mechanical squid thing in Kamino? We'll find out when Star Wars: Battlefront II finally launches on Nov. 17.