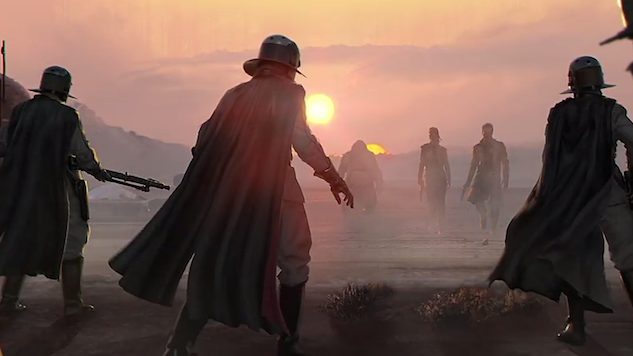 After EA suddenly announced the shuttering of Dead Space developer Visceral Games, along with their Star Wars project, the videogame community went into a frenzy trying to make sense of the situation. As the project, led by Uncharted writer and director Amy Hennig, was meant to be a linear single-player game, many saw this as the beginning of the end for large story-driven games, in lieu of Destiny-like "games as a service" experiences. But an in-depth scoop from Kotaku, featuring interviews with almost a dozen former Visceral employees, shows that many of the project's problems came about internally.
Dead Space 3 did not perform to the expectations of EA and Visceral, and the team split into two groups, one working on the multiplayer-focused Battlefield Hardline and the other on an open-world pirate game codenamed "Jamaica." After EA obtained the Star Wars license, and for concerns relating to the success of Assassin's Creed IV: Black Flag, "Jamaica" was scrapped and Frankenstein-ed into a Star Wars pirate-ish game codenamed "Yuma."
But the splitting of Visceral lowered company morale, with the team working on Hardline DLC feeling like the "B-team" compared to the Star Wars group. Hennig helped to boost the project, converting the game's concept into a more linear Uncharted-like experience (codenamed "Ragtag"). But the work environment at Visceral was different for Hennig than at Naughty Dog, at which she would have a co-director like Bruce Straley on Uncharted projects. Hennig ended up micromanaging every aspect of the game, leading to disputes and much frustration.
A massive corporation like EA was also not a good fit for Hennig—while Naughty Dog allowed a good amount of freedom from Sony, Visceral did not have the same luxury. And Visceral had the constant problem of lacking manpower, with a much smaller team than one like Naughty Dog. While Jade Raymond's new EA studio, Motive, was meant to assist with development, Motive was redirected to assist with the single-player campaign of Star Wars: Battlefront II, after complaints that the first Battlefront lacked such a feature.
EA finally called the troubled project off on Oct. 17—high ambitions and a lack of innovation to differentiate the game from something like Uncharted 4 played a massive role, along with the aforementioned work culture and environment issues. What could have been was an epic single-player Star Wars game that would put players in the shoes of a character named "Dodger," in a story that takes place between Episodes IV and V of the original trilogy. Ideas included mechanics that would allow players to switch between Dodger and his "band of fellow misfits," using "sabotage" techniques to manipulate the environment and defeat enemies.
But ultimately, the videogame never came to be, to the disappointment of Star Wars fans wanting an experience similar to the also-canceled Star Wars 1313. EA tells Kotaku in a lengthy statement that this "isn't about the death of single-player games," but rather a creative decision based on a troubled production.
While these former Visceral employees are moving on to different parts of EA or the larger industry, EA has stated that the assets will be salvaged for a new Star Wars project. Rest in peace, "Ragtag."