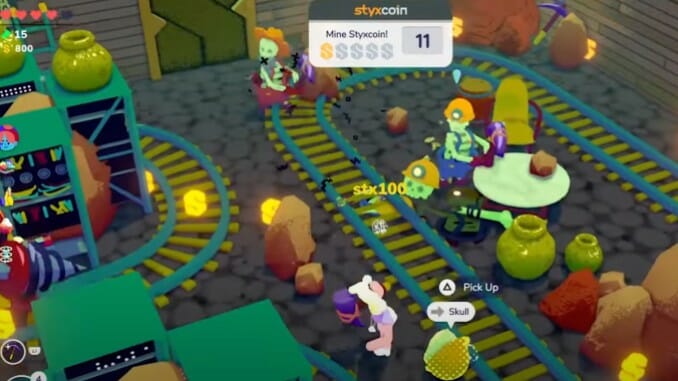 Update:
Mere hours after announcing the implementation of NFTs, indie developer and publisher Team17 have ended their "MetaWorms" project. In their statement, they state: "We have listened to our Teamsters, development partners, and our games' communities, and the concerns they've expressed, and have therefore taken the decision to step back from the NFT space."
Original story below:
Worms developer and recent indie publishing label Team17 has announced the creation of MetaWorms, an NFT statuette sold through Reality Gaming Group.
The art, frankly, looks horrible. The website promises that each statue is a "generative NFT art project," which is possibly the most pointless sentence I've ever read. It means some poorly programmed algorithm will throw together a random ass collection of worm pieces and make some hideous Frankenstein's monster-worm. I'm sorry, I am just tired of writing about NFTs, of having them take up my brain space and precious time on this Earth because they are simply the worst.
sigh pic.twitter.com/I4PIQB6o1H

— AGGRO CRAB (@AggroCrabGames) January 31, 2022
Thankfully, I'm not alone. Two of Team 17's more notable partners—Going Under developer Aggro Crab and Yooka-Laylee creators Playtonic Games—have denounced the plan. Being the plucky younger sibling, Aggro Crab's statement was blunt: "We believe NFTs cannot be environmentally friendly, or useful, and really are just an overall fucking grift." They have cut ties with the publisher and encourage other independent developers to do the same before stating simply: "I fucking hate it here."
Their disdain for NFTs and crypto are nothing new; their satirical workplace roguelite Going Under dedicates a whole level to criticizing and lampooning cryptocurrency in the form of StyxCoin.
Being responsible for more kid-friendly games, Playtonic was less crass (don't worry, I love crass) in their statement. They simply denounce the use of NFTs in the gaming space and wider world, and ask angry consumers to be aware that many of the developers did not know of Team 17's plan until everyone else did.
While it's tiring to write up new NFT news weekly, it's wildly refreshing to have companies fight back against their corporate mandates and enact actual change within the industry. Sure, this is only in the indie space and Square Enix and Ubisoft among others will still chase the white whale. But the little guys won't back down, and that's a reassuring notion.