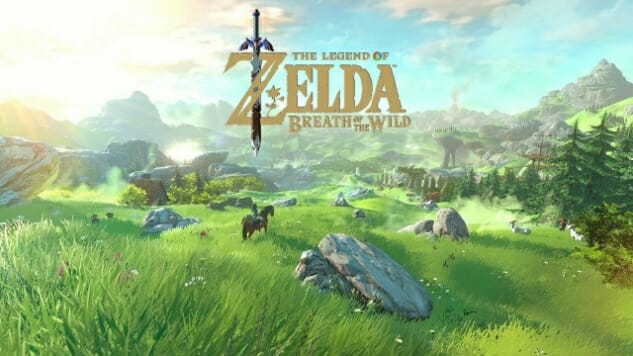 After being allowed only a brief glimpse at the Breath of the Wild collector's edition map, Zelda fans have already uncovered a sizeable chunk of the game's mysterious backstory.
The map, which comes with both the Special and Master Editions of the forthcoming Legend of Zelda game, was shown for only a few seconds during a Nintendo Treehouse livestream over the weekend. YouTuber Zeltik captured and enhanced a still frame of the briefly shown map's backside, then proceeded to—along with others in his Discord channel—translate the displayed words from the franchise's fictional "Sheikah" language.
Zeltik and friends initially translated the fictional words into Japanese, then they translated those words into English:
Hylians pass stories of a destined time long past where multiple races lived and worked together in harmony. The Sheikah Tribe's blue aura breathed through the land and this mutual prosperity continued until a cataclysmic disaster stuck. The Hero and the Princess attempted to seal the terror which became known as the Calamity Ganon. Divine beasts awoke from four directions and deployed a mechanical army which made the King and his people fearful. They fractured Ganon's power and sealed him but the Sheikah were banished from the land ever since.
The language itself was initially translated back in June of 2016, when its characters were first unveiled in trailers for the game. The Sheikah themselves have appeared in both in 2011's Skyward Sword and 1998's Ocarina of Time.
Breath of the Wild was recently announced to be launching with the new Nintendo Switch console on March 3, alongside a number of other previously and newly announced games. The new Zelda will also release on the Wii U the same day. For more on the hotly anticipated Nintendo title, keep checking back with Paste for more news as it's released. You can watch a video explaining Breath of the Wild's backstory below.