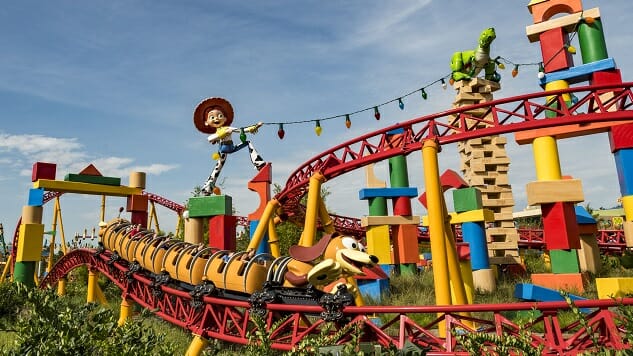 When I was squaring away my plans to hit up the Toy Story Land media event at Disney's Hollywood Studios last month, I was offered a few on-camera interviews with key figures from the Disney Parks empire. That terrified me—I'm a writer and an editor and not a dang TV talking guy. Still, I couldn't pass up the opportunity, and when the day rolled around I tried my very best. That best is still plenty awkward, but hey, it probably could've been worse.
I had two interviews. One was with Ken Facey, one of two current Walt Disney World Ambassadors, a job I never knew existed that I absolutely had to ask Facey about. And the second was with Melanie Gagne, whose official title is Production Manager with Disney Parks Live Entertainment, which means she helps put together all the fun things that happen at Disney parks that aren't permanent attractions. Together they talk about what visitors can expect from Toy Story Land, which opened at Hollywood Studios at Walt Disney World on Saturday, June 30. After over a week of intensive, non-stop editing, the video below is the result. Please go easy on it.
As I wrote in the intro to my Slinky Dog Dash roller coaster video, theme parks like Disney World have become more than just a fun place for a vacation. In these constantly fraught days, when it's hard to spend any amount of time thinking about the world we live in without getting completely dejected and despondent, the kind of escape offered by places like Toy Story Land has become a powerful (and, uh, expensive) source of self-care. When I hang out at a theme park I'm briefly shielded from the real world, and that relief, no matter how momentary, is worth whatever the price of admission might be. It's a privilege to be able to afford such a luxury, but that's exactly the kind of real world, practical thinking I'm trying to avoid when I walk through those theme park gates.
For the next few minutes let's just let all those concerns fade out of our brains and watch this inside look at Toy Story Land. Hit that play button below, and when you're done go watch my bearded mug as I rocket through the Slinky Dog Dash roller coaster.
Music by Je Suis France