Long-Awaited New Turok Game Swaps Carnage for Cuteness
Images via Pillow Pig Games/YouTube
Games
News
Turok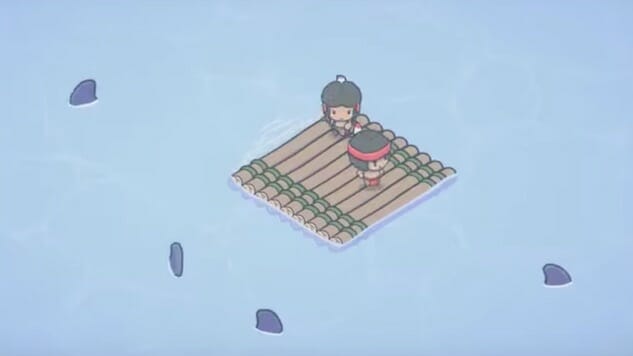 A new, long-awaited Turok game is coming out this month, but it's not what you'd expect. Though we're finally getting a new entry in the franchise after over a decade, a lot has changed since the old days.
Turok has come to be synonymous with gory violence and blasting dinosaurs into bloody bits with guns.
But this game, dubbed Turok: Escape from Lost Valley and launching on Steam on July 25, marches to a different drumbeat. Instead of a murderous first-person shooter, this new installment nixes the gore and replaces it with an overwhelmingly adorable isometric adventure game.
In a new gameplay trailer, we see two munchkin humans trek through evergreen forests, frozen tundra, shark-infested waters, and dinosaur-laden jungles and greenery. The Native American duo fight off mini-dinos, a bumbling bear and a chibi charging triceratops.
So the basic premise seems about the same. As always, Turok and his brother Andar are trapped in a valley of dinosaurs—just adorable dinosaurs this time.
"Do you remember Turok the Dinosaur Hunter?" the trailer's description asks. "This is not that Turok. This is Turok, but cute."
The new game will be from Pillow Pig Games and Universal Studios Interactive Entertainment.
With an endearingly whimsical animation style, Escape from Lost Valley offers up the iconic creatures from the original 1950s comic series with a cute but dangerous twist. And the player gets a chance to master knife throwing and bow and arrow skills as they traverse new worlds, face adorable yet deadly foes, and choose the best weapon for the enemies in front of them.
Earlier Turok games were based (very loosely) on the 1998 Acclaim Comics series, but Escape From Lost Valley takes us further into the past by returning to the 1954 comics. In its 1954 roots, Turok and Andar are a duo of pre-Columbian Native American kids trapped in a valley teeming with prehistoric life. Just like the game, the comics told the story of the pair's escape from the hidden valley.
The franchise's first videogame release was Turok: Dinosaur Hunter in 1997 and its latest offering, launched in 2008, was simply called Turok. So it's been more than a decade since we've gotten a new Turok game.
Between 1997 and 2008, the Acclaim Studios released four other installments: Turok 2: Seeds of Evil, Turok: Rage Wars, Turok 3: Shadow of Oblivion and Turok: Evolution.
Three games, including the untitled Game Boy Advance edition and a sequel to Turok: Evolution, were canceled mid-development, so we're excited to see a new game finally come to fruition.
While it may not please all players who may be looking for a more classic, gory edition, Escape from Lost Valley looks fun and adorably charming.
Until the game's July 25 launch, get in on the dino-slaying action with the new gameplay trailer below.