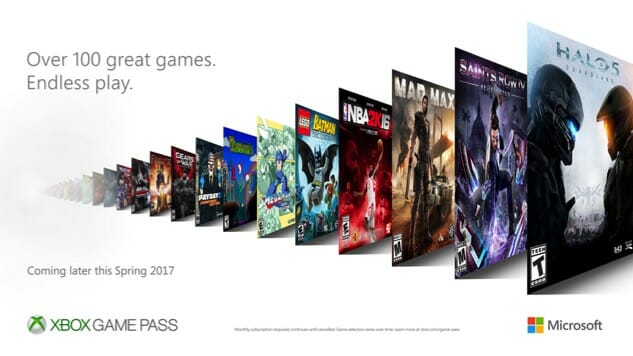 June's shaping up to be a good month for Xbox One owners. Not only is the console's new subscription service finally going live, but also there are five titles in this month's Games with Gold.
Xbox Games Pass, announced in March, is Xbox's next subscription service. Think EA Access, but without the streaming—each title will be fully downloadable to your console for $10 a month. It officially launches on June 1, but Xbox Live Gold members can get their hands on early access today. Bonus: Every Xbox One owner will receive a free 14-day trial.
In an interview with GamesRadar, Xbox CMO Mike Nichols reveals that the service will have over 100 titles at launch, from Xbox One hits to backward compatible classics. However, the service will be limited to Xbox One exclusively; backwards-compatible titles will not work on Xbox 360.
But to make things a little better, once Games Pass titles have been downloaded to your console, you won't always need to be online. The title catalogue will also rotate month by month, so there's always going to be something new to play. Can't part with a certain game? You'll be able to purchase it at a discounted price.
Xbox Live gold members will get an extra treat this month. Play Anywhere title Phantom Dust, released in May, will have its DLC available for free all June long.
Kicking off June's free titles on Xbox One is SpeedRunners, a multiplayer side-scroller by DoubleDutch games. It started out as free browser title SpeedRunner and jumped to Xbox Live Arcade on 360 in August 2013. Now it's back for launch on Xbox One. You can pick it up from June 1 to 30.
Assassin's Creed III is leading off backward-compatible titles in June. It's the fifth installment of Ubisoft's Assassin's Creed franchise, following the story of Ratonhnhaké:ton—Connor—during the American Revolution. You can snag it from June 1 to 15.
From June 16 to July 15, take over Chicago in Xbox One title Watch Dogs. Play as hacker Aiden Pierce during his quest for revenge over the death of his niece.
Closing out the month from June 16 to 30 for backward compatibility is RPG Dragon Age Origins. Return to Bioware's first Dragon Age title, and fight off the Darkspawn to prevent the Blight's impending doom.