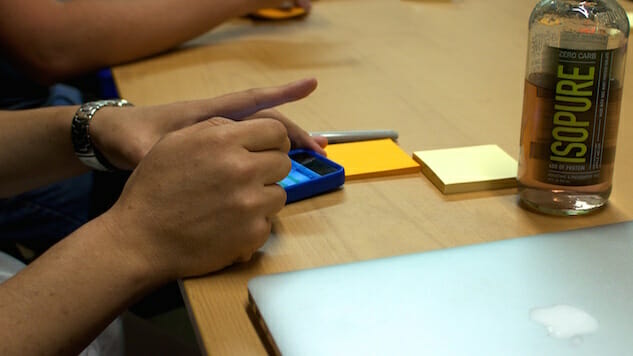 The ability to multitask has often been seen as a good thing. However, that was before the age of constant connection to the internet through our computers, tablets, smartphones and TVS.
Unfortunately, the definition of multitasking has changed with the times. Now, it means doing one important task while even the slightest bit distracted by what's happening on the internet or on TV. This likely results in tasks taking longer and finished products that aren't up to par … that is, if they're not completely put off due to internet-inspired procrastination.
What's a digital-age worker to do? The best piece of advice is to unplug when it's time to get to work. Here are a few more pieces of evidence as to what it does to your brain when you multitask—and what you can do to fix it.
Side Effect: Loss of Memory Storage
Researchers at the University of Copenhagen asked study participants to look at their smartphones or tablets while watching TV. Though participants said they felt as though they'd accomplished more during the time it took to watch the show, researchers found they didn't have a very clear recollection of the show's plot—only a little over half could remember what was on.
Even worse is that, when you continually do this, your brain starts to rewire itself. It stores the information you would typically want to remember in the spot where you plan out your movements. So, constant multitasking could affect your long-term memory as well.
Side Effect: Stress
You've probably felt this if you've had a deadline or looming presentation, regardless of whether or not your process to complete the task included multitasking. However, adding the element of distraction just makes matters worse. Simply put, when you force yourself to do too much, you stress yourself out.
Multitasking has been proven to boost your body's production of cortisol, too, which makes the stress palpable. Oh, and that stuff? It can make you feel completely drained before you even finish the task at hand.
Side Effect: Decreased Quality of Work
Obviously, something without your full attention is not going to turn out well. It has been proven that multitasking makes it hard for you to organize your thoughts in a logical way. Imagine how that would manifest itself in a project or paper you're working on while slightly distracted. You can do better, but your mind isn't fully there.
Multitasking also makes it nearly impossible for you to filter out the information you don't need to know or include. Just as it affects your organizational skills, it also makes it hard for you to say exactly what you want without throwing in any extraneous information.
Fix: Turn Something Off
It might seem a bit obvious, but it must be said: You'll be way more productive if you turn off your device(s) and focus on the task at hand. You might even want the internet to be your incentive to work harder and get finished so you can text, Facebook or Snapchat—whatever it is that's draining your productivity and stealing your focus. It's hard to make yourself do it, but once you immerse yourself in work, you won't miss the constant buzzing or beeping one bit.
Fix: Take Mental Breaks
Rather than work for a few minutes, distract yourself for a few minutes, work for a few minutes, and so on, try a new pattern. Focus completely for a reasonable window of time—for one hour, for example. Then, promise yourself a good mental break afterward. Take a walk, call a friend, sink into your cell—it doesn't matter. You gave your work your undivided attention, so you earned it.
Fix: Stay on Track
The worst thing you can do for yourself is relapse once you've started making strides as a single-tasker. So, take this last tip as the most serious: Be diligent in your quest to focus. Start each day on the right foot so you're set up for productivity from sunup to sundown. With that, you'll be focused and free from the chains of multitasking that keep you from being the productive person you are deep down. So, step away from the phone and get to work—for good.
Image: Gangplank HQ, CC-BY
Anum Yoon is Paste's Unplugged columnist and a Philly-based blogger who founded Current On Currency.