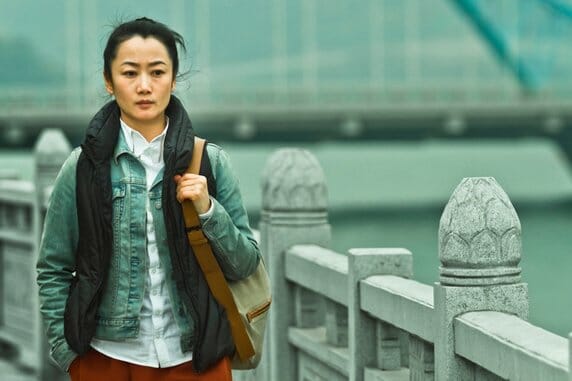 The latest film from Chinese director Jia Zhangke would appear to be a departure from his previous acclaimed work. But on closer inspection, his particular cinematic DNA has been perfectly preserved. It's just that, this time, there's a lot more bloodshed than we've come to expect from him.
A Touch of Sin is Jia's stab at more commercial filmmaking, although one should not confuse this ensemble drama with a conventional action movie or anything so easily accessible. (Jia made this film with the backing of Shanghai Film Group, a government-sponsored production company, which was a first for him.) The independent auteur of quiet character pieces like The World and Still Life has constructed a story about four loosely connected individuals whose lives are touched by violence or death. At its center are the same concerns that have always interested Jia—namely, how ordinary Chinese citizens are adapting to the rapid economic development of their nation. As usual, the characters struggle mightily with that proposition. But in A A Touch of Sin, their anguish is expressed in gunfire and knife fights. This is less an action movie than it is an acting-out movie.
Rather than adopting the Crash/Babel style of multi-character drama in which the protagonists' stories overlap and also intersect, Jia has essentially made four short films, with a character from one story moving into the next sequence, the pattern repeating until the end. But what unites them all is their misery. In one segment, a disgruntled miner (Jiang Wu) decides that he's finally had enough of his callous, corrupt bosses and the mine's rich owner, taking up arms against them. In another, a receptionist (Zhao Tao) engages in a fruitless affair that barely takes her mind off her menial job and boorish clientele.
Typically, a movie from a thoughtful filmmaker that examines violence carries a heavy emotional and moral weight, the director fretting about the phenomenon's ubiquity in our society and the damage that it does. Although hardly frothy or a celebration of violence, A Touch of Sin is remarkable in that Jia rather sardonically points out that, more often than not, his characters' lives are improved (albeit briefly) by the violence they embrace. It's a stunning commentary on why our collective belief in might makes right continues to prevail: Violence gets results in ways that more peaceful behavior doesn't.
Not that the film's violence helps everyone involved. It would be unfair to reveal the surprises in these narratives, but the lingering impression from Jia's vignettes is that bloodshed usually results from a feeling of powerlessness, which isn't alleviated by the carnage and often leads to more sorrow for those in the vicinity. In this way, A Touch of Sin is very much in keeping with the generally pessimistic worldview of Jia's earlier works. One doesn't walk away from his accomplished, gorgeous-looking films with a sense of hope for China's bright future. To the contrary, they seem to serve as a sharp stick to the eye, confronting the country's inflated sense of its status as a burgeoning world power. But where in the past Jia's characters poetically spoke such sentiments, here they eat each other alive, his camera focusing on the violence less to shock than to make us acknowledge the simmering ugliness underneath his society.
Sadly, A Touch of Sin isn't a movie that will have any trouble translating to other cultures. If anything, it's upsetting how much Jia's dark tale of murder, retribution and suicide echoes similar issues within America's contentious class system. Of all the movies to make with the backing of the Chinese government, he chose this one. One wonders how the powers that be will react to a movie so deeply critical of the people who helped finance it.
Director: Jia Zhangke
Writer: Jia Zhangke
Starring: Zhao Tao, Jiang Wu, Wang Baoqiang, Luo Lanshan
Release Dates: Screening in the Official Competition at the 2013 Cannes Film Festival